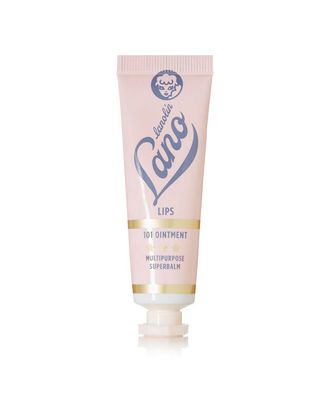 Earlier this month I flew to London. I prepped for the flight like any good little beauty editor. Face wipes? Check. A nefarious-looking sheet mask? Of course. Rosewater to mist my face? Certainly. And to lock in all of these transatlantic treatments, I turned to Lano Ointment — a thick balm made from the wool of Australian sheep. Baa-humbug.
The ointment's star ingredient is lanolin, a viscous, gummy formula that may ring a few bells if you're a new mom or a French-beauty-brand aficionado. Commonly found in diaper-rash treatments, nipple creams, and Avibon, the French retinol salve that makes even the most deferential beauty editor's lips smack in excitement, lanolin is nature's answer to fussy, dry skin. Skin is why lanolin exists at all, actually, as it's secreted by sheep to protect their skin and wool from the environment.
Most lanolin is filled with the icky byproducts of farm life — petro-chemicals and pesticides, Kirsten Carriol, the founder of Lano, explained to me. Carriol says her lanolin is different because of its thrice-thorough cleaning process that distills out all of the harmful elements. Because of this, Lano is odorless and colorless, and won't irritate your skin.
Here's what I noticed immediately from my first experience with Lano's ointment: A little goes a very long way (anything greater than pea-size is too much for the entirety of your face); it doesn't clog pores (my body reacts in a matter of days if a new product disagrees with my skin); and it stops dry skin in its tracks. "You can use it anywhere," Carriol told me, which is true. In addition to dabbing my face with the salve, I rubbed a tiny amount over my lips, too, which kept them soft for the duration of the seven-hour flight. For bigger body parts the Everywhere Multi-Cream is likely a better choice since the multipurpose balm is dispensed in a much larger, toothpaste-size tube.
Lano's ointment isn't a moisturizer, but because it's thick it amplifies the effectiveness of a moisturizer when layered on top. It makes my skin feel soft, hydrated, and smooth — whether I'm on this continent or the next.
Lano 101 Ointment Multipurpose Superbalm, $22 at Shen Beauty