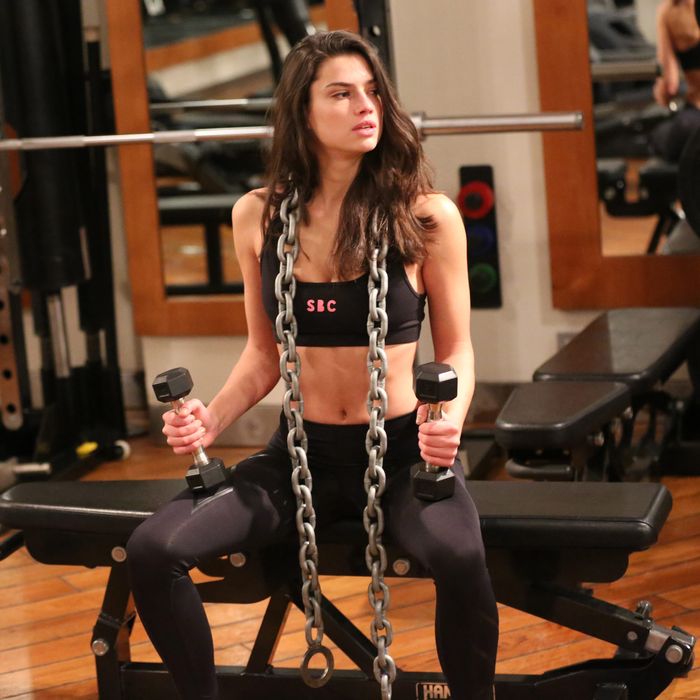 Skinny bitches found here.
Photo: Courtesy Russell Bateman/The SBC Collective
The Skinny Bitch Collective (SBC) isn't a brand extension from Bethenny Frankel, but an invitation-only British workout that's reached peak Instagram thanks to videos of celebrity fans like Suki Waterhouse and Ellie Goulding planking till they collapse. Like all cult workouts, it's a sexily pitched, slightly sadistic fitness sorority with founder Russell Bateman serving as pledge master.
Linda Wells, the Cut's beauty editor-at-large and one of New York's first SoulCycle champions, tried the questionably named workout on a trip to Paris and called it one of the hardest she's ever done. So during a break in Paris Fashion Week, I signed up. In an email prior to the class, Bateman warned: "A fitness level is necessary for the class." I took comfort in the fact that he didn't specify what level. Surely even I have some type of a fitness level, even if it was drastically compromised thanks to several straight days of eating all the creamy desserts left behind by the models backstage.
I knew that I was in the right place because, at five-foot-three, I was the shortest person in my class of 35 people. Everyone looked like girlfriends past, present, and future of Leonardo DiCaprio, so it's a good thing that apart from Bateman, the class is invitation-only and restricted to women. Model Toni Garrn was there, along with other high-cheekboned people named Ashley and Christina. The ab-to-non-ab ratio was so high, it put the Victoria's Secret backstage to shame. No wonder there are rumors of an SBC-based reality show someday.
"Welcome to the Skinny Bitch Collective," Bateman said, then commanded us to do a few light stretches. Vaguely tribal electronica played as we did a series of squats, grapevines, alternating leg squats, and crab mountain climbers, with Bateman stopping and starting the music like a workout version of musical chairs to notify us when it was time to begin a new set. We did not slay in "Formation" — our limbs were sprawling, and girls kept stepping on their neighbors' Nike Frees. But when we found the beat, I was mesmerized. It seemed timed to our rapidly increasing heart rates, the dim lighting, syncopation, and tribal circle making us seem like one seamless strong unit of exercise goddesses.
Throughout the class, Bateman tossed challenges at us that seemed targeted to have us say, "WTF." One particularly mean set of burpees had models and mortals alike gasping for breath. Another time, Bateman had us take off our sneakers, get in plank position, and drag ourselves from one side of the room to the other, using only our upper body strength. For a plank series, Bateman had us count down from 30 in our native languages. "Fünfzehn, sechzehn," I heard to my left. "Vier, drei," I heard to my right. The labored breathing of someone struggling to hold a plank is universal.
Bateman then had us break up into pairs for an animalistic set of frenetic exercises. My partner was a girl from Italy who punched me in the stomach at Bateman's command. As we took turns treating each other's abs like punching bags, she cheered me on: "Don't worry, you can do it harder!" We then clasped hands and pushed them back and forth until the sweat was dripping down our faces.
Another partner switch-up and we were doing one-arm mountain climbers with hands and palms joined, a move which left puddles of sweat on the floor. "Now smack your partner's butt and stare into her eyes!" Bateman dictated for the next move. Everyone looks confused, but then two model-types showed us what he meant, getting on all fours and circling each other like elegant Lycra-clad leopards getting ready to pounce. Picture the watering-hole scene in Mean Girls, only with more lean body mass. Everyone laughed, jokingly smacking each other's toned butts — well, almost everyone. My partner and I could barely lift our arms. "Unh," I weakly managed, barely able to lift my arm in the pouncing position. If this was Darwinism, we'd been weeded out. Later, Bateman described each class as having "a progressive animalistic nature — like a cave-girl sorority at times — which really pushes the boundaries."
Sweat is a great equalizer, even when you're sweating among people who look like they're starring in a CR Fashion Book layout. Unlike at SoulCycle, no one seemed competitive. The moves were so hard and Bateman was so unpredictable that no one could get cocky.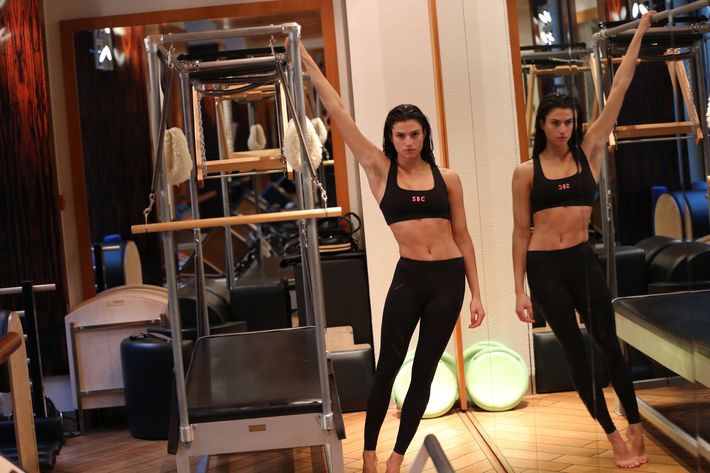 "It's raw, evolving, and intense. I want girls to get fearful of the workout because fear feeds emotion, which fuels intensity. That's the key. I want girls to get as far away from their comfort zones as possible and remember to never underestimate themselves because, deep inside, they are stronger than they think," explains Bateman. There's no bitchiness in the class because "no one is going to leave without feeling a little fucked up," he adds. All the touching is deliberate, too: "Holding hands with a partner when you're going to probably give up on an exercise spurs you on to keep going and not let the other one down."
As the class wound down, I learned that, in addition to models, the other attendees worked in the arts and fashion, at places like Chanel, Dior Beauty, and Maison Kitsuné. "You guys should come to Ibiza," Bateman said, explaining that he plans to hold SBC classes there at a house "with an amazing cave." SBC wants to expand to more cities, but the class remains invitation-only to keep the community small.
Bateman, the only teacher, is also very protective of the SBC experience. Here's how he explains the philosophy: "Train with all your heart and with diversity; challenge and embrace your human side; be playful; have more sex; cut out shitty boyfriends or fuckboys; eat wild meat, vegetables, berries, fermented food and butter; be honest; tell people you love them." You can access online training, meal plans, and merchandise online at his website.