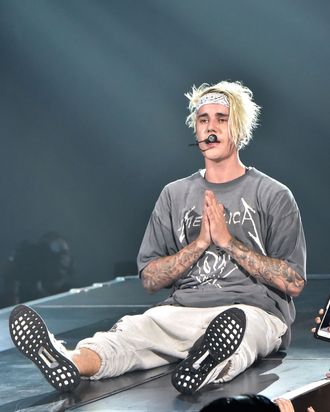 Photo: Jeff Kravitz/Getty Images
Justin Bieber — a T-shirt that says "The Man, The Myth, The Legend" with an arrow pointing to the sweatpants region, if that T-shirt were to come to life and subsist only on chicken fingers — is barely two weeks into his national tour for Christian-adjacent album Purpose. But already he's begun to lose it. Last night, Bieber announced in a lengthy Instagram post that he'd be canceling meet and greets at his shows. "Love u guys," the post began. Take it away, Biebs:
I'm going to be canceling my meet and greets. I enjoy meeting such incredible people but I end up feeling so drained and filled with so much of other people's spiritual energy that I end up so drained and unhappy.. Want to make people smile and happy but not at my expense and I always leave feeling mentally and emotionally exhausted to the point of depression .. The pressure of meeting people's expectations of what I'm supposed to be is so much for me to handle and a lot on my shoulders. Never want to disappoint but I feel I would rather give you guys the show and my albums as promised. Can't tell you how sorry I am, and wish it wasn't so hard on me.. And I want to stay in the healthy mindset I'm in to give you the best show you have ever seen ;)
Justin Bieber himself once said, "If you like the way you look that much, then you should go and love yourself." Now it sounds like Justin Bieber could use a lesson or two in self-care, the act of taking time to make yourself feel good in a world that makes constant demands on us. Self-care is an important part of any person's life, especially a 22-year-old millionaire's.
Tips:
• Surround yourself with people you love, like Kanye West and some guy you met out back behind a Cracker Barrel.
• Stop living in the past, which means no more Instagramming photos of Selena Gomez. That relationship is over. Let it die.
• Take care of, and listen to, your body. Perhaps a haircut is in order, my man?
• Set creative goals for yourself. For example, "Make a banger even better than 'Sorry' so that my fans will have something to look forward to in the near future."
• Wear what you feel comfortable in. (You already do this one. Good going.)
• Find a practice that makes you feel at peace, like skateboarding or "hitting puck" (hockey). You seem to also like fishing a lot — they say fishing is like yoga for men. Looks boring, but that's between you and God.
• And lastly, know when to say no. Turning down meet and greets with fans is probably a great idea for your health and will stave off your "emotional exhaustion." What's next on your list of nos? Maybe no more bad tattoos?