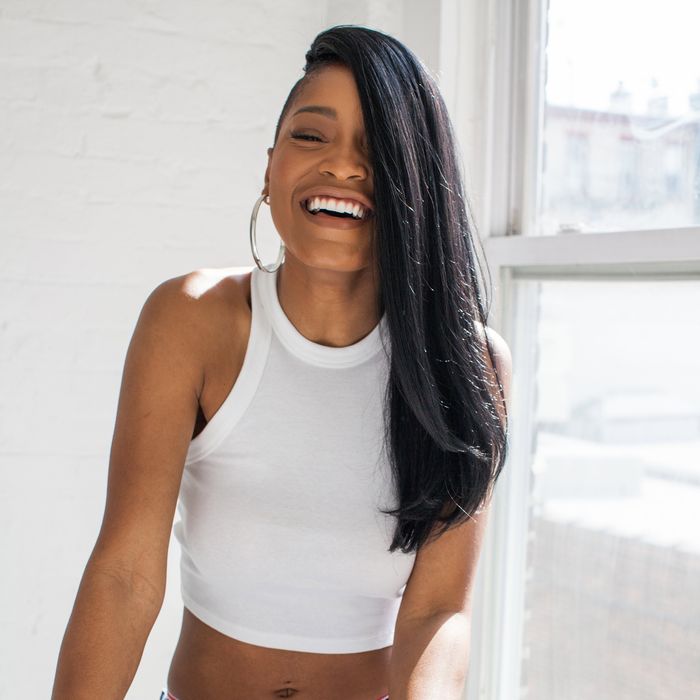 Keke Palmer.
Photo: Andre Wagner
When she was 12, Keke Palmer decided that she liked singing in church but wanted a bigger stage. So she got a record deal. A Disney Channel contract and a starring role in Nickelodeon's True Jackson, VP followed, making her one of television's highest-paid child actors. Now, at 22, she has a long list of credits including VH1's CrazySexyCool: The TLC Story, Grease: Live, and Scream Queens, but once again, she's craving a bigger stage — which is why she has a new album coming out this September.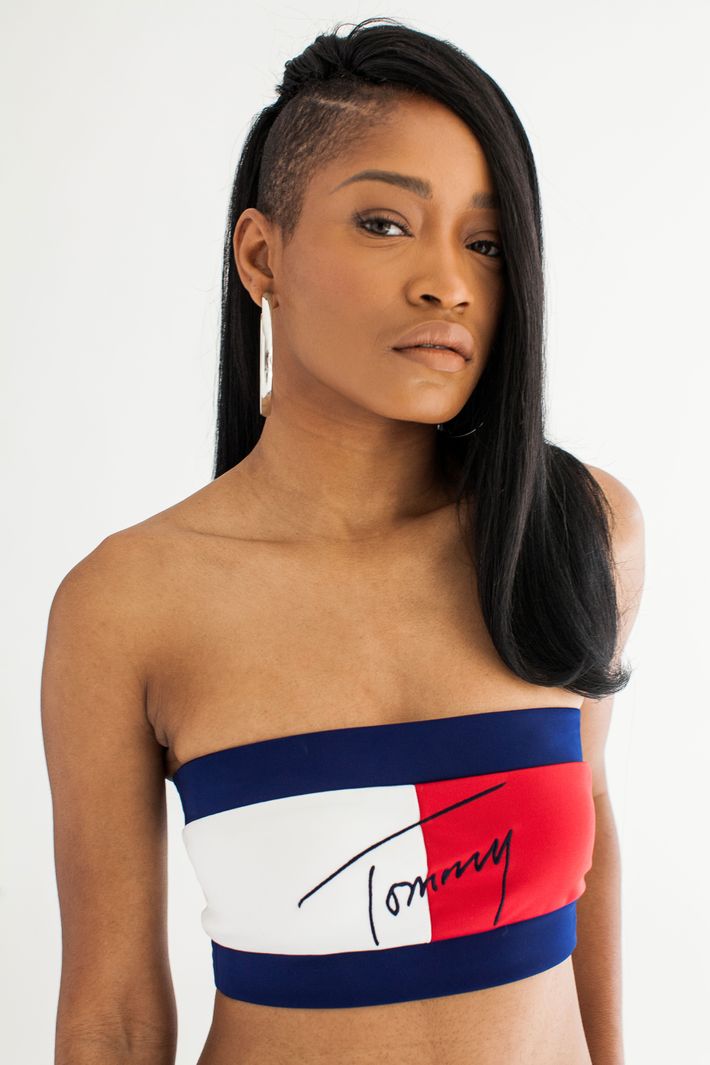 Tommy Hilfiger Re-Edition Collection Bandeau, $130 at Tommy Hilfiger, Alexis Bittar Silver Hoops, $225 at Alexis Bittar.
Palmer is surprisingly nonchalant about all of her accomplishments. She came of age with the likes of Miley Cyrus and Demi Lovato, but she doesn't have the usual former-child-star angst. "It was definitely grueling, but very fun at the same time," she says. "When I was on True Jackson, VP, that was one of the only times in about four or five years when I was able to stay in the same place and be around my brothers and sisters, you know?"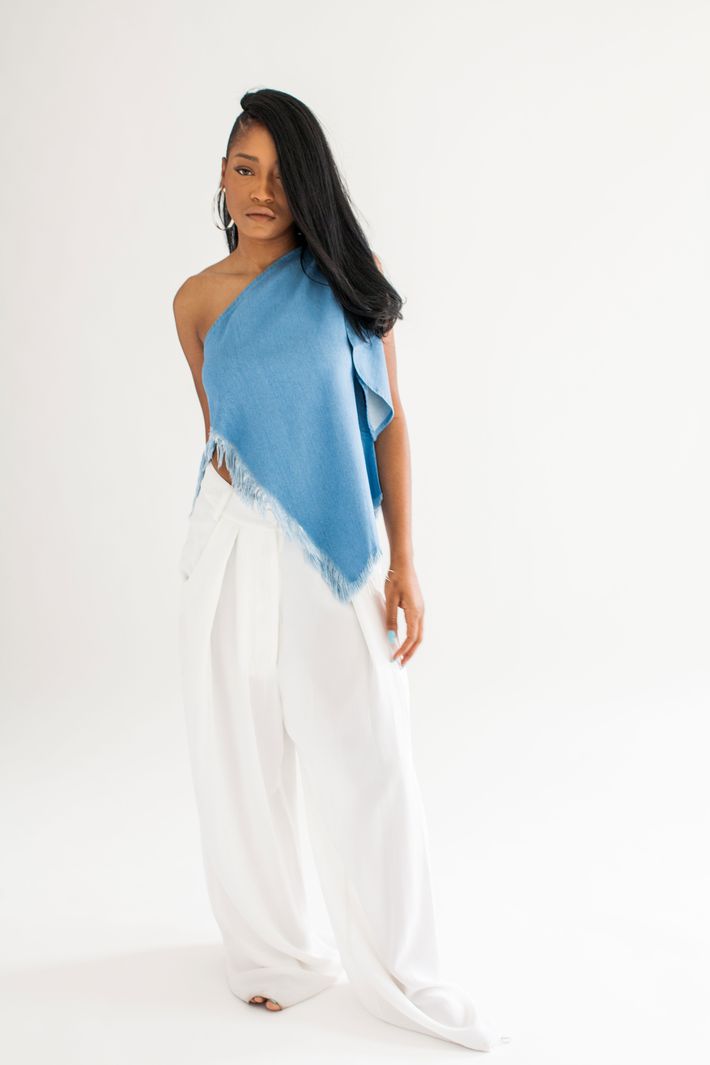 Marques' Almeida Top, $354 at Shopbop, Off White by Virgil Abloh Pants, $1,000 at Off White, Alexis Bittar Silver Hoops, $225 at Alexis Bittar.
But as she readily admits, "When you're working on a hit show and getting a consistent paycheck, creatively speaking, sometimes you have to examine the direction you're going in."
To convince her audience and peers that she was more than just a child actress, she took on a range of riskier acting and singing projects, starring in the Drew Barrymore–produced thriller Animal, Showtime's Master of Sex, and Rodgers and Hammerstein's Cinderella on Broadway, where she was the show's first African-American star. Her talk show, Just Keke, which premiered in 2014 on BET, is being shopped out to network television stations, making her the youngest TV-talk-show host in television history.
"When I was a kid it always felt as if I was trying to fit myself in a mold," she explains. "That's just not what I'm trying to do anymore and now I'm around people that are nurturing my talents, not trying to change me."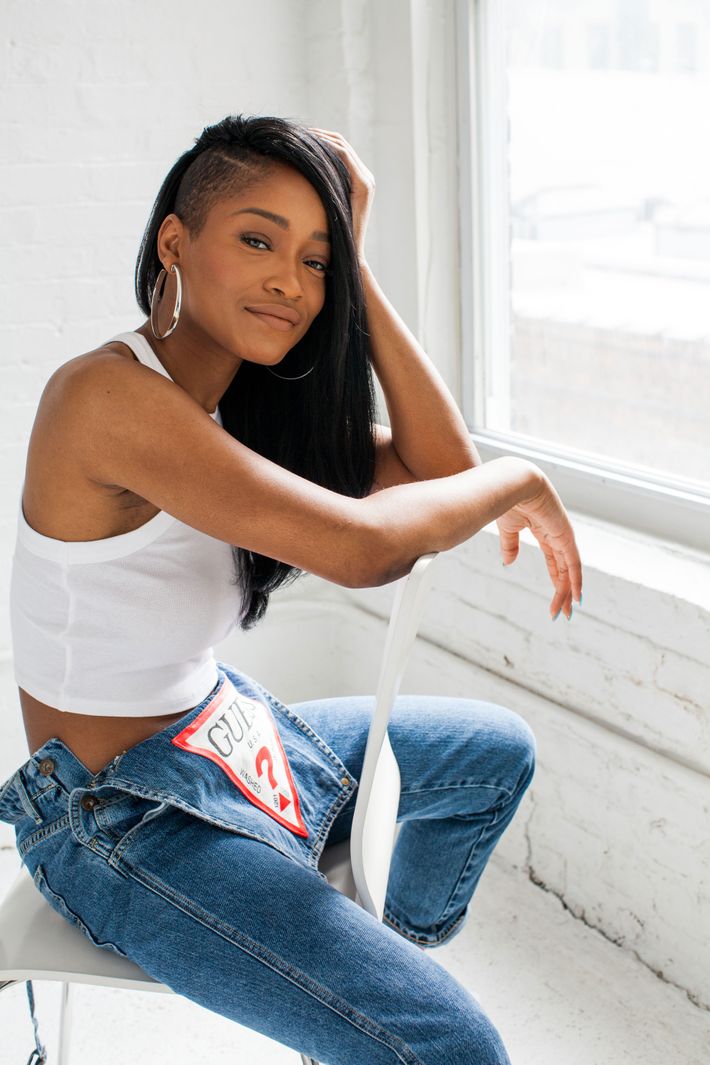 Topshop crop top, $14 at Topshop, Guess Originals x Asap Rocky Overalls, $138 at Opening Ceremony, Alexis Bittar Silver Hoops, $225 at Alexis Bittar.
The risks paid off, leading her to roles in Ryan Murphy's Scream Queens and Grease: Live and introducing her to a wider audience. Rolling Stone raved about her performance as Marty Maraschino in Grease: Live, calling her a "standout" and saying, "As Maraschino, Palmer was the coolest girl in school and could've easily been the leader of the Pink Ladies with her assertiveness, confidence and biting sense of humor."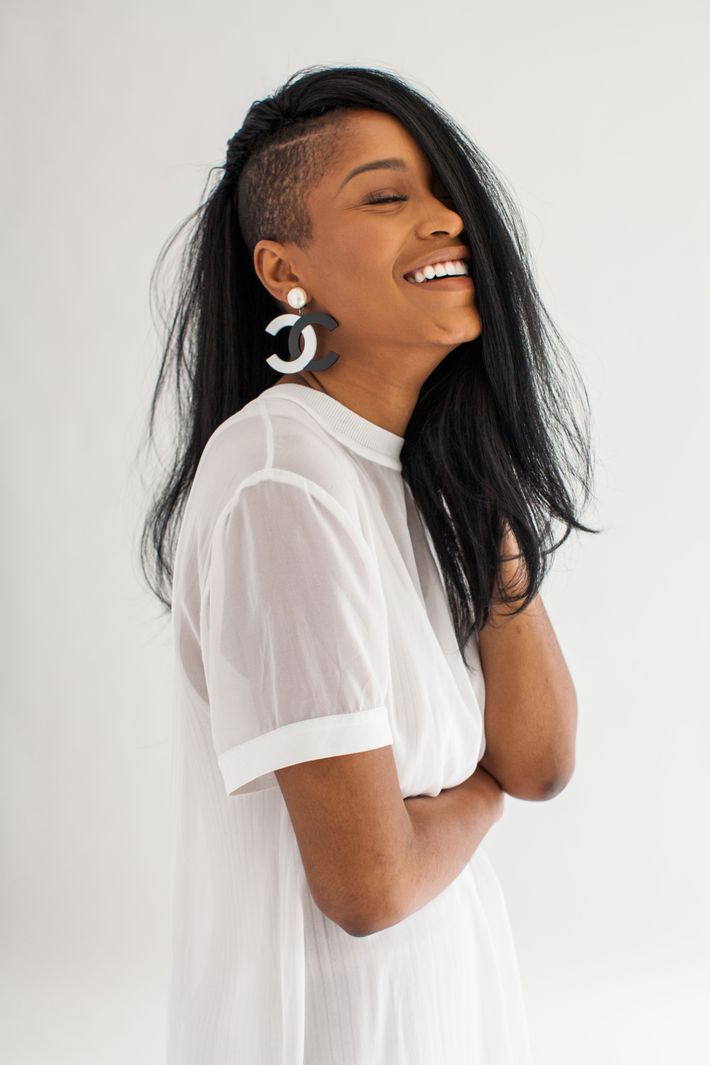 DKNY  Sheer Dress, 195 at DKNY, DKNY Shirt, $335 at DKNY, Vintage Chanel earrings, $2,600 at Depuis 1924.
But despite her acting success, Palmer has decided that now is the perfect time to recommit herself to music. "Before, I knew what I wanted to say but it got clouded and I lost my voice," she says of her childhood recordings. "With this new record, I was going through a situation of unrequited love with a guy and the next thing I know I'm hearing the song 'Enemiez' and I was blown away." The music video for "Enemiez" hasn't even been out for a month, and it already has almost 2 million views.
Gypsy Sport Top, $128 at Gyspy Sport, GCDS Embroidered Jeans, $385 at GCDS, Alexis Bittar Gold Hoops, $150 at Alexis Bittar.
If you're part of her massive following on social media, you probably understand how she's amassed so many fans. "I love my Snapchat because it really allows people to see that I'm touchable, I'm human, I'm normal," she says. "It's not about me being a special person. Don't stop yourself because something seems impractical, or because people around you say, 'That's never been done.' That's the point."

Photographer: Andre Wagner; styling by Lindsay Peoples; makeup by Renny Vasquez; hair by Chuck Amos for ORIBE at Jump.