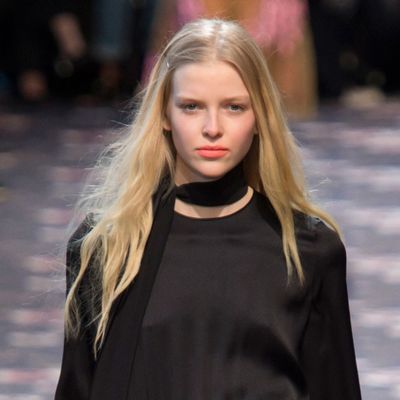 Hair that's not 40 years old.
Photo: Alessandro Lucioni/Imaxtree
We've seen "rich girl" hair and "individual" hair as runway trends, but today marked the introduction of a new one: staticky virgin hair. Backstage at Rochas, in his first show of the Paris Fashion Week season, hairstylist Paul Hanlon called the new look "pillow-slept" hair, with a bit of a "virginlike" quality. It's hair that's been touched for the very first time.
Different from bedhead, this look was more youthful than sexy — think more Virgin Suicides than "Like a Virgin," while Cher Horowitz's "you're just a virgin who can't drive" hair is a little too smooth. Flyaways are anti-aging, Hanlon explained, calling this a bit of a "naïve" look. From the front, the hair looked artfully undone; from the side, you could see it was clipped with a "nerdy" bobby pin, then rose in a visibly staticky, almost tangled cloud in the back.
"Look at that hair!" my seatmate whispered when the first girl walked out with the look. It was hard to tell if she was impressed or confused. Some people looked like they were dying to run a Tangle Teezer through the fluff, while others seem captivated by its innocence.

"It's very ethereal, romantic, almost angelic in a way, with the static creating a halo," Hanlon said. Said halo was so fluffy it gave each model a second bounce after every step down the runway.
Since mere mortals achieve flyaways all the time without professional help, you might think Hanlon and his team had nothing to do on set but eat baguettes. But just like no-makeup makeup, this kind of effortlessness takes work. Hanlon created the look by starting each girl with clean hair. He loosely plaited the hair to create texture, using sea-salt spray at the end for separation, then raking his hand lightly against the cuticle to let it fluff up.

It's still early in the week, so this look hasn't fully met the trend rule of three (despite a similar hairdo at Tracy Reese, oddly achieved by rubbing balloons on the models' heads), but I'm excited that my hair texture, achieved by falling asleep on my laptop, might finally be on-trend.

Click through the slideshow for more beauty looks from Paris fashion week.