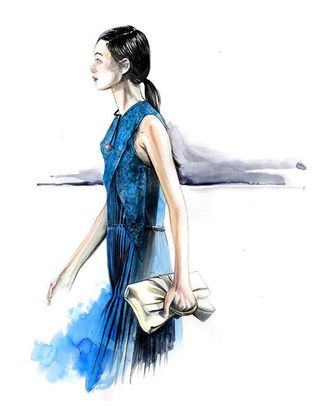 A sketch from Stella McCartney's fall collection.
Photo: wasteland/Instagram
As it turns out, everyone's favorite vegetarian designer Stella McCartney is also a supporter of the arts. After presenting her fall ready-to-wear collection in Paris's ornate Palais Garnier on Monday (where she showed some seriously stylish puffers), the designer invited illustrators to sketch looks from the collection for Instagram.
Depicting statement jewelry, bold colors, and the lovely models sporting them, they didn't disappoint. Scroll down for a roundup of our favorite posts. You can see more of their illustrations at #stellastrations.