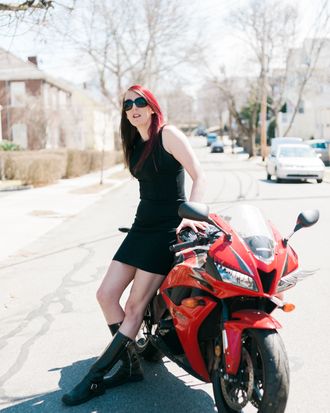 Brianna Wu.
Photo: Shannon Grant/briannawu.net
Today's SXSW interactive programming kicked off with the Online Harassment Summit. The day-long event was created after SXSW attempted to cancel two panels about harassment online last year after receiving threats of violence. Backlash to the cancellation spawned the series of panels that make up the Online Harassment Summit, covering everything from free speech to cyberbullying to the responsibility of tech companies with regard to harassment.
One of the first panels convened was titled "Is a Safer, Saner and Civil Internet Possible?" (short answer: if you're a woman, good luck). It consisted of Brianna Wu, head of development at Giant SpaceKat; Elisa Lees Muñoz of the International Women's Media Foundation; University of Miami law professor Mary Anne Franks; and Shireen Mitchell, who founded Digital Sistas.
The talk covered the great litany of awful things that greet women online, including but not limited to revenge porn, doxxing, and hate speech. The panel even criticized the festival itself. SXSW came under fire for its handling of the panel, particularly in getting representation from women of color as speakers, calling it "an uphill battle." Said Wu, "We are talking about erasure both online and in [terms of] how this summit evolved."
Anyone who's been a woman on the internet won't be surprised to hear that women suffer disproportionate abuse online, and that women of color receive that abuse as well as racism. The panel, somewhat surprisingly, cited Twitter as an online forum that was working to improve how it handled online harassment. (Reddit, however, was condemned for "failing women.") The panel's determination was that the only positive future for addressing online harassment would involve not just discussion, but active systemic changes. "This is not free speech," said Franks. "That is a narrative we have to change on every level."