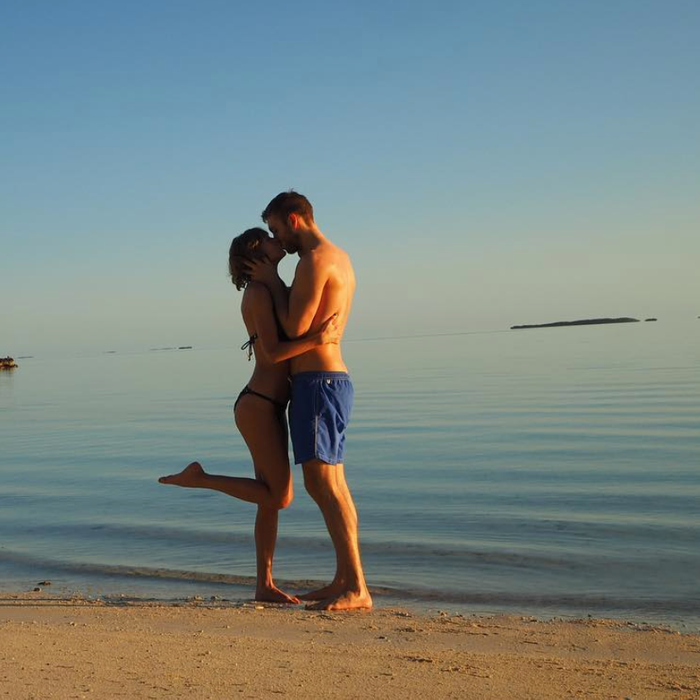 Taylor Swift, sand, water, maddeningly picturesque background, boyfriend. Taylor Swift/Instagram
Taylor Swift and her main squeeze, Calvin Harris, are on vacation, and in case you want proof, just check Instagram. Actually, really, you should check Instagram.
There are many angles worth exploring in this post, including: relationship dynamics, pool-toy envy, perfectly etched initials in the sand, a couple pose that looks professionally staged, among other topics.
Let's start from the very beginning — a very good place to start — which involves Tay jumping on one of those water trampolines not unlike the one all the other kids got to play on at the cool, lakeside summer camp. I digress.
Watch the video with sound.
Yet, this is perhaps the thesis of the trip, because boyfriend vacation Instagrams aren't quite on the same level as a T. Swift Insta:
The first pic is Tay's, and guess who posted the next one:
Because this vacation album really belongs to Tay, here's another shot from Taylor, featuring her man, A.W. (yes, also Calvin Harris; he goes by his real name on the beach):
And here, just to round things out, are that stupidly beautiful background (and boyfriend) again. Indeed, Taylor Swift is on the beach, and Instagram says she's having the best time.