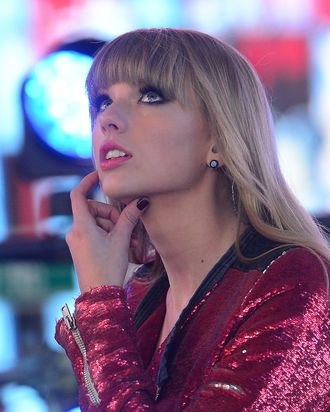 Noted club philosopher Taylor Swift.
Photo: Emmanuel Dunand/AFP/Getty Images
The depths of Saturday night, caught in the timeless purgatory of the club, is time to contend with the unanswerable existential questions. Who are we? Why are we here? Where's the drop?
Like Vladimir before her, Taylor sees keenly to the heart of the problem: "Why are we here, that is the question. And we are blessed in this, that we happen to know the answer. Yes, in this immense confusion one thing alone is clear. We are waiting for [the drop] to come." (Okay, she's a little more succinct.)

Swift isn't forced to wrestle with existential musical limbo for long as, mercifully, the beat drops. All thinking men should hope to be so rewarded.