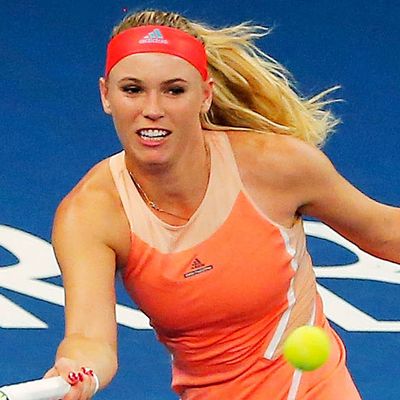 Wozniacki at the BNP Paribas Showdown in New York on Tuesday wearing Adidas by Stella McCartney.
Photo: Rich Schultz/Getty Images
Pro tennis player Caroline Wozniacki, 25, was the runner-up at the 2009 and 2014 U.S. Opens and is currently ranked 25th in the world. After wrapping up her 2014 season, she ran the New York City Marathon in a speedy 3:26:33. Wozniacki played an exhibition match against world No. 1 — and good friend — Serena Williams at Madison Square Garden on Tuesday. (Serena won 7-5, 6-4.) She lives in Monaco and has been an Adidas by Stella McCartney ambassador since 2009. Wozniacki spoke to the Cut about working out for a living, napping, and putting candy before friends.
How I start my day: If I'm just having a normal day of working out, I'll wake up at about 7:30 and have some oatmeal and fruit. Sometimes I'll have a bagel or half a bagel. I like to mix it up because I don't want to eat the same thing all the time, but I always make sure to eat something beforehand. From nine to 11, I hit tennis balls. Then I'll do some exercises on the court, like sprints and reactions and stuff, for about 45 minutes.
On workout No. 2: I'll shower and have lunch. Usually, I have some carbs, either pasta, rice, or potatoes and chicken and vegetables. Then I'll have a little nap and I'll go back out on the court from 3–4:30 and into the gym straight after for an hour. I'll have a protein bar or some nuts in between there as a snack. I do weight training, balance work, and core stability with my trainer. Sometimes I stand on a BOSU trainer and he'll pull me in different directions with a band and I have to try to stay balanced. Then there are things I do with my eyes closed. After my workout, I do some stretching and massage with my physiotherapist.
On snoozing: I have that nap every day, it's part of my routine. It's so easy to fall asleep. You get exhausted, your body needs to rest. I try to get an hour in, if I'm lucky I can get an hour and a half. My alarm is pretty annoying but it has to be — otherwise I won't wake up. Usually, I'll snooze it once and then I'll get up. I get at least eight hours every night and if I can I try to get nine or ten.
My food philosophy: If you have a great car but you put the wrong fuel in it, it's not going to go anywhere. I feel it's the same thing with the body, especially as an athlete, we need to really look out for what we eat to perform to the best of our ability. I love a good steak, I like my meat. I love broccoli, it's one of my favorites, and corn, too. I mix it up with my vegetables.
On having athlete parents: My mom was a volleyball player and my dad was a soccer player. I never thought about it, but they always served healthy food at home and I love it and it kind of was a regular part of my day.
On hanging with Serena: I train in Miami part of the year and she trains in Palm Beach, which isn't far away. She'll stop by or I'll stop by her place. We'll hit sometimes or just spend time together. We don't get to spend that much time at home, so it's nice once you get a bit of downtime to actually hang out with your friends.
My wellness advice: I do have quite a few friends who aren't athletes and have normal jobs and sometimes they're like, "Okay, I have to be fit because I have a date in a week. What do I do?" And I'm like, "Wellllll, go on the treadmill, run a little bit, and do some yoga, Pilates. Just eat pretty clean and drink a lot of water." For me, that's a main thing. You can lose a little bit of weight in a week and you can feel better about yourself, but it is a lifestyle. It's about how you eat, exercise, and just move over a longer period of time.
On loving candy: I have a sweet tooth. Milk chocolate with the caramel fillings — that's my guilty pleasure right there. But I think that's all right, we have to let ourselves indulge sometimes. There's this Scandinavian sweetshop in the West Village called Sockerbit, and because I'm so rarely in Denmark I go there and I always buy a little bag of candy for myself. That's one of the first things I do when I get to New York. My friends always laugh because I usually go there first, then I'm ready to see everyone.
On working with Stella McCartney: Stella asked me so many questions in the beginning because at that point she hadn't done sportswear that much. I could say how it was from a sporting point of view and what materials are comfortable, what cuts are comfortable when I play. It's important that it doesn't ride up too much, and that it's not so wide that it's going to fly up. The fabric should be light so when you sweat, the dress doesn't get heavy. You can work with so many details that can make it feminine. I feel like in the past, it wasn't a part of tennis but now we've just tried to create something that's very feminine, and something you could easily walk around in on the street as well. We've created this great team. She's so fun to work with.
What wellness means to me: It means a lot to me especially now in this age where people spend most of their time on their phones or drive to work instead of walking. It's always been such a big part of my life to be fit and healthy and be outside and run and play sports. It gives me energy. Sometimes I have these days where I don't do anything because I have the days off and I just need to relax and I actually get more tired. It's nice, even if it's just for half an hour, at least just get that sweat going, it starts the day off right.
This interview has been edited and condensed.