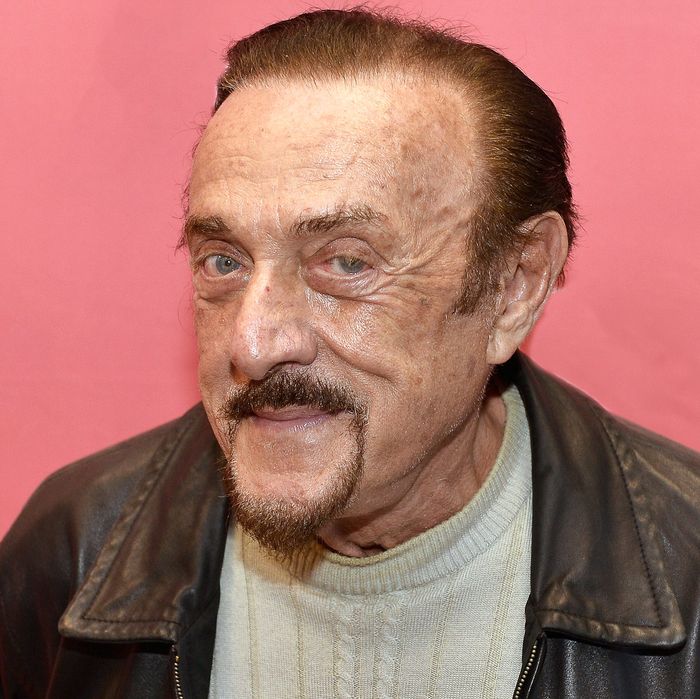 Photo: Paul Marotta/Getty Images
Dr. Philip Zimbardo is best known as the architect of the Stanford Prison Experiment, in which a group of randomly assigned "guards" in a simulated prison quickly began treating their "prisoners" in a shockingly barbaric manner. The experiment, which was called off after only six days despite having a planned two-week run time, shook the foundations of social psychology and became a mainstay of psychology textbooks. As a result, Zimbardo became a go-to figure on the subject of why people do bad things to one another, and on the central role of identity in shaping our behavior.
In recent years, though, the psychologist has taken on a different set of projects. One of them concerns, as the title of a 2011 TED talk he gave puts it, "The Demise of Guys." Zimbardo wants to figure out why (in his view) so many young men are depressed, anxious, and detached from the world, and why they have so much trouble with intimacy. One of the problems, as he put it in the talk, is that "guys prefer male bonding over female mating." This "peaks at Super Bowl Sunday," he notes, "when guys would rather be in a bar with strangers watching a totally overdressed Aaron Rodgers of the Green Bay Packers, rather than Jennifer Lopez totally naked in their bedroom."
So why is this happening? Two of his answers may sound familiar: porn and video games. As one of the slides from his TED talk explained: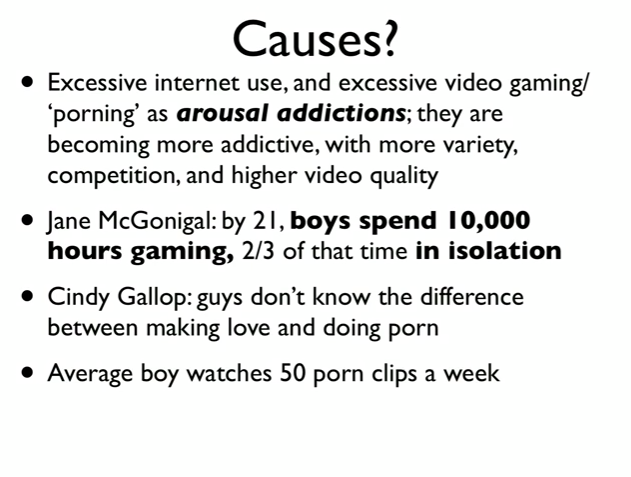 In the years since his talk, Zimbardo has dug deeper and deeper into this idea, and the culmination of his work is a book called Man, Interrupted: Why Young Men Are Struggling & What We Can Do About It, which he co-authored with the writer Nikita Coulombe. It's out later this month, but earlier this week the duo offered up a teaser in the form of a Psychology Today article with the headline "Is Porn Good for Us or Bad for Us?" If the article offers up an accurate preview of the book's argument, Zimbardo may, unfortunately, be relying more on cherry-picking and moral panic than on a careful evaluation of the evidence.
The clinical psychologist Dr. David Ley, author of The Myth of Sex Addiction, offered up a quick and effective rebuttal the next day, also for Psychology Today, that's worth reading if you'd like to dig into some of the specifics of Zimbardo's arguments about the research and why, in Ley's view, they don't hold up. But let's run down Zimbardo's strongest claim in a non-wonky fashion as well.
Zimbardo and Coulombe write:
For our upcoming book, Man Interrupted, we interviewed a number of young men regarding their concerns about porn and how there is a lack of guidance for the overuse of porn. A common sentiment among them was: "I'd like to know that more psychologists acknowledged porn addiction at all degrees of severity. If that were the case I'd be less pessimistic about telling them about my problems."

They also talk about how other areas of their life are affected, such as concentration and emotional well-being, by watching excessive amounts of porn because they notice massive positive shifts in their personal lives and outlooks once they stop masturbating to it.

These young men often recount how their social anxiety drastically improved–including an increase in confidence, eye contact, and comfort interacting with women. They also report more energy to get through their daily lives, concentration becoming easier, depression being alleviated, and stronger erections and sexual responsiveness after voluntarily engaging in a "no fap"

challenge.
Zimbardo and Coulombe are saying that simply by no longer masturbating to porn, these young men's symptoms — including their depression — are significantly improving. This is a big claim.
So who are these young men? Elsewhere in the article, the authors invite readers to "Just visit the sites YourBrainOnPorn and Reddit's No Fap (no masturbating to online porn) forum to see stories from thousands of young people struggling to overcome what they feel is an escalating addiction." It seems pretty clear that Zimbardo and Coulombe are drawing correspondents from these sorts of communities.
For anyone familiar with a certain subgenre of frustrated-male internet content, this should raise a red flag. If you go to the NoFap subreddit, for example, you'll encounter countless stories told by young men for whom fighting their urge to masturbate to internet porn has taken on a central, obsessive role in their lives. Many of them are frustrated at their social and relationship problems, have become convinced porn is the cause, and are spending time in an online community where that message is uncritically reinforced every day.
Should it be surprising that within five minutes of clicking over to the site I found two front-page stories of men who claim they stopped masturbating to internet porn and women were instantly more attracted to them? Whether or not these stories reflect the authors' genuine interpretations of real-life events (you can never tell online), it's obvious that young men who spend time in these communities develop the expectation that it's masturbating to porn that is responsible for their frustration, and that if they could only kick that habit things would improve.
Maybe Zimbardo and Coulombe really got to know these young men. Maybe they interviewed them at length, checked to make sure there wasn't other stuff going on in their lives that better explained their struggles, and came to the scientifically careful conclusion that cutting out the porn and masturbation really did lead to marked improvement. I hope so! Because if they simply took them at their words about the salutary effects of quitting internet porn, that could be really bad for two reasons. First, it may well be ignoring other underlying issues these young men have — if you have otherwise untreated clinically significant anxiety or depression, for example, masturbating less probably isn't going to help with that, even if you do get a quick placebo-effect bump to your well-being from the attaboys you receive on NoFap.
Second, and relatedly … well, Ley put this really nicely, so I'll defer to him:

[Dr. Joshua Grubbs of Case Western University…] found recently that the identity of "porn addict" is an iatrogenic concept, which creates harm and distress, by telling an individual to hate and fear their own sexuality. Sadly, and surprisingly, Dr. Zimbardo is perpetuating this harm, by encouraging men to hate and fear their own sexual response to pornography, and to embrace the identity of porn addict. Given Dr. Zimbardo's own body of research, about the impact of identity and expectation on behavior and feelings, I'm surprised that he does not see the impact that his views may have upon those who are struggling with porn-related behaviors, driving them into these identities Dr. Zimbardo

 

endorses.
If Ley and Grubbs are right, not only are the root causes of these young men's distress being ignored, but a different, inaccurate diagnostic label is being plastered atop their actual problems, likely only causing further issues: "I'm a porn addict! That's why I'm so unhappy!" The young men who adopt this label, or a label like it, then find themselves in communities like NoFap, where it is solidified and reinforced, and where they increasingly see porn consumption as the root cause of much of what is bad or unsatisfying in their life.
Obviously, none of this is to say that there aren't some people who get obsessed with porn. People develop unhealthy relationships to porn just like they develop unhealthy relationships to video games or internet dating or sports. And porn, of course, does reinforce certain negative or unrealistic depictions of sex and sexuality. Would anyone argue that it's ideal for a 15-year-old's ideas about sex to come from porn? That's a conversation worth having.
But it's quite another matter to put porn (or video games, or sports) at the center of a story about an entire gender's struggles, especially given the millions of men — and, for that matter, women — who both watch porn consistently and have entirely normal lives and sex lives. In the absence of more evidence, it's hard not to be a bit skeptical.