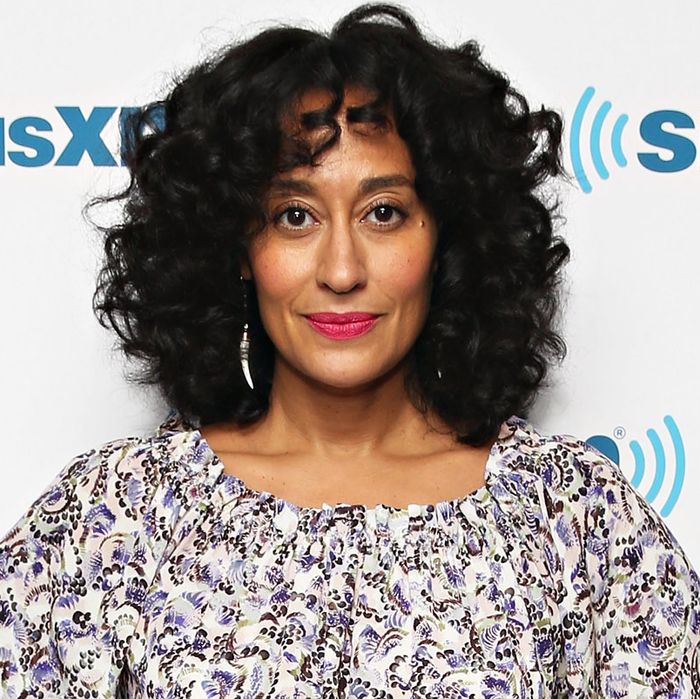 Tracee Ellis Ross.
Photo: Cindy Ord/Getty Images
Black-ish actress Tracee Ellis Ross finds people who still have issues with the word "feminist" a bit "confusing." In fact, at Marie Claire's Power Trip conference today, she politely classified their stereotypes as "myths" ("Birkenstocks, hairy legs? I mean I'm like, What is going on?").
Ross admitted she didn't completely grasp the word in high school and college. "I think I had a sort of peripheral relationship to it," she said. "Everyone thought feminism was a dirty word, and I never really understood why." Now in her 40s, she takes her definition of feminism from Gloria Steinem: "It means you believe in the equality for everyone," Ross said. "If you look back at what I believe and what I stand for, I am certainly a proud feminist."
During the interview she also revealed that the word comes up in a new episode of Black-ish — in an opening scene when her character Rainbow Johnson's husband asks if his gay sister will take her fiancée's name. "I say, 'Why does it matter? I didn't take yours.' He says, 'What do you mean?' and I say, 'What are you talking about? I'm a feminist.' So we state that 'Bow is a feminist,' and from there it was very interesting, some of the things that were written." A feminist take on screenwriting for women in Hollywood? Ross herself gets that concept.
Reported by Dayna Evans.