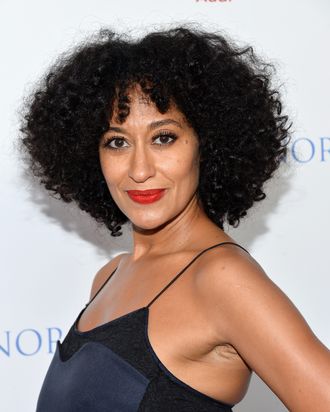 Tracee Ellis Ross, Special-K ambassador and star of Black-ish.
Photo: Amanda Edwards/Getty Images
I've called Tracee Ellis Ross my girlfriend for nearly 20 years. You may have done the same. It started with her show Girlfriends, of course, and was cemented after she expanded her personal brand online by routinely delivering makeup tips, jokes, and shared insights — friend stuff. These days she stars as Rainbow Johnson on Black-ish and recently teamed up with Special-K's Nourish Your Next — a campaign that celebrates everyday women doing extraordinary things. The Cut caught up with Ross to discuss her sense of duty to celebrate women, the Black-ish episode on everyone's mind, and why people shouldn't want to be her.
This is so cool because you used to work at New York Magazine.
I did, I totally did! I went from Mirabella magazine to New York in the fashion department. It was really fun. It was a small department when I was there. It was me, Samira [Nasr], and Jade, and I was able to do everything, from being her assistant to doing my own shoots, to going out to market appointments and pulling stuff, to writing insurance letters, just all of it. It was really great training for me.
A few weeks ago, everyone was talking about Blackish's "Hope" episode, which approaches the issue of police brutality against black Americans. What did that episode mean to you?
To be on a show that is willing to keep telling the truth through the lens of this family means a lot to me. The fact that the writers are willing to keep addressing what American families are dealing with right now — and sometimes, like the police-brutality episode, what black families are dealing with right now — is really exciting and makes me feel really proud. My character is not always speaking my "Tracee" point of view, but what I love is that these subjects are spoken through each of these characters, using points of views that need to be seen.
What are some issues that you'd like to address on Blackish?
There are a ton. Some are fun and frivolous, and some are as pivotal as police brutality, gun control, or politics. There's a lot of subject matter that can be explored through this this family. Bo's being mixed race — I look forward to exploring that in a new and different way. The "Hope" episode is a really good example of how different generations are experiencing these things, through the lens of the teenagers versus the kids.
The generational difference in how the family members reacted in "Hope" reminded me of Ta-Nehisi Coates's Between the World and Me — the part where his son was crying because he thought the killers of Michael Brown would be tried in court and Ta-Nehisi didn't want to comfort his son to give him a sense of false hope.
And what Ta-Nehisi did that was extraordinary was that he addressed the historical context. Jon Stewart, when a lot of the police-brutality stuff started, did an episode, and he said something that really struck me. I'm going to hack up the metaphor that he used, but it really reminds me of what we do on our show. He used the expression "the wallpaper of our lives." There's a lot of stuff up on the wallpaper and we don't know how it got there, but it's sort of sticking out. Our show takes those things off the wall and puts them in the middle of the floor and sees how this family trips over it. One of the things that Ta-Nehisi did in that book that I loved is that he didn't take it off the wall, he actually explained what was in the wallpaper. Perhaps because of the vehicle, the way he was talking to his son, it captured something that I didn't even understand. It was extraordinary. He explained the wallpaper.
With Black Girls Rock, your partnership with Special-K, and in social media, you are always celebrating phenomenal women. Do you feel a sense of duty to highlight young women doing great things?
In all honesty, it's completely selfish. I need to see my own beauty and to continue to be reminded that I am enough, that I am worthy of love without effort, that I am beautiful, that the texture of my hair and that the shape of my curves, the size of my lips, the color of my skin, and the feelings that I have are all worthy and okay.
I heard it said once that "You can't be it unless you see it." I don't believe that that's always true, but I believe that it's more challenging when you don't see it. I think of my mom [Diana Ross] — she literally paved a road that didn't exist. I think it's possible to have a vision for your life that goes beyond any circumstance of anything that you've ever seen, and I encourage people to do that. But I don't think that any of us can do that in a vacuum. I really feel like there's a paradigm shift that has occurred in the last ten years for how black women in this country are seen, the voice that we have, how we see ourselves, how we our images are portrayed. I want to see images that remind me that I am beautiful and I am enough, so that I don't have to waste any energy feeling ashamed of myself or any of that, so I can actually go out and do extraordinary things. Using my voice to recognize and celebrate other women is a joy for me.
There's a cult fandom surrounding your hair. People make memes and YouTube tutorials about it. What's that like?
I find it incredibly flattering. The only reason that I would enjoy it (and I do enjoy it) is if liking what my hair looks like offers you a springboard to find how you love yourself, not so you can be me. I used to try to beat my hair into submission so that it could look like other people's hair. The moment that I stopped doing that and allowed my hair to be what it is, I came alive. If how I do my hair inspires them to find a new style for the way they want to do their hair, then God bless. I didn't love my hair growing up, I didn't love my body growing up, all those kinds of things. To then have people mirror back that it's good — it's really nice. I feel like our culture is so good at pulling other people down and being so judgmental, but there's space for all of us to be who we are. There's space for us to celebrate each other and root for each other and not take each other down.
On another note, what happened to your rap alter-ego, T Murda. She is missed!
She's very tired. She's certainly not gone. I don't think she'll ever go away.
This interview has been edited and condensed.