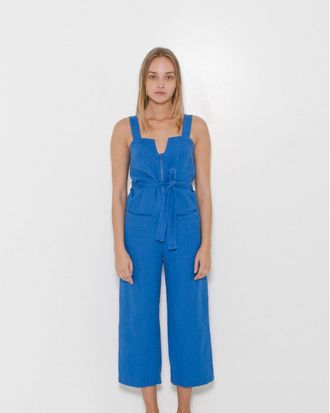 Every Friday at the Cut, we're highlighting one great purchase for which it's absolutely worth eating ramen noodles for the rest of eternity. If you're looking for cheap thrills instead, check back every Monday for a fun pick-me-up that will still leave you enough cash for dinner.
Because wardrobe basics don't have to be boring, here's a new jumpsuit from Rachel Comey. Since overalls aren't exactly on the list of approved workwear, consider this jumpsuit an upgrade that you can proudly wear to your next meeting. The soft linen is breathable even when layered, and it creates a flattering draped effect. On cooler days, try slipping underneath a light turtleneck in a bold complementary color to create a cool, color-blocked effect. To adapt it for a more casual weekend look, pair it with an edgy moto jacket, add a bandana neck scarf, and finish it off with a spectacular sneaker.
Rachel Comey Bend Jumpsuit, $495 at the Dreslyn.