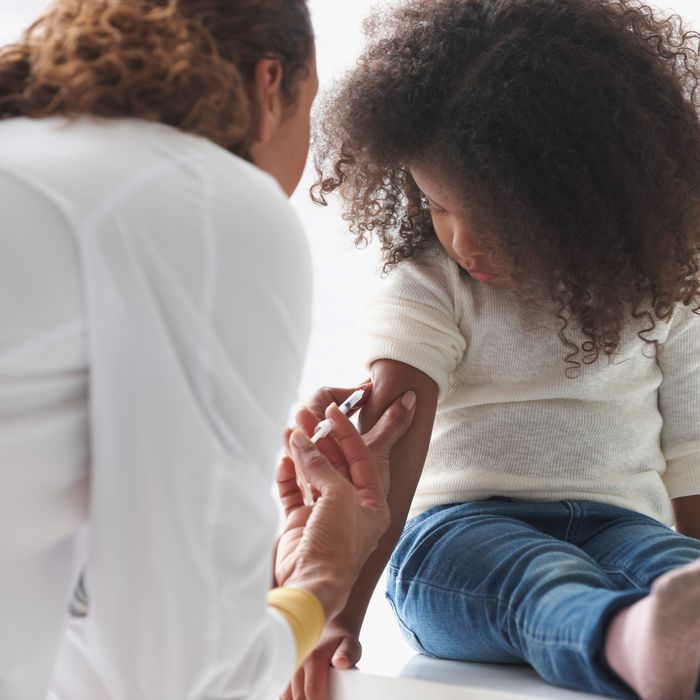 Child getting a life-saving vaccine
Photo: Dann Tardif/Corbis
Do you know who Andrew Wakefield is? You should! He's the doctor who, in 1998, published a paper linking vaccines to autism.
Well, he's not a doctor anymore. He was stripped of his medical license and found guilty of "abuse of developmentally challenged children" and of "dishonesty" in his studies by a hearing of his peers. The link between vaccines and autism was bullshit, but it sure did catch on.
We can trace the current fad for not vaccinating babies and children straight back to the former doctor, and — surprise! — he's still going. Jezebel recently caught up with him on a conspiracy-theory-themed cruise, and though Wakefield refused to show them his anti-vaccine "documentary" at the time, it's now listed as being among the films to be shown at this year's Tribeca Film Festival. Meaning Vaxxed: From Cover-Up to Catastrophe will get the chance to spread its dangerous message at a well-respected film festival.
Another listed star of the film is Dr. Jim Sears, of the famous Sears family of pediatricians. Jim Sears's father, Dr. Bill Sears, is responsible for the unfounded "adjusted" vaccination schedule, which suggests a calendar for inoculation different from the CDC's and is often used to signal a rebellious distaste for the CDC's recommendation of fully vaccinating children. Though Dr. Jim says he is pro-vaccine, he also says in a statement that he is "pro truth" and then goes on to suggest that it's possible that the CDC committed fraud and conspiracy.
From the Tribeca Film Festival website: "Digging into the long-debated link between autism and vaccines, Vaxxed: From Cover-Up to Catastrophe features revealing and emotional interviews with pharmaceutical insiders, doctors, politicians, parents, and one whistleblower to understand what's behind the skyrocketing increase of autism diagnoses today."
Whatever you say, dude.
Update: A Tribeca Film Festival spokesperson sent this statement. "Tribeca, as most film festivals, are about dialogue and discussion. Over the years we have presented many films from opposing sides of an issue. We are a forum, not a judge."