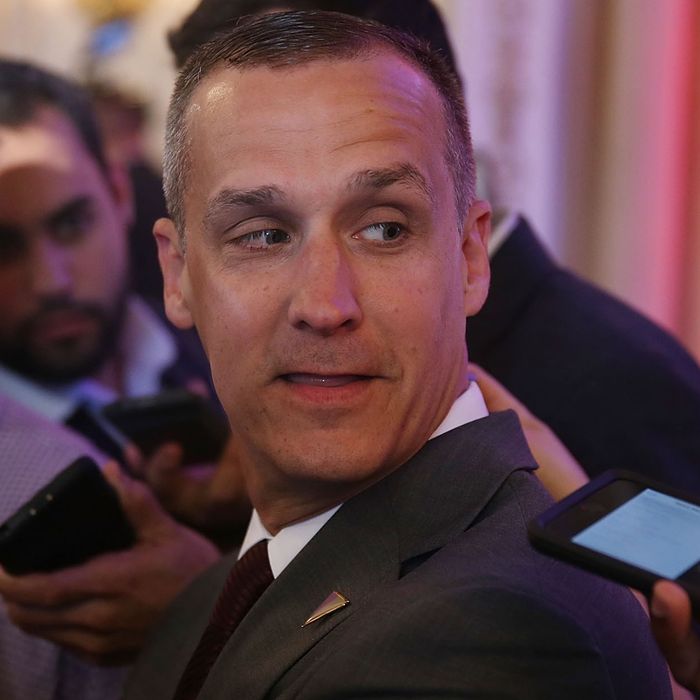 Corey Lewandowski
Photo: Joe Raedle/Getty Images
The GOP front-runner's campaign manager was charged with the misdemeanor battery of a female reporter Tuesday morning and has turned himself over to the police, the Palm Beach Post reports. Donald Trump quickly came to his aide's defense, advising the public to consult surveillance footage … which clearly shows his second-in-command, Corey Lewandowski, grabbing Breitbart reporter Michelle Fields.
Trump went on to suggest, erroneously, that Fields's account of the incident had shifted over time.
On the night of the March 8 primaries, Fields was walking alongside Donald Trump's entourage as they exited his Florida golf club, when she asked the candidate about his stance on affirmative action. Before Trump could answer, Lewandowski grabbed Fields from behind and yanked "her down toward the ground like a ragdoll," according to a witness who spoke with the Daily Beast. Fields shared photos of the bruises she incurred on social media. Early reports suggested that Lewandowski had confessed to the yanking, explaining that he had mistaken Fields for an "adversarial member of the mainstream media" (as opposed to a writer from a Donald Trump fanzine like Breitbart). But the following day, Lewandowski denied any involvement in the incident, and informed Fields via Twitter, "You are totally delusional. I never touched you. As a matter of fact, I have never even met you." Trump backed up his aide, suggesting Fields probably made the entire thing up. Lewandowski then took a swipe at the 28-year-old reporter's character.
Breitbart actually ended up taking Lewandowski's side in the matter, publishing an agonizing analysis of peripheral footage of the incident that concluded Lewandowski couldn't have been the perpetrator. The site's deference to the Trump campaign's official version of events prompted a wave of resignations from its staff.
Trump's GOP rivals reacted to the news of Lewandowski's arrest by claiming that their campaign's would never employ a man of his character.
In the weeks since the alleged battery took place, other female journalists told BuzzFeed that they had received late-night, sexually suggestive phone calls from Lewandowski, which they interpreted, perhaps charitably, as drunk dials. Meanwhile, Politico revealed that Lewandowski's abusive behavior toward journalists and campaign staffers had been an object of concern for several of his underlings. The staffers had planned a mutiny against Lewandowski early in the campaign, but they gave up after Trump's early victories further endeared the Donald to his top aide.
To ensure maximally bad PR, Trump has secured Lewandowski the legal assistance of a Florida attorney who was once accused of assaulting a stripper … with his teeth.
A CNN poll last week found that 73 percent of American women view Donald Trump unfavorably. It seems doubtful that the Donald's full-throated defense of a man who bruised a woman, and then called her a "delusional," lying "attention-seeker," will improve his standing with the female electorate.