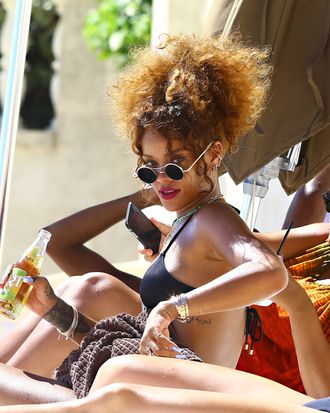 Rihanna in Barbados.
Photo: GEMAIRA/PRIMADONNA / Splash News
Rihanna is unique in the current celebrity ecosystem because she actually doesn't give a shit and is cool. This is especially amazing because now every celebrity gives a shit so much and is not cool, and you can see all of their overweening effort and faux nonchalance and sad love of charity 24 hours a day on social media. They all have the personality of 9-year-old vaudevillians who ballroom dance on the Orpheum Circuit. Even Johnny Depp! What a disappointment!
But Rihanna doesn't immolate herself on, like, the fires of authority. She just doesn't. For example, maybe you want to give Rihanna an award for her contributions to the fashion community. Guess what? She will wear no clothes to accept that award. LOL (cool)! Maybe you are Manolo Blahnik and you ask Rihanna to design a pair of boots. She'll just design a pair of jeans that are also boots. Everyone wants her to get with Drake? She makes it clear that Drake is a huge nerd! I mean, she just named her (excellent, original, and creative) album Anti. She gets it and she's the only one.
From the above list, a question naturally occurs — what does Rihanna eat the whole day? And can I eat that as well? And the answer is, for sure! Just Google it. It only takes one second.
Preparation:
It took me approximately one second to figure out what Rihanna eats all day. I just Googled the words "Rihanna" and "diet." From what I could gather, Rihanna does a combination of several things that all sound really amazing. Sometimes she eats at old-school Italian red-sauce joints. (When she's in L.A., she eats at Giorgio Baldi six times a week. Vogue termed it "her kitchen.") Sometimes she has her private chef cook for her. Sometimes, she just drinks beer. Sometimes, perhaps when feeling particularly virtuous, she goes on something called the 5-Factor Diet.
Basically, the first part of this plan sounds like bliss. The only thing that is giving me any pause at all is this 5-Factor Diet, because I don't know what the factors are.
Days 1 and 2 
In 2008, Fabulous magazine asked Rihanna about her daily diet. This is what she said in return: "Carbs are the enemy but if I go three days without them, I start getting weak. If my trainer had her way, I'd eat small meals every three hours, but I sometimes only eat once or twice a day. I have egg whites and pineapple for breakfast with hot water and lemon. For lunch I have fish and potatoes. I hate vegetables but I make myself eat them. For dinner I have fish again."
This quotation, though slightly unwieldy, seemed as good a place as any to start my Rihanna diet. I decided to skip breakfast (I'm allergic to eggs and pineapple, also Rihanna only eats one or two meals a day, so whatever) and have fish and potatoes for lunch. Instead of having fish and potatoes again, however, I go to Emilio's Ballato, on Houston Street, which is one of Rihanna's favorite restaurants. I have the meatballs and spaghetti, both of which are perfection and make me feel like Frank Sinatra. At Giorgio Baldi, Rihanna once ordered three different half-orders of pasta for a meal. She is my kind of person.
The next day I head to Da Silvano for dinner, which is another one of Rihanna's favorite pasta joints when she happens to be in New York City. While my dinner companion is in the bathroom and I start eating his seafood spaghetti (which is SO DELICIOUS), I scroll through a slide show of Rihanna's outfits on my phone. It is actually amazing how many trends she started. She did everything first — sneakers, pretending a coat is a dress, bras, no bras, etc., etc. People wildly copy her and don't give her credit. Including me! I actually have one item of clothing in common with Rihanna: We both have a sweatshirt that says "School Kills" on it. It's my favorite sweatshirt because school really does kill.
Day 3
Today I decide to eat the food Rihanna's personal chef, Debbie Solomon, cooks for her. I have a caprese salad for lunch (mine was delicious, although not nearly as artfully assembled as this one) and later I make curried chicken — a recipe that Chef Debbie shared on the TV show The Doctors. I LOVE The Doctors. If you haven't seen The Doctors, it stars these really good-looking, nice doctors who are worried about society's health. The main doctor is so handsome that, to quote Jane Austen, "none but Eagles could look him in the face." Watch that show!
Anyway, Chef Debbie's curried chicken has a lot of ingredients, but ends up producing the most flavorful, non-dry chicken I have ever tasted. It totally doesn't taste like diet food even though it mostly consists of spices that have no calories. Chef Debbie is ridiculously talented and needs to release a cookbook ASAP because I would buy it.
I also watch Napoleon Dynamite again, which is reputed to be Rihanna's favorite movie. It is so funny when Napoleon trails his action figure outside the bus.
Days 4 and 5
After a brief respite from my Rihanna diet because I got a sinus infection, I decide to attempt Harley Pasternak's 5-Factor Diet.
Pasternak's nutritional philosophy is simple. Eat five times a day. Have all those meals contain five ingredients. Exercise 25 minutes five days a week. Hence the number five in the title. (But wherefore the "factors"?)
Harley Pasternak has a very breezy, fun writing style, much like Boris Pasternak. I think one of the biggest differences between the two is that Harley loves celebrities and will drop their names as blithely as a socially ambitious mother at a suburban country club. Here is an example:
"When I work with Kanye West, for instance, he likes to eat the same thing for breakfast on most days … Alicia Keys on the other hand, loves to cook … she enjoys variety in her diet."
Still, I don't hold it against him. I'm glad to know.
Another thing about the 5-Factor Diet is that you can just TELL the diet was written by a dude. Why? Because many of the recipes include beef jerky and like, putting protein powder in places it has historically never been. Dudes love that stuff. There is a particularly terrifying recipe that combines a rice cake, beef jerky, cottage cheese, and stewed apples. It's a snack. At the end of the recipe there is an addendum marked NOTE ("The saltiness of the turkey jerky balances with the sweetness of the apples"), which I wish I had never read.
Since I'm allergic to eggs (and most of the breakfasts involve eggs in some shape or form) I have the protein powder in oatmeal. (It's supposed to be in Cream of Wheat, but my grocery store doesn't have Cream of Wheat. I hate New York. My grocery store probably thinks everyone in New York has a fake gluten allergy.) Guess what? Protein powder in oatmeal is inedible. Only two hours later I'm starving because I could barely eat it. For a snack, I have Harley's "bruschetta," i.e., crackers with cheese and tomato melted on them and dusted with "Italian seasoning." I had a tuna sandwich for lunch (without mayo, difficult), salmon sashimi for a snack, and stuck to fish and rice for dinner. I did not try jerky even though I bought it.
Then I went to exercise. The 5-Factor Diet has a 25-minute workout included in it, which features a mix of cardio, abs, and strength training. The best part was that Rihanna loves Linkin Park and always listens to them when she exercises. Luckily, I also LOVE Linkin Park, so we have that in common.
Linkin Park is so awesome because they are true nihilists. They literally hate the people they dated so much it's crazy, which is refreshing in this disgustingly civil age. In fact, when I was working at huffingtonpost.com/college, and I was aggregating stories about the Penn State Scandal, I played the Linkin Park song "BURN IT DOWN" every single time I watched a YouTube video of some kid tremulously defending the school's commitment to football, which meant I listened to "BURN IT DOWN" 57 times a day. I wanted to embed a MIDI file of it into every story about Penn State, but I didn't. If I were Rihanna, I probably would have.
Also, the video for "BURN IT DOWN" is incredible!!!!!!!!!!! I can't stop watching it. Everyone burns in it.
In conclusion, doing any exercise to "BURN IT DOWN" is one of the most pleasurable things in the world! Especially while wearing a "School Kills" sweatshirt. Fun fact! Rihanna's celebrity crushes are Chester from Linkin Park (the guy with the plugs), Trey Songz (hot), and Justin Bieber (I get that; he has narrow shoulders but I love his hair).
I ended up doing the 5-Factor Diet for two days. The worst part of it was that I was never hungry five times a day. I was just insanely hungry two times a day. Also, I never made that jerky thing because of the NOTE addendum.
Day 6
It was recently reported in OK magazine that Rihanna now loses weight by not eating all day and subsisting on beer and diet soda. For my final day on the Rihanna diet, I decided to do just that. It was the first time I have ever had a beer at 9 a.m. Immediately, I felt really tired and sick to my stomach, but I did make a discovery. Have you ever heard the song by Rihanna called "California King Bed"? It features the most mournful acoustic guitar and the lyrics are "In this California King bed, we're ten thousand miles apart." I really loved that song when I was drunk! I had four beers and two sodas.
One thing I will say for this plan was that I was never hungry but I did feel sick to my stomach for the entire day. I think you have to get drunk the night before for it to really work.
Conclusion
And now you know what Rihanna eats all the time! I for one am impressed. Her plan has variety and truly delicious meals from amazing Italian places. Plus, you can spend a whole day drunk listening to a song called "California King Bed." Who could ask for more! It makes me wear my "School Kills" sweatshirt with renewed pride.