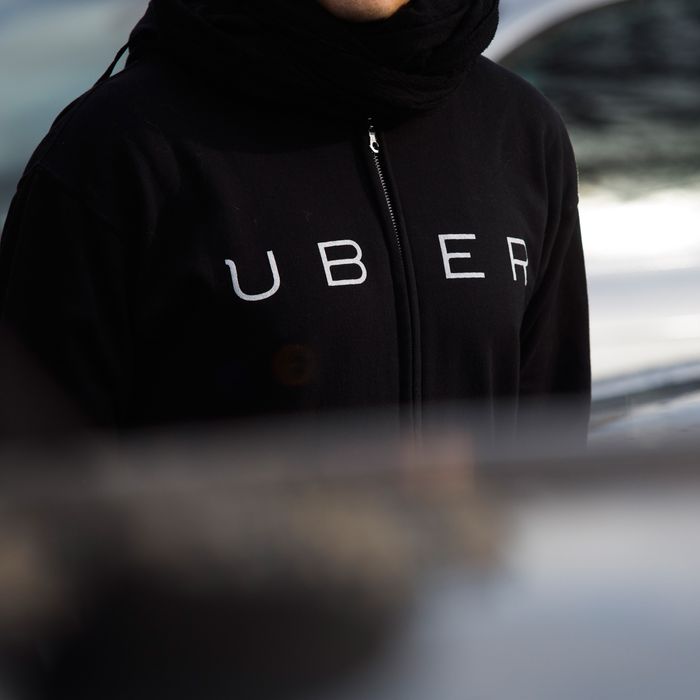 Uber.
Photo: Geoffroy Van Der Hasselt/AFP/Getty Images
On Sunday, BuzzFeed News published screenshots of Uber's internal customer-support platform that were leaked by a former customer-service representative at the ride-share company. The screenshots implied that there had been thousands of Uber users registering complaints of sexual assault and rape.
BuzzFeed News published the leaked customer-service screenshots along with a story that explained how "a search query for 'sexual assault' returns 6,160 Uber customer support tickets. A search for 'rape' returns 5,827 individual tickets. Other variations of the terms yield similarly high returns: A search for 'assaulted' shows 3,524 tickets, while 'sexually assaulted' returns 382 results." But in their response to the news outlet, Uber representatives claimed that there are "flaws" in these screenshots, and that they do not tell the full story. 
Uber officials wrote that of the thousands of support tickets that came up when searching for the word "rape," only five met "Uber's standard of an actual incident related to a trip," though the company refused to detail what methods they had used to determine an actual incident. So why were there so many tickets that turned up when searching for terms like "rape" and "sexual assault"? Let Uber take it away with their reasoning:
Riders routinely misspell "rate" (as in the fare) as "rape", or use the word "rape" in another context. For example, "you raped my wallet";

Any email address or rider/driver last name that contains the letters R, A, P, E consecutively (for example, Don Draper) are included. After analyzing the data, we found more than 11,000 rider names and 17,500 rider emails with the letters "rape";

The results also showed tickets from passengers who got into cars not on the Uber platform, or who were discussing unsubstantiated media reports of sexual assaults.
Uber claims, along with the five actual incidents of rape, there were "170 tickets with a legitimate claim of sexual assault (1 in every 3.3 million trips)" and that because of the flaws the company found in BuzzFeed's published screenshots, "we do manual audits of every ticket sent to Uber, not audits of key words." Uber writes, "no means of transportation is 100 percent safe today. Accidents and incidents do happen. It's why we are working to build an exceptional customer support team that can handle problems when they occur, including working with law enforcement."
Okay.