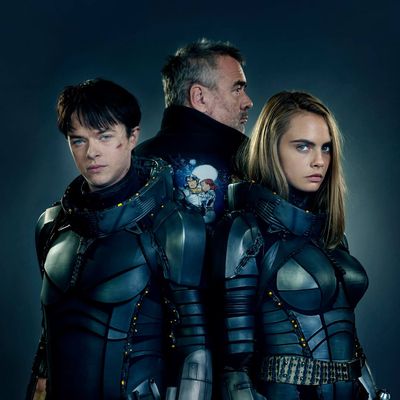 First look at Valerian and the City of a Thousand Planets.
Photo: Luc Besson/Facebook
Luc Besson's 1997 sci-fi film, The Fifth Element, still has a cult following, and it's not just due to '90s nostalgia: Who doesn't love seeing a cool supermodel (Milla Jovovich) storm the galaxy in a highlighter-orange wig? Now, the first photo from Besson's upcoming film Valerian is here, and it looks like Fifth Element redux, with Cara Delevigne taking the Jovovich role.
Based on the French sci-fi comics series, Valerian and the City of a Thousand Planets will hit theaters in July 2017. It stars a smoldering Delevingne alongside exceptionally woke youngster Dane DeHaan.
Note that in place of Jean Paul Gaultier, who famously created The Fifth Element's gender-bending costumes, Valerian has a more cinema-focused costumer, Olivier Bériot. But Delevigne isn't the only fashion person involved: One of the film's other stars is a certain Puma collaborator who goes by the name of Rihanna.