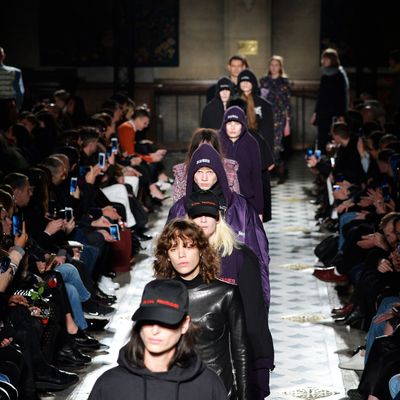 Vetements's show yesterday in Paris.
Photo: Kristy Sparow/Getty Images
In addition to hoodies that say "Justin4Ever" and "May the Bridges I Burn Light the Way" — sentiments we can all agree with — there was one thing that stood out about circumflex-free Paris "It" label Vetements' show yesterday. And that is, it was pretty much a sea of white people — an uncomfortable throwback to the mid-'90s and '00s era of seriously un-diverse casting at luxury shows. Amid praise for designer Demna Gvasalia's latest take on streetwear and the quirky street casting of the show, there were few detractors drawing attention to the lack of diversity.
Plenty of critics loved it, with Business of Fashion calling its review "The Revolution Will Be Branded 'Vetements,'" while Vogue raved, "Vetements means business." But Twitter had some reactions that were far less positive.
Central Saint Martins student Priyesh Patel also brought up the casting on a SHOWStudio panel about the collection. "It's all white people … It's street casting, so I think it should be a lot easier for them to cast diverse models," he pointed out.
We've reached out to a rep for the label for a comment on the rationale behind the casting, and will update this when we hear back.