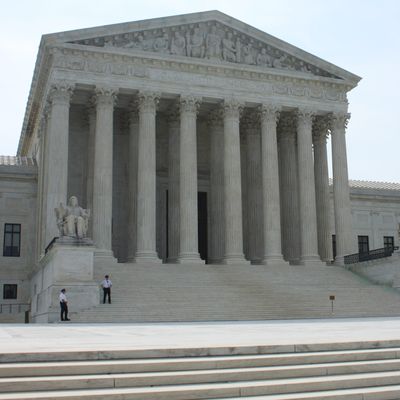 The U.S. Supreme Court.
Photo: Evan Golub / Demotix/Corbis
Today the Supreme Court will hear arguments in Whole Woman's Health v. Hellerstedt, its first major abortion case in almost ten years. The Court's decision will determine whether 34 out of 40 of Texas's abortion clinics will be shut down. Here's what you need to know about the case, and what it means for the future of women's health care in America.
What is Whole Woman's Health v. Hellerstedt?
In April 2014, the Center for Reproductive Rights filed a lawsuit challenging two provisions of Texas's anti-abortion bill, HB2. That bill, signed into law by then-governor Rick Perry in 2013, restricts abortion in several ways, but Whole Woman's Health v. Hellerstedt specifically challenges two: "(1) the admitting privileges requirement specifically as it applies to two clinics — Whole Woman's Health in McAllen and Reproductive Services in El Paso; and (2) the requirement that every abortion clinic meet the same building requirements as ambulatory surgical centers (ASCs)."
Who are the parties involved?
Whole Woman's Health is a "privately-owned, feminist organization" located in McAllen, Texas, that provides reproductive services, including abortion, for women; they are being represented by the Center for Reproductive Rights.
John Hellerstedt is the commissioner of Texas's Health and Human Services commission, which oversees women's health services in Texas.
What are their arguments?
Whole Woman's Health argues that the restrictions placed on abortion in HB2 are unconstitutional, pointing to 1993's Planned Parenthood v. Casey, when the court decided that states cannot limit abortion access to the point that it presents an "undue burden" on women seeking the procedure. The decision also banned "unnecessary health regulations that have the purpose or effect of presenting a substantial obstacle to a woman seeking an abortion." According to RH Reality Check:
Plaintiffs argue that the admitting privileges requirement effectively gives local hospitals veto power over the McAllen and El Paso clinics' ability to provide abortion care to women in the Rio Grande Valley and in West Texas respectively because hospitals in Texas have broad discretion to set the criteria for granting admitting privileges and can thereby grant or refuse privileges on the basis of idiosyncratic rules and regulations.
Texas argues that it is simply protecting the safety of women getting abortions, even though abortion is already very safe.
What does it mean if the Supreme Court votes to uphold the provisions?
Thirty-four of the state's 40 abortion clinics will be closed. According to The Atlantic:
If that happens, legal abortion will be available only in the state's four major cities. As a result, nearly 1 million women of reproductive age would find themselves more than 150 miles from a facility that could perform an abortion, and would need to wait more than three weeks for an appointment to receive one.



What does it mean if the judges vote 4-4?
After the recent death of Judge Antonin Scalia, a tie is possible and could have major repercussions. Writes the Times:
Justice Antonin Scalia's death last month may have muted the prospect of truly bold action, but even a 4-to-4 tie would have enormous consequences because it would leave in place an appeals court decision that could drive down the number of abortion clinics in Texas to about 10, from roughly 40.
What are other people saying about this case?
Dozens of women have shared their abortion stories with the Court in the hopes of illustrating just how important access to reproductive health care is.
Several major news organizations have published editorials encouraging the Court to strike down HB2, including the New York Times, USA Today, and the Washington Post.
Planned Parenthood president Cecile Richards called the case "the most significant abortion case before the nation's highest court in more than two decades."
What does this decision mean for the future of abortion access in America?
If the provisions of HB2 that are being challenged are upheld, it could set a major legal precedent that allows states to continue to chip away at abortion rights. If it's struck down, it would broaden abortion access in Texas and serve as a message to other states with similar laws that they can't enact legislation that places arcane restrictions on women's reproductive health.
When will we know the Court's decision?
The Times predicts it won't come until June, so it's going to be a stressful next couple of months for pro- and anti-choice activists alike.