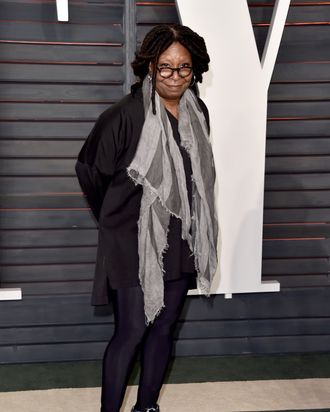 Whoopi Goldberg
Photo: Alberto E. Rodriguez/WireImage/Getty Images
Whoopi Goldberg is going to launch her own line of medical-marijuana products for menstrual cramps. As a society, we absolutely do not deserve this. We're simply not good enough. But let's not question such blessings.
Whoopi and "canna-businesswoman" Maya Elisabeth collaborated on the line, which will be comprised of "cannabis edibles, tinctures, topical rubs, and a THC-infused bath soak" and will be available this April, but only in California. 
It's important that her medical-marijuana line includes products that don't get you high. Whoopi told Vanity Fair, "For me, I feel like if you don't want to get high high, this is a product specifically just to get rid of discomfort. Smoking a joint is fine, but most people can't smoke a joint and go to work."
But she's not opposed to cyphing every once in a while. Like her Hollywood compatriot Leo DiCaprio, Whoopi is a fan of vaping: "I started using the vape pen because I stopped smoking cigarettes about four years ago and discovered I couldn't smoke a joint anymore. The relief that I got with the vape pen was kind of different from what I got with smoking. I could control it much better."
Bless you, Whoopi. And may your menstrual-cramp medical-marijuana line take over the world.