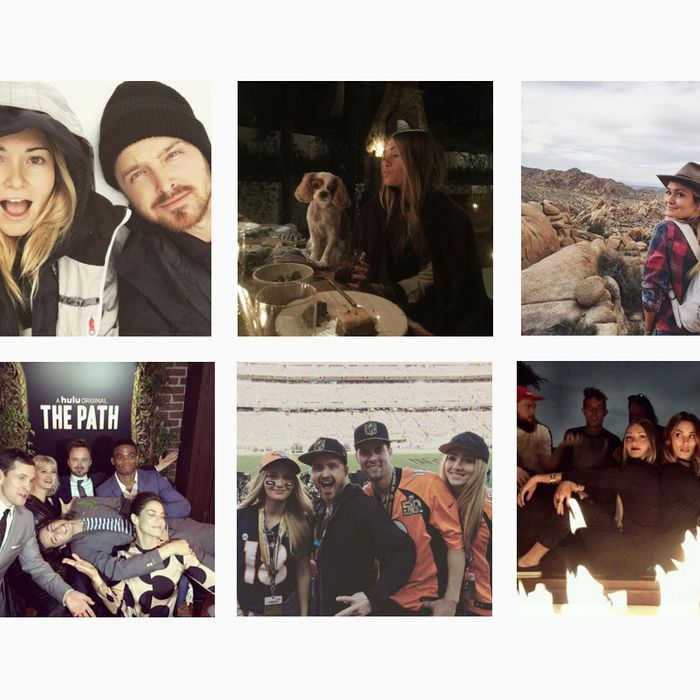 Photo: laurenpaul8/Instagram
Lifestyle content is all about aspiration, which is code for making people envy you and shop accordingly. In our series "I Like This Bitch's Life," the Cut bitterly admits that it's working.
I don't follow the accounts of many celebrities or lifestyle strangers on Instagram, which is sort of a lie. I follow Karlie Kloss, Cara Delevingne, St. Vincent, Rihanna, Taylor Swift, Beyoncé, and 2014 Sochi Winter Olympics "team event" bronze medal winner Jason Brown, but I'm pretty sure everyone follows all of those people, so that's just standard. Mostly my Instagram viewership is limited to men and women I consider friends, or men and women I consider acquaintances whose lives I will forever know everything about even though I don't care and never did. And then also I follow, and have for at least two full years, for reasons I now forget, the actor Aaron Paul's wife: Lauren Paul.
If you're unfamiliar with the actor Aaron Paul's wife Lauren Paul, let me tell you everything I know about her from memory. First, her maiden name is Parsekian. She is the 29-year-old (her birthday is in December) co-founder of Kind Campaign, a nonprofit that aims to teach girls about negative effects of girl-on-girl bullying. (Lauren feels strongly about this cause because she was bullied when she was young.) She met Aaron Paul, known for playing Jesse on AMC's Breaking Bad, at one Coachella, and then reconnected with Aaron Paul at the next Coachella. She is very beautiful and, this is just an observation, has a lot of very white girlfriends. She lives in Los Angeles, visits New York City often, spends a legitimately crazy amount of time on mountaintops, and one time went to Machu Picchu. Her 2013 wedding to Aaron Paul was Parisian-carnival-themed. She is often surrounded by balloons, seems to be on vacation a lot, and her Instagram captions are typically breathlessly happy in a way that seems genuine — and, of course, why wouldn't they be? She loves Aaron Paul very much and he feels the same way about her.
Lauren's Instagram is not overly curated. It doesn't feel like an Instagram account meant to be followed by 419k strangers, even though it is followed by nearly that many unless I am underestimating the number of people Lauren Paul knows personally. It's just her life, which just happens to be better than the majority of the rest of our lives. Some beach sunset, some mountaintop, some fancy event, some Breaking Bad thing, a nice dinner with friends in a cabin somewhere and now they're all having wine around a fireplace wearing cozy clothes, some fancy cocktail, and a bunch of shots of Kind Campaign events that make the rest of it seem less vapid.
When I said I forgot the reason why I first started following Lauren Paul on Instagram, that was also sort of a lie. The reason, I'm sure, was spurred by the crush I had on Aaron Paul when Breaking Bad was on TV — more specifically, the crush I had on Aaron Paul's fictional character "Jesse" from Breaking Bad, when Breaking Bad was on TV. Who could resist an emotionally unstable bad boy with a good heart and better and better clothes as the seasons when on? Not me. Which is why I was a little envious when the person who pretends to be that character married some woman who was around my age but who was not, in fact, me. This is, I assume, why I sought out her Instagram. I never unfollowed it, I assume, because she's pretty and I like to see what she's up to. My friend. My friend Lauren, Aaron Paul's wife, from Instagram.
"She seems to enjoy her beautiful life" is the goal takeaway for all lifestyle or otherwise boastful Instagram accounts. But here, I believe it: She seems to enjoy her beautiful life. And why wouldn't she? Her personal message is essentially "be kind," which is very non-threateningly nice, and her life is a nice life. Nice, nice, nice. I believe Lauren Paul's happiness and I am somewhat jealous of it, but I'm happy for her. She seems nice.
This is my favorite Instagram of hers, captioned, "TRUE STORY: While at lunch earlier, I was staring down at the jalapeño floating around my drink and I said 'I WISHHHHH there was a tiny human standing on that jalapeño.'$2 5 seconds later, @arielle silently opens her purse, reaches in and pulls this out. DREAMS DO COME TRUE. :prayerhands: :martini: :walkingman:"
Damn. Dreams do come true. That's just life for Lauren Paul, and, I'll tell you what: I like it and also know about it.