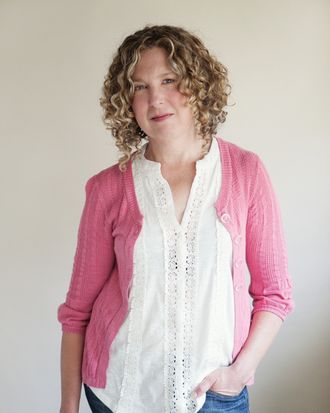 Ten years ago, when her daughter entered "princess phase," the journalist Peggy Orenstein launched into a multiyear war against the "princess industrial complex," culminating in the best-selling book Cinderella Ate My Daughter. Now that the spunky ice princesses of Frozen are supplanting the distressed damsels of yore, you'd think Orenstein would be celebrating. But, alas, her daughter has reached the seventh grade, which means the battle is only intensifying: This week Orenstein published Girls & Sex: Navigating the Complicated New Landscape.
The book functions as both ethnography and feminist polemic. After interviewing more than 70 high-school and college-aged girls about sex, orgasms, sexting, blow jobs, and Brazilian waxing regimens that start at age 14 — and consulting with parents, teachers, sociologists, and medical researchers — Orenstein reaches some bleak conclusions. "Listening to girls' litany of disembodied early experiences," she writes, "it sometimes struck me that we'd performed the psychological equivalent of a clitoridectomy on our daughters: as if we believed, somehow, that by hiding the truth from them (that sex, including oral sex and masturbation, can and should feel fabulous) that they won't find out, and so will stay 'pure.'"
But, she says, there is hope: "What if the opposite were true: what if understanding one's physical responses, truly 'expressing your sexuality' instead of just impersonating sexiness, could actually raise girls' expectations of intimate encounters?" But how? To find out, we called Orenstein to ask about sex ed, faking orgasms, how to talk to teen girls about masturbating, and how her daughter's doing.
To what degree should we see this book as a sequel to — or the next logical step from — Cinderella Ate My Daughter?
It's a logical step on a number of levels. One is that my daughter's older, and I'm kind of moving up with her. Cinderella was looking at the influence of marketing, and media, and messages girls receive that tell them how they look is who they are. It moves from the princess thing to the diva thing to the importance of being hot — and that's where I start [Girls & Sex]. When little girls impersonate sexiness but don't yet understand that word, the risk is a disconnect between the performance of sexiness and true sexual feelings that are about your body. And the risk is that the disconnect becomes permanent. So, thinking about that, I wanted to see what comes down the line.
So, is it permanent? You catalogue so many appalling stories, about girls who have sex but never enjoy it; give oral sex but never receive; faking orgasms before ever experiencing them —
It's so complicated. I never want to demonize these girls, because they're trying so hard. We're telling them that how they look is more important than how they feel. We're telling them that sexiness is more important than their sexuality. And then, when some of them follow that path, we demonize them. So it puts them in a terrible box! When we talked, girls would sort of go round and round about it. They might say, I never feel more liberated than when I wear skimpy clothes. But then also say, five minutes later, If I gain weight I'm afraid to wear them because boys will call me fat. How liberating is that, exactly? I think you have to ask girls: Who gets to be proud of their bodies, and under what circumstances? The girl I think of always is the one who said — slutty was the word she used — "Isn't it possible to dress slutty because you don't need validation and you feel good about yourself, as opposed to dressing slutty because you need validation and don't feel good?" And I said, "Yeah, it very well could be. How do you know the difference?" And she kind of drooped and said, "I don't. I spend my whole life trying to figure that out," at the expense of her own well-being.
To some extent, "hot" is a trick. We know that self-objectification has some pretty bad ramifications for girls, emotionally and in terms of mental health. But also, ironically, in terms of how much they enjoy sex. I read a study called "Objects Don't Object," where they discuss how, even when girls are just asked to think about a time they were objectified, they subsequently were less supportive of equal rights for women, as compared to those in the control group. So it's a tough one. It's really tough. I was trying to present it in a way that talks about the context, and not judging girls for some kind of moral turpitude.
You also write about intimate justice, and what girls are actually doing when they have sex.
I was so moved when I first heard the phrase "intimate justice," which is a term from a psychologist at the University of Michigan. And it makes so much sense. It's political in a way that, like, who does the dishes in your home is political — you make your own accommodations on an individual level, but in this larger way, it's also a political question. In intimate relationships, it means asking who has the right to engage sexually? Who gets to enjoy the experience? Who's the primary beneficiary of the experience? And how do we define "good enough" for each partner? When you're applying that to girls, you're looking at girls who learn almost nothing about their own bodies growing up. They learn almost nothing about their own capacities for pleasure, but they learn that sex is something that boys take pleasure in, you're really coming into it in an unequal playing field. And that is a question of intimate justice. And I guess I just started feeling that, those early experiences shouldn't be something that girls have to "get over."
That's interesting, because some of these girls do "get over it." I'm older than these girls, but a lot of the stories felt familiar to me — I was definitely hooking up before I ever masturbated. But then I figured it out, and I don't really feel a sense of loss about the way it happened. Is there evidence that this stuff actually causes permanent damage? The college-age girls you spoke to often had feminist awakenings.
Sure, and I agree: A lot of them find their way. But it'd be nicer if it wasn't such a difficult journey. I'll tell you, I'm getting emails from a lot of adult women in their 30s and 40s who are saying, "I wish that I had this when I was a teenager." Or, "I still have these issues now." I had a couple of people on my Twitter feed today who said, "I want a do-over." So it depends on your experience. If you have an experience of trauma — real trauma — can you get over it? Of course. We can all get over something. But should you have to? There is research, and I believe I cite it, that talks about girls' early formative experiences and how they affect later sexual experiences. They do bring those experiences forward. People can evolve, people can change, and people can find their voices at different times in life, whether it's in public or in private. And I hope that they do. But it shouldn't have to be such a struggle.
You envision a version of sex ed that includes how to masturbate.
[Sighs.] I know.
No, I love it! I'm sure some people hate it. But it's fascinating — you use that memorable phrase, "the psychological equivalent of a clitorectomy."
I read somewhere, when I was pregnant with my daughter, that people tend to name all the boy parts in infant boys, but not infant girls. They go right from belly button to knees when it's a girl. And then you get to puberty-education class — that's what they call it now, that's what my daughter's class is called — and you see charts showing the internal organs only. They never mention the vulva, let alone the clit. You learn that boys have erections and ejaculation, and girls have periods and unwanted pregnancy. And then, no surprise, fewer than half of girls ages 14 to 17 say they've ever masturbated. And then they go into their sexual partnerships, and you expect them to be able to advocate for their own pleasure? It's ridiculous, it's not going to happen.
Talking overtly about masturbation, talking overtly about female sexual pleasure and entitlement, talking overtly about same-sex partnerships — I mean, yeah, I'm not stupid, I know where we live and I know how likely we are to get that in this country. But to even think about it as parents, and as advocates for girls, and as aunts, and as sisters, it's important.
I don't think it's that far-fetched. I mean, even just adding one more item to an anatomical diagram could change things.
I end the book with a class where they did have that, a diagram of the external genitalia. And I'm sitting behind two boys, and one leaned over to the other and said, "Hey, what's this again?" And the first boy said, "That's the clitoris, that's for making good feelings." And I thought, I want that boy to date my daughter.
[Laughs.] Yes.
But don't you? Don't you want that boy to be going out into the world?
Do you think young people hear that message, when it comes from their moms? Have you tried it?
I have. You know, mothers may sometimes feel squeamish about talking to their kids about sex themselves, so it sometimes can be a good idea to have a trusted friend that has a relationship with the child do it. So in my case, I talked to a friend's daughter when she was 16 and her mother was pretty sure she was thinking about having intercourse with her boyfriend. So I took her out to lunch, and honestly, I wanted to fall through the floor. I'm not different from anyone else; I used to find it very difficult to say these words. But I thought, I've got to walk my talk here. So I said, "Look, I know you're thinking about having intercourse with your boyfriend." And we talked about protection and disease and all that stuff. And then I said, "I just want to put this out there: Have you ever masturbated? Have you had an orgasm on your own? Have you had an orgasm with your partner? Can you tell him what you like and don't like during sex? And if you answer no to those questions, why are you having intercourse? What are you hoping to get out of it, exactly, and what does having a sexual relationship with somebody mean?"
How did she react?
She just kind of stared at me. She didn't say much at the time; she kind of nodded and looked at me with these big saucer eyes. But later, she did tell me that it made a difference. And even more, she's now in her 20s and we talk about everything. We talk about her work, and school, but we also talk about sex, because we established that relationship. To me, what that meant was that, instead of seeing these discussions about sex as scary or embarrassing, we can see them as an opportunity to be closer with young women, to create a more trusting relationships with them, and to be on their side.
My nieces, nephews, they all know that they can call or text me at any time. They can be as graphic as they want to be, and I'm totally there for them. I'm so grateful to be able to be that person to them. It's a gift to me.
How does your daughter feel about you being the designated sex educator of the family?
You know, I asked her and she said that's fine. Her sex-ed curriculum came home a couple of weeks ago, and at first I wasn't sure how I felt about it. I ended up thinking it was fabulous, but at first, I said to her, "Hmm. I'm not so sure I'm going to like this." And she said, "Mom, you can talk about that to the principal if you want to. But please don't volunteer to teach the class."
There's so much bleakness in your assessment of the sexual world of young women. Is there anything to be optimistic about?
I'm optimistic about change. I mean, that's why I write books, or what would the point be? I think about things like Michael Pollan's books and the food movement. Before Michael Pollan, who knew what a free-range chicken was? Who knew what factory farming was? And it doesn't mean that everything is now all right — it doesn't mean every cow leads a happy little life and gets its nails painted and its back massaged — but more people in more places are more conscious.