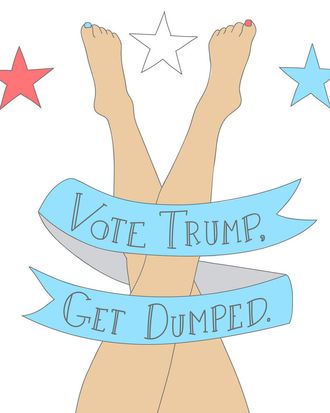 Photo: Vote Trump, Get Dumped
Chandler Smith, a 28-year-old mother of three from Cincinnati, Ohio, never considered herself much of a political activist. But a few weeks ago, she and her husband were talking about the GOP primary when they came up with an idea — a "Lysistrata movement" for women whose partners were supporting Trump. "We had a hunch that the combination of humor, anger, and sex would be pretty shareable," says Smith, who, along with her husband, got on the phone with some friends and started building a website that night. The website, Vote Trump Get Dumped, asks women to "Join us by wielding your influence. Until Trump is defeated, we don't date, sleep with, or canoodle with Trump supporters. The Greeks did it. Women during the temperance movement did it. This is a tried and true method of getting men's attention when they're being dumb."
The site and its corresponding Twitter account @WomenDumpTrump — which tweets misogynistic things the GOP front-runner has said about women and has collected more than 47,000 followers since launching on March 8 — is Smith's way of doing her part to organize against a GOP candidate whose history of sexist comments could make a talk-radio host blush. "This is meant to be a funny way to talk about serious issues. We're trying to get people talking about Trump's inability to control his tongue, and what that means about his suitability to govern and to represent America to the rest of the world," Smith says.
It's not just the homespun efforts of people like Smith and her friends — many of the most serious efforts at stopping Trump have come from women. The largest GOP super-pac working to defeat Trump, Our Principles PAC, is run by Katie Packer Gage, who was Mitt Romney's deputy campaign manager in 2012. The group, which was given $3 million in funding by GOP megadonor Marlene Ricketts, represents the largest effort by the Republican Establishment to go after Trump so far. Our Principles put a new ad out last week featuring women reading from the litany of sexist things Trump has said about women over the last few decades. It was viewed nearly 2.5 million times in the first two days.
The fact that women are leading the anti-Trump coalition probably isn't an accident — a Reuters poll released last week reveals that fully half of American women have a "very unfavorable" view of the GOP front-runner. Packer Gage isn't the only woman running an anti-Trump super-pac — there's also Make America Awesome, run by GOP strategist Liz Mair, which ran ads in Iowa, New Hampshire, and Nevada. "It's important for anyone who is legitimately conservative, libertarian, or civil-liberties-focused-progressive to organize against Trump," says Mair, whose super-pac has targeted Trump on his business record and past support for single-payer-style health care. "It just so happens that the people who most successfully organized the fastest, and those who have had the biggest impact, are women. Maybe that's because we're better multitaskers, or maybe we just happen to have special antennae that enabled us to see the Trump threat more clearly and earlier. I do think it's interesting that the most effective critics of Trump seem to be women."
It may also be that Trump represents everything the women working to reform the party have been trying to avoid. For Packer Gage, the anti-Trump effort is in some ways a natural extension of Burning Glass Consulting, the firm she started with Romney's former ad-maker Ashley O'Connor in 2013 to help the GOP do a better job with women voters — particularly single women, who've become an increasingly decisive voting bloc in the last several election cycles. In 2014, Burning Glass helped Republican candidates tailor their campaign messages to different segments of women voters and encouraged them to more forcefully respond to Democratic attacks on their records. "I think one of the most important things we did as a party this cycle is we didn't nominate any cavemen," Packer Gage said at the time, referring to candidates like Missouri congressman Todd Akin, who famously lost a Senate race by declaring that a woman couldn't get pregnant from "legitimate rape."
In Trump, the GOP has managed to find someone with an even worse record of anti-women statements than they probably ever thought possible. "He is a complete boor. He regularly makes sexist, demeaning remarks about women. He is the opposite of what the Republican party needs in order to win general elections," Packer Gage says. "He isn't a man who has made a couple of ill-advised remarks about women. He regularly communicates that women have no value beyond their physical appearance and what they offer him personally. If women don't reject that behavior in our leaders, who will?"
Of course, none of the strategies used to thwart Trump have worked — not the millions of advertising spent against him or the online campaigns. Nor have the gross comments he made about Megyn Kelly after she confronted him for calling women "fat pigs" on a debate stage. Even the allegations that his campaign manager assaulted a reporter, Michelle Fields, haven't seemed to hurt him — at least not yet. But if the attacks aren't working now, Packer Gage and other Republicans working against Trump point out, they're almost certainly going to in the general election: In 2012 Obama won 56 percent of women voters, helping seal his victory. Against Trump, she says, "Hillary is on track to get 60–65 percent of women. The GOP cannot overcome that."
One recent ABC/Washington Post poll suggests that Trump could lose women to Hillary by as much as 21 points — a number that suggests a significant loss of support for the party among women swing voters. But increasingly, the conservative women I spoke to weren't willing to sit around and hope that Trump's record on women would become a campaign issue. "I just kept thinking everyone was going wake up and realize what Trump was like, [that] they were going to get it, but they weren't getting it. It got to this point that he had this momentum and it just was appalling to me that people had not stopped to see what this man stood for," says Donna Baer, who writes about her transition from being an Ivy League–educated careerist to a homeschooling mother of ten. So Baer (who's Chandler's mom) started gathering her own opposition research under a website she called President Porno.
"There were groups talking about his tax policy and immigration policy and it seemed like a lot of people were talking about other things that were wrong with the candidate, but no one was talking about his views on women," Baer says. "I felt like that had to be a voice that was heard. No matter where you are on the political spectrum, if you speak like that about over 50 percent of the electorate, you have a problem. There's something wrong with you." Baer might not have extra millions lying around to give to the anti-Trump cause. But she's doing her part, too.