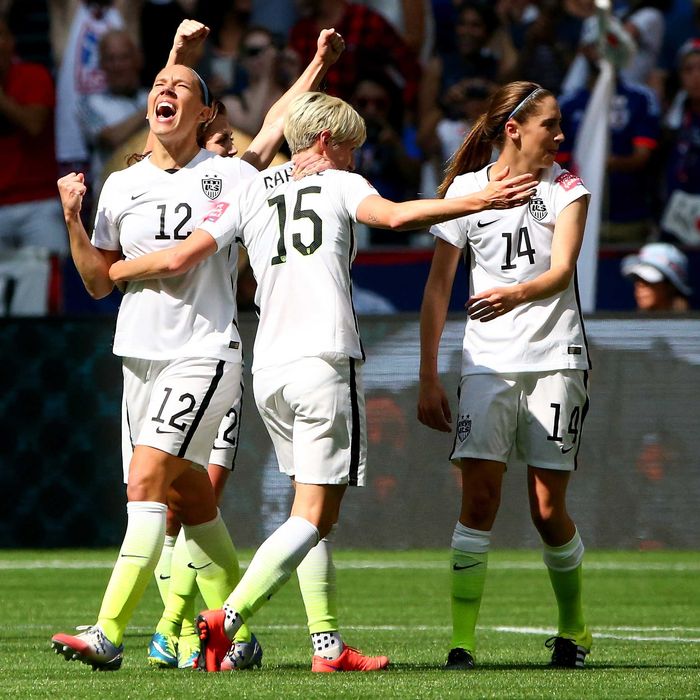 Photo: Ronald Martinez/Getty Images
Barely four months after the U.S. women's national soccer team was forced to cancel a friendly match against Trinidad and Tobago in Hawaii because of horrible and unfair field conditions, the World Cup–winning squad has decided to take the clear gender disparity in their sport to task. It's long been lamented that women's sports are far lower-paying than men's, and after this month's unnecessary weighing-in by men on whether female tennis stars deserve to get paid what men do, there's a clear wrong and right side of history to be on. And with a complaint officially filed with the Equal Employment Opportunity Commission, the U.S. women's soccer team is taking steps to draw that line.
In a New York Times story and a Today show appearance, five key players from the U.S. women's national team — Megan Rapinoe, Becky Sauerbrunn, Alex Morgan, Hope Solo, and Carli Lloyd — announced that they had filed a complaint, asking the EEOC to investigate U.S. Soccer for gender discrimination in pay. A lawyer for the players, Jeffrey Kessler, said that after looking at budget figures released by U.S. Soccer last month, they calculated that the women's players made as little as 40 percent of what the U.S. men's national team made, and were being discriminated against in everything from bonuses to appearance fees to per diems.
While the U.S. men's team has only made it to the quarterfinals of the World Cup once in the last 25 years, in 2002, the U.S. women's national team has won three World Cups and four Olympic gold medals. The complaint points to this fact, saying that these wins have contributed to the growing national interest and revenue boost in the sport.
And while USWNT players are salaried employees, they contend that, even considering that fact, they make far less than the men. The Times reports that the proof is in the bonus structure: "A men's player, for example, receives $5,000 for a loss in a friendly match but as much as $17,625 for a win against a top opponent. A women's player receives $1,350 for a similar match, but only if the United States wins; women's players get no bonuses for losses or ties."
In a statement released today, U.S. Soccer responded to the women's team's complaint by saying, "While we have not seen this complaint and can't comment on the specifics of it, we are disappointed about this action. We have been a world leader in women's soccer and are proud of the commitment we have made to building the women's game in the United States over the past 30 years." If the women's case is a success, and the EEOC rules in their favor, U.S. Soccer could be forced to pay out millions of dollars in back pay.