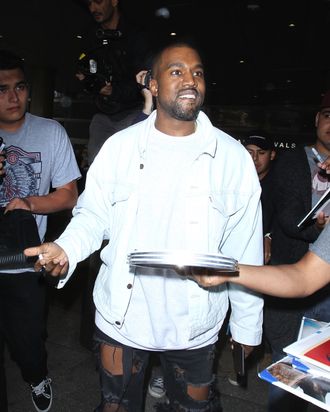 Yeezy surrounded by the daily swarm.
Photo: MPI99/Bauer-Griffin/Getty Images
Kanye West — fashion designer, God, disrupter, Steve Jobs's No. 1 fan, father to North and Saint, husband of Kim, and frequent slut-shamer — took his hard-to-pin-down persona to a new level on Tuesday when he decided to not hang around waiting for his Uber. Having fully internalized the lessons taught in Matthew 5:44 ("Love your enemies and pray for those who persecute you"), Kanye decided to hitch a ride to the gym with an attendant paparazzo.
Yeezus has not previously had such a magnanimous attitude toward paparazzi — in 2013, he assaulted two different photographers in two separate incidents at LAX. But it appears that Kanye is trying to not let his devils get the best of him. When paparazzi waiting outside his gym yesterday asked if he needed to go somewhere, Kanye decided to hitch a ride: "I'll ride with you then," he told them. "Come on, let's go." Though Kanye asked paps to turn off their cameras as they drove, according to The Daily Mail, he left his fans with a departing message: "I love you — let's make the world a better place."
But all we really heard was: "I don't need Uber anymore; I'll just have the paps take me where I want to go!" Must be nice.