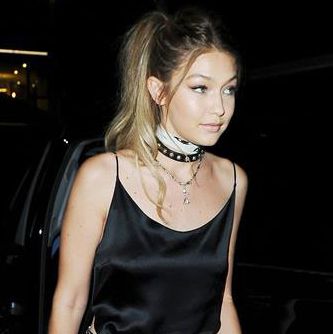 Photo: Daniel Robertson/Startraks Photo
Gigi Hadid celebrated her 21st birthday last night at (where else?) the Nice Guy, and I guess my invitation got lost in the mail. Every cool person below the age of 30 appears to have attended the bash, as well as every single choker within a ten-foot radius of Los Angeles. Here's a rough tally of all the chokers that showed up to celebrate Gigi's 21st.
Gigi Hadid: 2 chokers
Kendall Jenner: 2 chokers
Hailee Baldwin: 1 choker
Unidentified Haim sister: 1 choker
Kourtney Kardashian: 1 choker
Second unidentified Haim sister: 1 choker
Alana Hadid: 1 choker
Monica Rose: 1 choker
Shiva Safai: 1 choker
Jen Atkin: 1 choker
Total choker tally: 12 chokers
That's a lot of chokers.