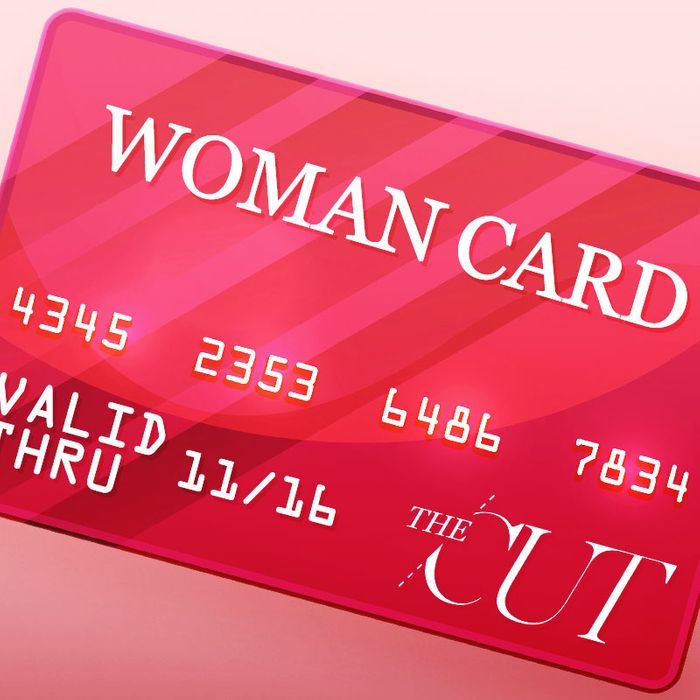 Photo-Illustration: Getty Images
During a press conference on Tuesday night, Republican front-runner Donald Trump announced that Hillary Clinton "would be a horrible president. The only thing she's got going is the woman's card."
Though Trump was referring to some sort of female privilege he genuinely believes exists, we couldn't help wondering: What if the Woman Card was a real thing? What if every woman received a Woman Card we could keep tucked into our wallets, next to our licenses and work IDs and useless Duane Reade Balance Rewards cards? Here are just a few things they could be used for:
1. Flashing them at catcallers to get them to shut up instantly at the sight of the card. Same goes for mansplainers.
2. At the checkout line in drugstores to apply automatic price adjustments that would account for the pink tax.
3. Complementary tiny bottles of white wine served throughout every flight we take, without ever having ordered them.
4. A seat on the subway anytime we want one.
5. Hiding every single man on Tinder who has the word "wanderlust" in his bio.
6. An annual one-on-one dinner with Mark Ruffalo where he wears an apron and makes handmade gnocchi and sauce with tomatoes fresh from his garden. Mark Ruffalo will have a bit of flour on his nose from the gnocchi the entire time, but we won't tell him because it's endearing and we don't want to ruin the moment.
7. A 75 percent discount at any spa, worldwide.
8. To shut down interviewers anytime they ask us if we're married or have kids.
9. Being able to jump in a pool after spending hours on our makeup and emerging looking flawless, so we appear low-maintenance but also at our best.
10. Unfettered access to reproductive health care.
11. And an actually reliable supply of tampons at the office.
12. But also time off work anytime we have our periods.
13. Access to a highly secretive nightclub where the only people there are a handful of friends and the music isn't very loud and there are couches everywhere and everyone is encouraged to sit the entire time. In lieu of bottle service there's a buffet of favorite childhood snacks.
14. Compliments on demand.
15. Forcing Donald Trump to drop out of the race and move to the moon.