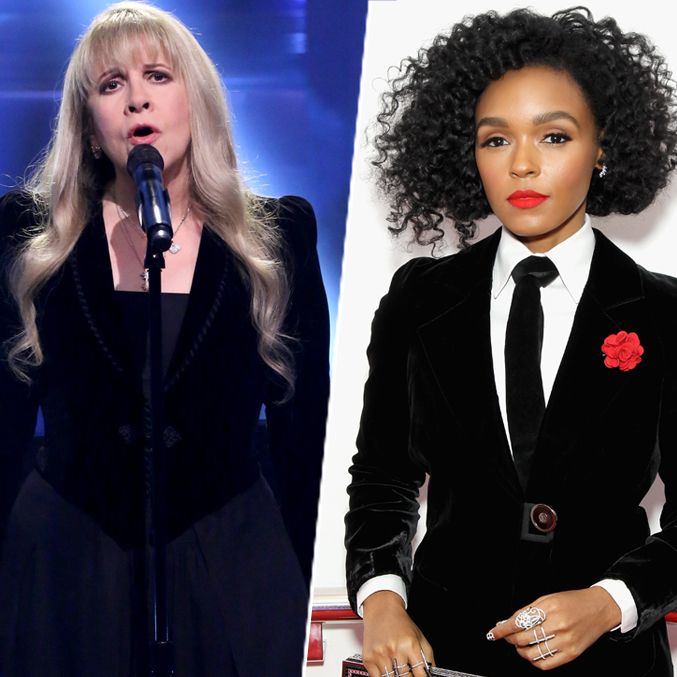 In honor of Prince's 57 years on earth, we've gathered some reflections from the many famous women who've counted themselves among his collaborators, friends, and number-one fans — including Chaka Khan, Misty Copeland, and Gwen Stefani. Read on for their thoughts on the incomparable power of Prince.

Alicia Keys
"He's the only man that I've ever seen that lights the stage on fire, leaving you to burn within it in a frenzy of movement, lights, electric guitars, slides, pianos, dances, voices, splits, and songs. Oh my god, songs so powerful that you are forever changed. Songs that make you laugh and cry, think and dance. Songs that made me look at songwriting as stories that are untold passions dying to be heard. Because of him, I've never wanted to be like anyone else but myself. Because of his music, my music has wings to be different." — Rock and Roll Hall of Fame, 2004
Apollonia Kotero
"I remember how we sneaked into the Westwood Theater in LA to see the premiere of Purple Rain. We were both disguised as, well, nerds. We looked pretty bad. We sat there and drank soda and ate popcorn. And Prince kept ad-libbing jokes out loud. People were enjoying them as much as the movie, but they didn't know he was Prince." — Ebony, November 1984
Stevie Nicks
"I'm driving to my honeymoon night in Santa Barbara from L.A., and 'Little Red Corvette' comes on. We're like, oh my God, it's Prince! So I start singing all these words, and I'm like, 'Pull over, we have to get a cassette player! And we have to record this!' I'm writing in the car — here we are, newlyweds, and we get to our hotel, and we're setting up the tape recorder, and I've made up my whole new melody to [the song]. So I haven't really ripped off the song, because I'm admitting that I have done this. So we go into a studio in Los Angeles a couple weeks later and I track down Prince's phone number — and because I'm Stevie Nicks, I can get it … I call him, and I never thought he was going to answer, or that it would be him, or that I would ever find him — and he answers. I said, 'Prince, this is Stevie Nicks, and I wrote a song to your song 'Little Red Corvette,' and we're at Sunset Sound right now, and I was wondering — first of all, I wanted to tell you that I'm giving you 50 percent of [the royalties] it if it ever goes anywhere, but are you in town? If you are, how would you feel about coming down and playing on it?' Never in a million years did I think this man would be like, 'I'll be right there.' He was there in 20 minutes and he played [she mimes instrumental parts of the song] on 'Stand Back,' and he was there an hour-and-a-half, and then he left." — MTV, April 2009
Janelle Monae
"Prince found out about me when I released my first EP, Metropolis. That's when I got invited over to his house. He was very aware of my deal – having my own recording label, being a business owner, partnering with Sean Combs and Atlantic. He was glad that we are in control, creatively. I wrote all the titles for The ArchAndroid on a piece of paper — I couldn't remember what we had named the songs then — and he got the first copy. He said: 'This is amazing, this is incredible, this is going to rule the world.' And I said: 'Thank you.'" — The Guardian, June 2013
Gwen Stefani
"Prince, who is one of my idols, gave me some advice when I worked with him: 'Have you ever just tried writing a hit? Like, don't just try writing a song, try and write a hit song.' I remember him saying that and me thinking, Yeah, you're right. Why would you write anything else?" — Elle, May 2011
Carmen Electra
"Somehow, he got in touch with me and said, 'I wanted you to know that I think you should have your own record deal and you shouldn't be a back-up in anyone else's band.' And I was shocked and really surprised and really happy. It was very overwhelming, just coming from a small town and having this happen. I mean, it was just unbelievable. Because he believed in me, it really gave me the confidence to really go out there when it was time to make things happen on my own and move away. Just enough confidence to be able to do that, so I'll be grateful forever." — Idolator, December 2013
Beyoncé
On performing with Prince at the Grammys in 2004:
"At first, I was terrified. Walking into rehearsals, I was just so overwhelmed and nervous and starstruck. We rehearsed every day for an hour for a week instead of rehearsal for six hours the day before. And that was so smart. It was Prince's idea and I guess he knows people are starstruck because he's so amazing and it made me really comfortable. By the time it was time to do it, it was like second-nature. But I was so scared and in my shell in rehearsals. On the stage, I didn't even give him the mic! [Laughs.] And I just saw it. And I said, What is that? The mic was supposed to be in the middle — not in front of my mouth! But that was Sasha. She took over." — GIANT magazine
Maya Rudolph
On her Prince cover band, Princess:
"It had to be Prince. I don't feel that strongly about anybody else. This is a lifelong love affair. He's my tried-and-true, one-and-only music love. I started listening to his music when I was a kid because I had an older cousin who brought 'Dirty Mind' over to our house. But it became my music when I saw 'Purple Rain.' So it started way back, and it hasn't stopped." — SFGate, May 2014
Sheila E.
"He is very supportive of new artists. When I first met him in 1978, I hadn't changed my name yet. Sheila Escovedo is my real name. When I went to see him for the first time perform in San Francisco, I walked up to him and he saw me coming and he turned around and I put my hand out to introduce myself. I said, "Hi, my name is … " and he said, "I already know who you are." I said, "Really?" and I was kind of shocked and thrown back because I had no idea. He said, "Yeah, I've been following your career for a while, and I've been watching you perform with George Duke, watching you on television shows, and watching you play percussion and drums." So, he was already into my career, which was great. I had no idea. I'd played with so many different artists up to that point. When he hears new music that he really enjoys and new artists that are really trying to make a way and they have that passion, I think all of us are behind new artists that want to do that. We're rooting for them. It's not a competition. It's more like a celebration of music." — Huffington Post, May 2011
Sheena Easton
"I'd be that girl walking around with a little notepad writing down ideas and notes. He'd always grab it out of my hand and ruthlessly make fun of me and say, 'That's crap,' 'That's a good chorus,' or 'That verse sucked,' or 'You should finish that one.' We ended up writing a few things that way. I sent him the lyrics to 'The Arms of Orion.' He really liked it, put music to it and it ended up being on the Batman soundtrack." — Windy City Times, August 2012
Brenda Bennett
"Prince has a way of extracting from you; sometimes painfully and sometimes without you even knowing it. Creatively, he pulls out your best parts; parts you never even knew you had or could do. He wasn't always nice about it … but then … it wasn't about being nice. It was about concentrating and extending yourself. It was about learning how to reach out and grow in a direction you may never have even tried to on your own." — Examiner, May 2011
Chaka Khan
"I've always loved his music and I covered it because I felt it was good stuff. I had been thinking about recording 'I Feel For You' for a long time before I actually did, but it didn't really fit in with the stylings of my previous records. Then when Warner wanted me to come out with a commercial record at that time, I remembered it and we put it on there. Now nobody can seem to walk up to me without breaking into that rap [laughs]. If I hear that one more time … I didn't even know that part was going to be on the song in the first place." — Performing Songwriter, 1996

Vanity
"[I first met Prince] many years ago (1979) at the American Music Awards. He wanted me to take him to the bathroom … Listen, this is a true story. He wanted me to take him to the washroom. His manager came up to me and says this guy (Prince) wants to know if you could take him to the bathroom. I said 'Ain't that a line and a half.' No, I will not. I said, 'You can take that back to him.' Then he (Prince) followed me. He took off his jacket and asked me if I would take off mine. I asked, 'Why?' He said, 'So I can try yours on and you can try on mine.' So we tried on each other's clothes and realized that we fit each other's clothes. I thought that was wonderful … He's the most romantic man that I've ever met in my life! He's the most romantic man ever. There's no man that can touch him on romance. Nobody. He's extremely romantic — you know what I mean." — JET, May 1986
Kristin Scott Thomas
On working on Under the Cherry Moon with Prince:
"I was doing a Marguerite Duras play in a field when I got the call. 'Okay. You want me to go meet … MY GOD!' Because he was my God at the time. I was listening to 'Raspberry Beret' on my Walkman en boucle, non-stop, on big headphones. I was listening to it all the time while I was doing the Marguerite Duras play. So suddenly to be called into this sort of court of this strange and peculiar and brilliant person who had chosen me … I had no experience; I had never done a movie before. It was mad, completely mad." — A.V. Club, April 2013
Susanna Hoffs
What was it like to have Prince say, "So, hey, I've got this song for you"? 
"Somehow word got to me to go to Sunset Sound and pick up the cassette from Prince. It was the old days of cassettes, you know. There were two songs on it, and one of them was 'Manic Monday.'… [Laughs.] But I just got the tape and played it on the way back to the studio where The Bangles were … The title was really great. It just reminded me of 'Manic Depression,' the Hendrix song, and had kind of a psychedelic thing. And then it had these great harmonies, and I don't know, there were a lot of things about it where I just thought, 'This is a really good fit for The Bangles.' So I'm ever after grateful to him for giving us that song, because it ended up being our first radio hit." — A.V. Club, October 2011
Erykah Badu
"There was nothing like [Controversy] in the world. There's not another album like this in the world. At that time or now. It was everything: It was political, it was social, it was soft porn, it was romance, it was religion. It was everything. It's one of the top five albums for me. You see how my voice is getting really quiet when I talk about it? That's 'cause I'm not strong enough to talk about it. I'm not worthy. Prince wore 'rude boy' on the Controversy album, on his button. I looked everywhere to find that pin. I was a stan." — Complex, November 2015
Queen Latifah
"My One Direction when I was younger had to be Prince. Prince was my One Direction … The first album I bought was Purple Rain and it came with a poster. It came with a poster! Yeah, you open it up and you get this poster and I put the poster on my wall. Sometimes, I would kind of walk out of the room and kiss Prince."  The Tonight Show Starring Jimmy Fallon, March 2015
Misty Copeland
"Getting to know him personally has been such an eye-opener for me as an artist. Being around another artist who is so passionate about what he does, I feel like I've grown so much in the past two years. Just to see firsthand a musical genius, and to see that it's okay to be completely immersed in what you do. Those are the best artists. He's just been a great mentor and friend … Something happened, something clicked when I really got to know him that gave me this confidence onstage. He's just helped me to see the bigger picture — to not be so focused on the political things that happen in my company and with dancers around me, and to really focus on me and what I'm doing. Not to feel judged by other people." — A Day in the Life, September 2011
Esperanza Spalding
"I did an interview with Tavis Smiley, who's close to Prince, and he thought Prince would like to hear my music. That was four years ago maybe and he reached out to my manager and I sent him a demo I had because I didn't even have a record yet. Then Prince asked me to come to Las Vegas and jam with him and we became friends. If I were me listening to someone say all of this, I would think it's pretty crazy too, but Prince is just such a wonderful, creative and loving person. He's such a fireball of talent, creativity and intelligence and he invites people into his sphere for discussion, so I admire him and who he is overshadows what he does." — Essence, August 2010