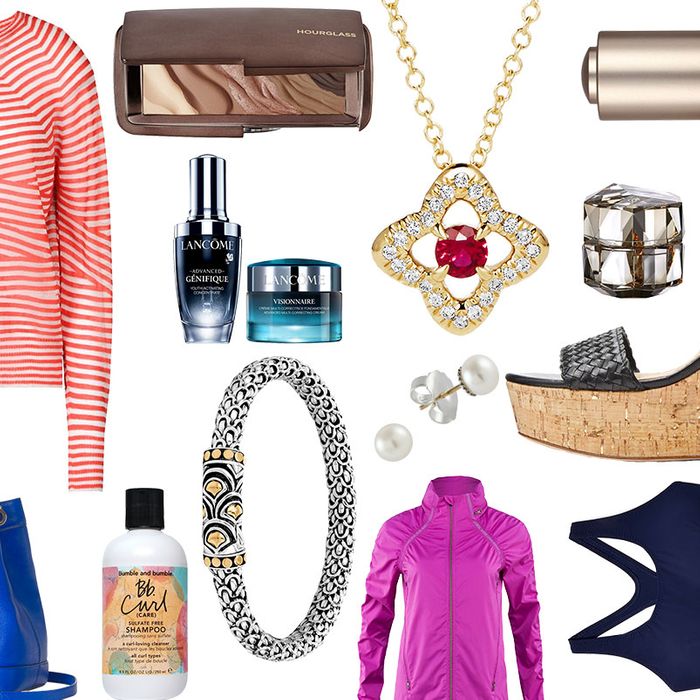 Mother's Day is Sunday, meaning you still have just enough time to order something online — if you act fast. Because it's impossible to generalize about what moms want, we're tailoring our gift guide to our own moms in the hopes that one of them will sound like yours.
We shopped for a mom who likes bling, a mom who refuses to buy anything that isn't on sale, and a mom who rivals Martha Stewart with her intricate feasts. Since this is a fantasy shopping list, we weren't afraid to splurge, but even the big-ticket items should provide some inspiration. Make it easy on yourself and scroll down to figure out what to get.
Diana Tsui
Senior Market Editor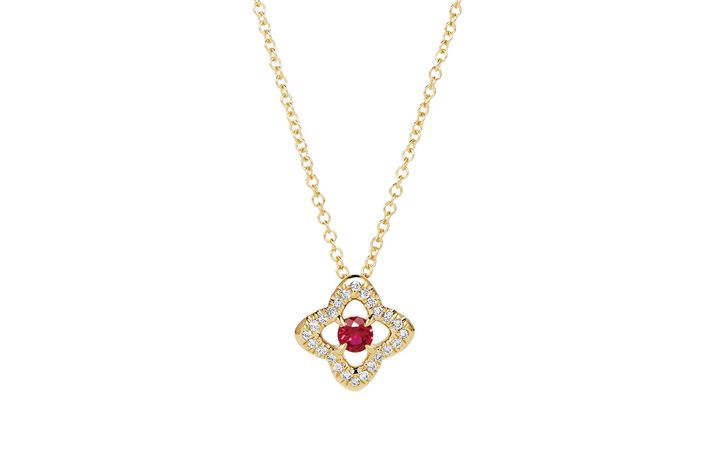 David Yurman Venetian necklace with ruby and diamonds, $1,150, Neiman Marcus
Allie Jones
Writer
Mom Likes: French-country home décor, anything cashmere, romantic comedies
Mom Dislikes: Gaudy jewelry!
The Gift: Allie usually buys her mom an exact replica of something her mom already has, in order to stay in safe territory. This striped cashmere sweater from Giorgio Armani is a piece she can wear virtually any way she wants, and she'll definitely be happy.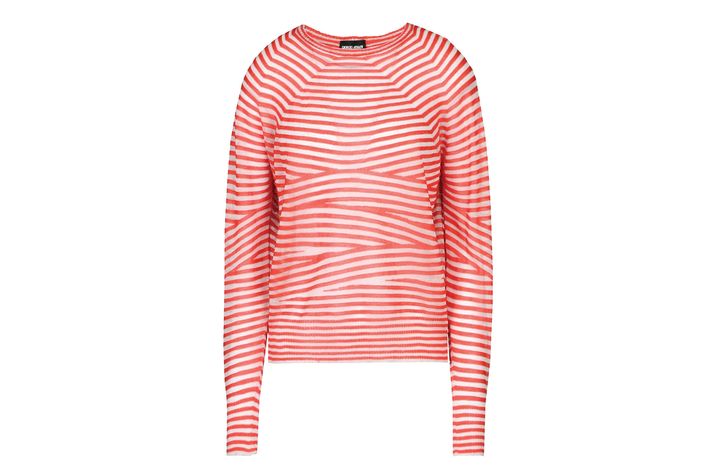 Giorgio Armani cashmere sweater, $1,375 at Neiman Marcus
Anna Silman
Culture Writer  
Mom Likes: Cats, Eileen Fisher, indigenous textiles, headbands, comedy
Mom Dislikes: Uncomfortable clothing, air travel, fussy grooming regimens
The Gift: Is there such thing as a mom who doesn't love Eileen Fisher? Nope. This long jacket will make anything looked pulled-together with minimal effort.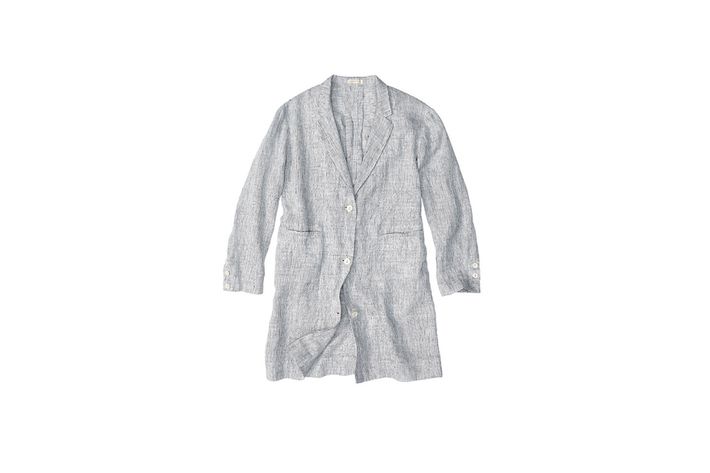 Eileen Fisher notch collar long jacket, $268, Nordstrom
Ashley Weatherford
Associate Beauty Editor   
Mom Likes: Anything cooking-, baking-, or Food Network–related; pajamas, slippers, and robes; dainty jewelry 
Mom Dislikes: Untidy things, yellow-gold, things that are too flashy or fancy.
The Gift: Ashley's mom has yet to meet a brown eye shadow she didn't treasure, but the neutral palettes can get a bit boring. Enter Hourglass's "Infinity Palette," where tans, caramels, and chocolates seamlessly blend into each other for a modern take on eye shadow. What's more, each shade is super-pigmented and lasts all day.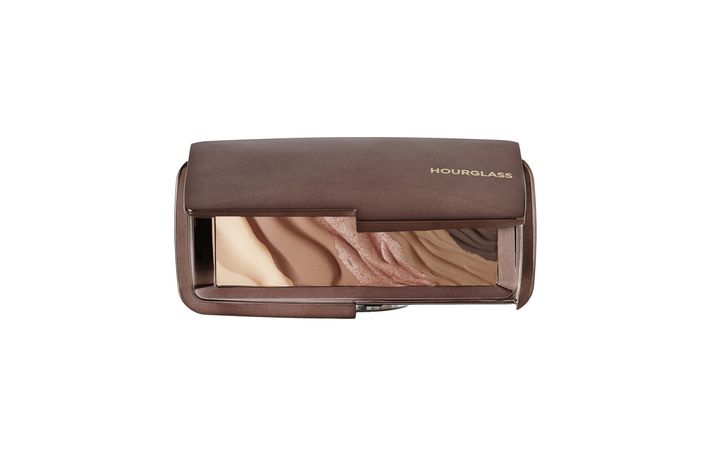 Hourglass Modernist Eyeshadow Palette in Infinity, $58, Bergdorf Goodman
Catie L'Heureux
Assistant Editor  
Mom Likes: Anything French, shabby-chic home stuff, classy things from places like Tiffany
Mom Dislikes: Pink, people who don't write thank-you notes, dirty kitchens
The Gift: For the mom who's a bit of a Francophile, give the gift of French skin care. The Lancôme set contains the powerful Genique serum and Visionnaire cream, a powerful skin-care addition to any beauty routine. They also come in pretty, shiny blue-toned bottles that will brighten up both the vanity and her skin.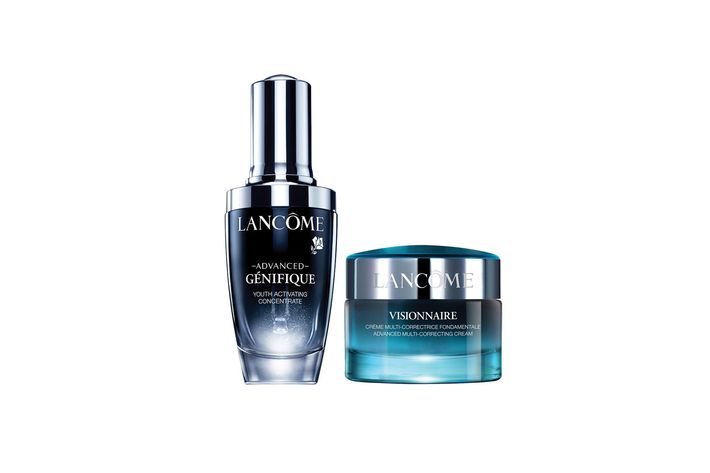 Lancôme Advanced Genifique and Visionnaire Duo, $115
Dayna Evans
Writer  
Mom Likes: Cooking, "beachy tones," and hair products
Mom Dislikes: High heels, tight clothing, and things that "aren't on sale"
The Gift: For the curly-haired mom who doesn't want "mom" hair, a fancy set of hair-care products from Bumble and Bumble's new curl line, Bb Curl. A full set of shampoo, conditioner, and conditioning cream will keep her curls springy, full, and soft. And the gentle scent will make showering seem like a luxury, rather than a chore.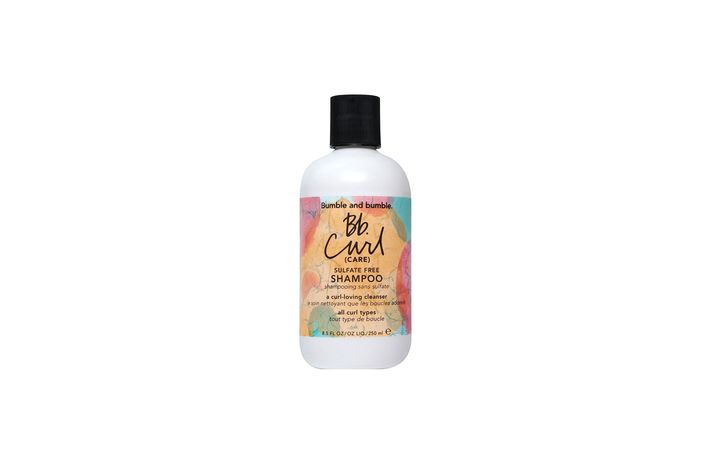 Bumble and Bumble Curl Care, $31
Gabrielle Paiella
Writer  
Mom Likes: Running; her cat, Penelope; blazers; turquoise; me
Mom Dislikes: Messes, fur, Skype and/or Facetime
The Gift: This one-of-a-kind, turquoise handmade necklace should satisfy her mother's constant craving for turquoise jewelry. The one-carat turquoise gemstone sits in a polished 18-karat gold setting — nice for every day, but fancy enough for dressed-up settings as well.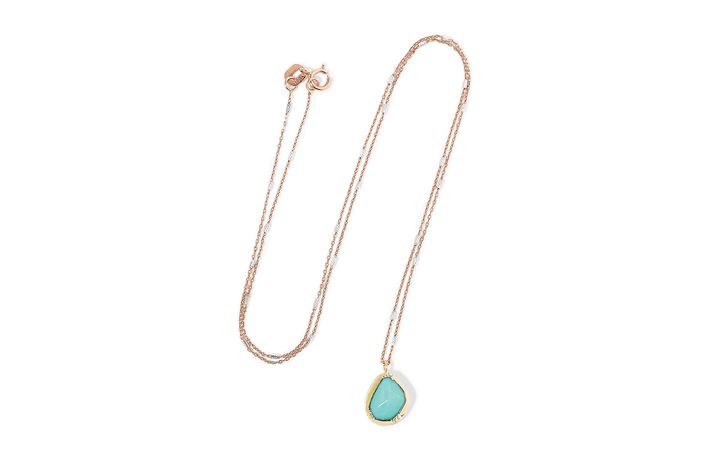 Brooke Gregson Necklace, $1,325 at Net-A-Porter
Indya Brown
Fashion Assistant
Mom Likes: Red lipstick, capes, luxury bags, cold weather, lifting weights, vanilla
Mom Dislikes: Flowery things, overly sentimental stuff, brown lipstick
The Gift: Indya's budget isn't big enough to buy a fancy bag, but she can still give her mom some luxury with this silk scarf. It has chic stripes and will go perfectly with her signature red lip.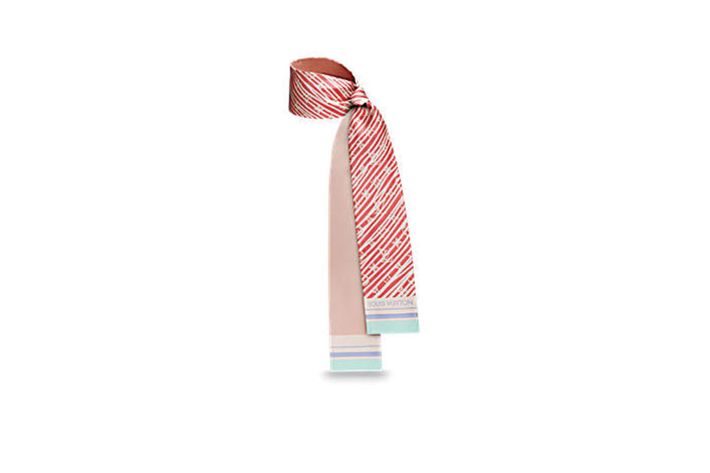 Louis Vuitton Scarf, $165 at Louis Vuitton
Izzy Grinspan
Senior Editor   
Mom Likes: Small stud earrings, red cardigans, books about Jews
Mom Dislikes: Pseudoscience, anything overtly girly, bacon
The Gift: Pleasing someone who doesn't like anything too feminine can be tricky when it seems like every shopping site is inundated with all things pink or flowery. These tiny, simple pearl studs are unobtrusive enough that they don't feel like statement jewelry but still look special enough to be a nice present.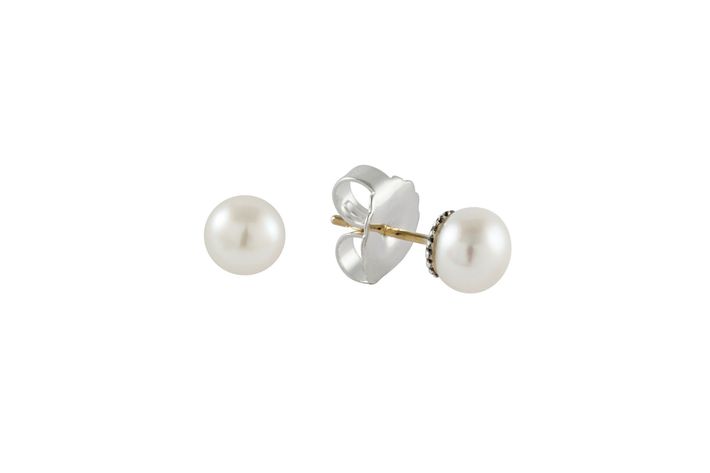 Lagos Luna earrings, $150, Lagos
Jessica Roy 
News Editor
Mom Likes: Tarot cards, art supplies, wedge sandals
Mom Dislikes: Conservative politics, leaving the house, being cold
The Gift: Jessica's mom is petite, so she loves anything with a good heel for a bit of a boost. While it's still a bit too cold for sandals, these cork wedges will be a comfy, yet stylish staple when she does feel up to leaving the house.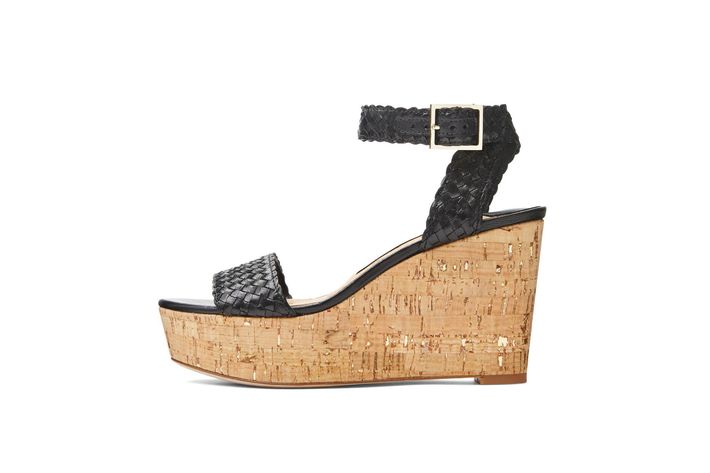 Diane von Furstenberg Montclair wedges, $278, Orchard Mile
Kathleen Hou
Senior Beauty Editor 
Mom Likes: Expensive skin-care products, scarves, Japanese things
Mom Dislikes: Clothing the queen wouldn't approve of Kate Middleton wearing, handbags that don't have zippers, flat shoes
The Gift: For the mom who gets beauty product spillover from her daughter's day job, the ultimate in expensive skin-care products: a new, gold-infused moisturizer from La Prairie. It contains actual gold and claims to "reflect light." Fingers crossed that it works, but her mom will have fun testing it out regardless.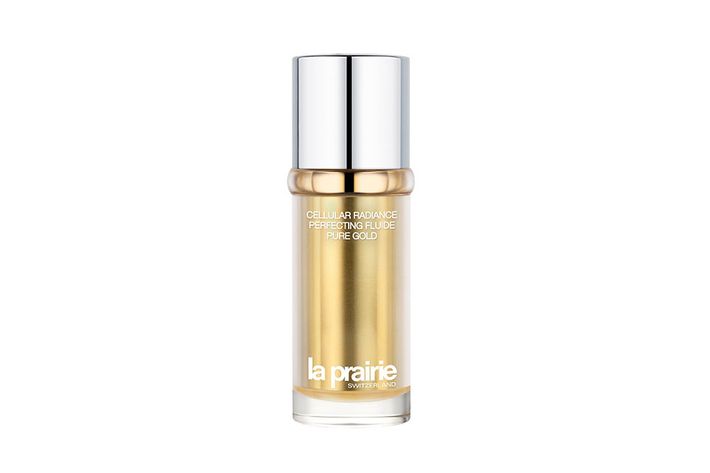 La Prairie Cellular Radiance Perfecting Fluide Pure Gold, $525
Leah Rodriguez
Producer
Mom Likes: Psychology books, essential oils and aromatherapy, Prince
Mom Dislikes: Cooking, organizing (she should read Kondo), being cold
The Gift: This fragrant rose face oil from Laura Mercier is skin care and aromatherapy in one. The oil smells like an English rose garden, and she can add a few drops to a foundation, or wear it alone to create a subtler version of the sweat-on-Prince's skin type of glow.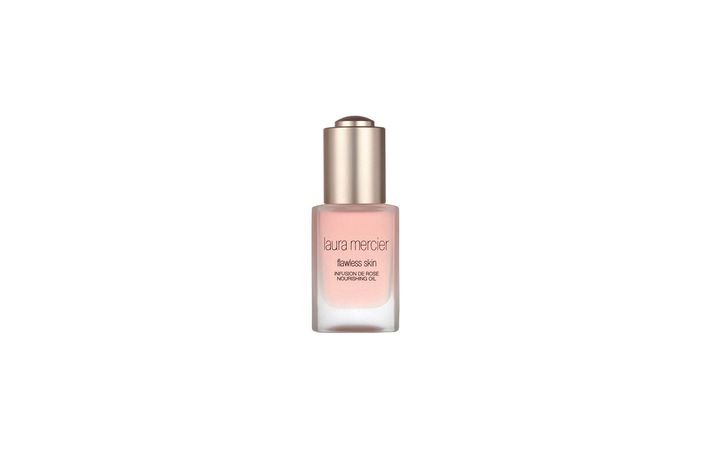 Laura Mercier "Flawless Skin" Infusion de Rose nourishing oil, $62, Nordstrom
Lindsay Peoples
Fashion Market Editor
Mom Likes: Baking, correcting spelling errors, watching Lifetime movies, Zumba
Mom Dislikes: A dirty house, me missing our weekly three-hour-long phone chat, plain things
The Gift: Lindsay's mom likes a little bling in her wardrobe — so much so that she has a tall standing jewelry chest to perfectly organize her collection. Since she's still obsessed with stacking rings, Lindsay has been saving up to buy her this rose-gold baguette ring.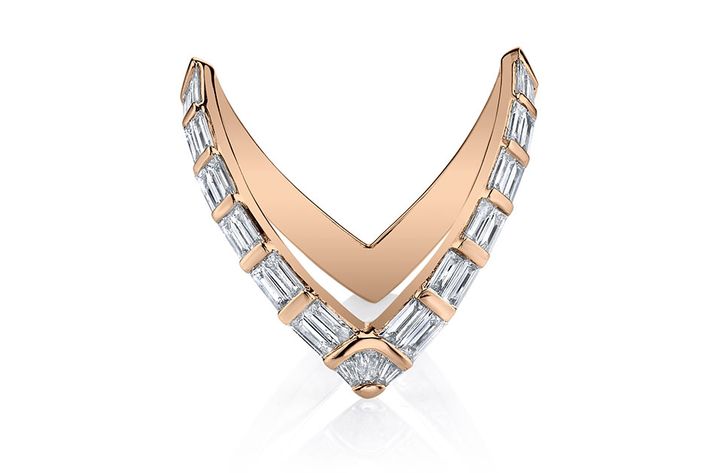 Anita Ko Ring, $4,000 at Anita Ko
Megan Greenwell
Features Editor
Mom Likes: Painting on easels, sensible yet stylish handbags, Oregon
Mom Dislikes: Things with jewels or sequins, high heels, the color lavender 
The Gift: What's more sensible yet stylish than a bright-blue bucket bag? It's big enough to fit all of Megan's mom's stuff (practical!) but the shape and color is trendier than your average black tote.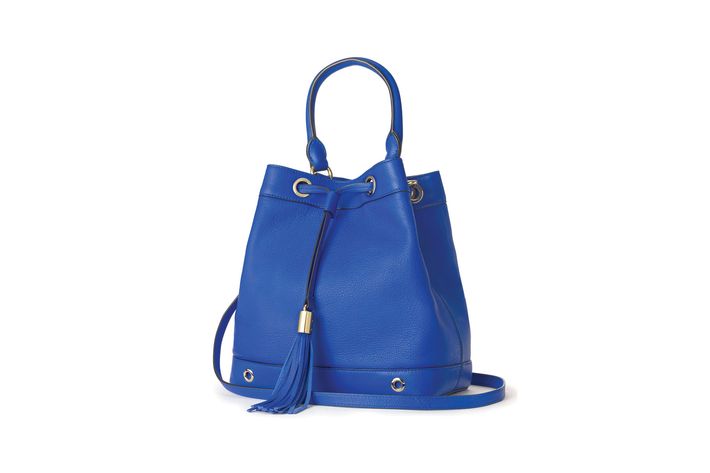 Milly Astor drawstring, $365, Milly 
Molly Fischer
Senior Editor 
Mom Likes: Cutting and arranging flowers, her dog, big bracelets
Mom Dislikes: Flat shoes, cooking, getting lost (gets lost easily)
The Gift: When it comes to jewelry, Molly's mom loves anything that has a story behind it, especially if it involves a far-flung locale. This John Hardy bracelet is made in Bali and is inspired by the Naga, a serpent god — which is about as far from life in California as you can get.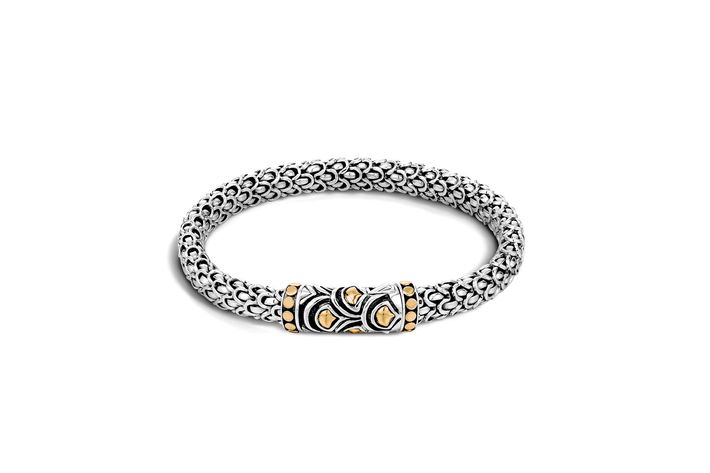 John Hardy Legends Naga bracelet, $595, Orchard Mile
Raydene Salinas
Photo Editor
Mom Likes: Teacher-y pantsuits, filling every wall of her home with photographs, not wearing shoes 
Mom Dislikes: Shiny and/or sparkly things, being away from her family, eating breakfast, when someone moves any of those photos
The Gift: Raydene's mom wouldn't necessarily buy this bright-red blazer from Ann Taylor for herself, but she'll appreciate it. It has a perfectly tailored fit and it's made from linen so she can wear it all summer.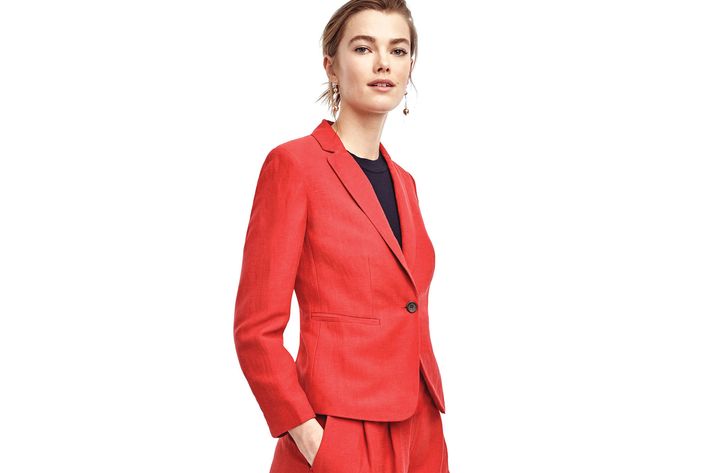 Ann Taylor Blazer, $179, Spring
Rebecca Ramsey
Style Director
Mom Likes: Baking and chocolate, walking shoes and/or sneakers, minimal bags
Mom Dislikes: Fur, heels, being away from her pets
The Gift: Rebecca's mom makes some amazing desserts, but since she has all the baking goods she needs, this year she'll get a chic white tote. This MICHAEL Michael Kors bag is roomy, minimal, and right in line with her style.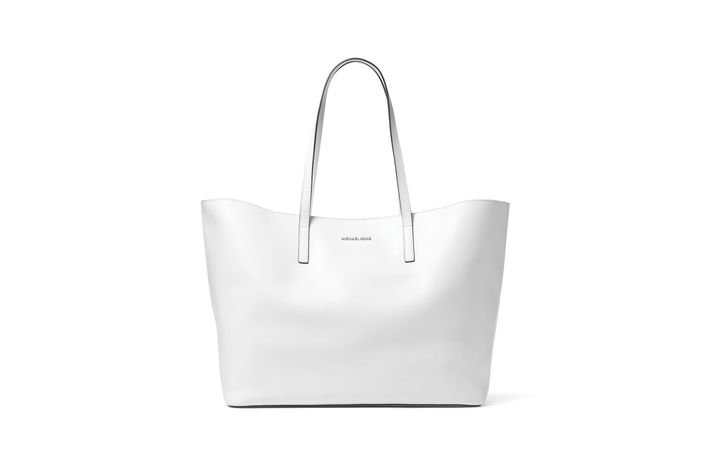 MICHAEL Michael Kors Emry tote, $348, Michael Kors
Sarah Spellings
Editorial Assistant
Mom Likes: Handbags, the color yellow, running, short book-club books
Mom Dislikes: Cats, clutter, chocolate-brown handbags, Pilates
The Gift: Sarah always tries to get her mom something bright to add to her wardrobe, especially since she loves the color yellow. This Kate Spade bag has just enough yellow and neutral tones, and it's super functional. Since it can be either a cross-body or a top-handle bag, her mom can use it any way she pleases.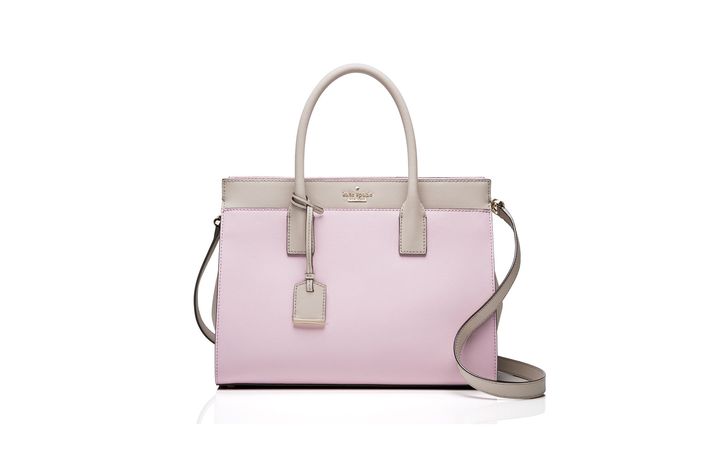 Kate Spade Bag, $378 at Kate Spade
Stella Bugbee
Editorial Director
Mom Likes: Jewish things, tech, expensive skin things with no scent 
Mom Dislikes: Food, people, dust
The Gift: For the mom who likes a no-fuss approach to skin care, Clinique's newest facial oil. Yes, facial oils can seem kind of gimmicky, but not when they're done by a utilitarian brand like Clinique. The oil feels lightweight, it's not heavily scented like other face oils, and the texture makes it feel more luxurious than a normal cream moisturizer.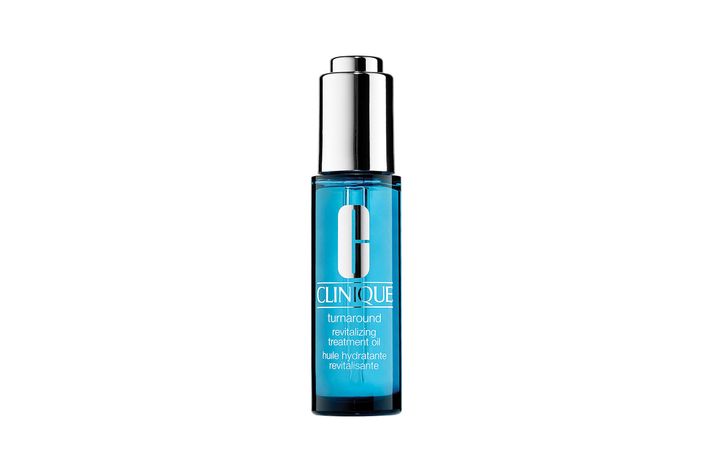 Clinique Turnaround Revitalizing Oil, $35
Marissa Cetin
Social-Media Editor
Mom Likes: Handy kitchen tools, comfy shoes (she's a nurse), hair- and skin-care products, simple jewelry
Mom Dislikes: Shopping for herself, outdoorsy things, bold makeup, the fact that I don't live at home anymore, mess
The Gift: A mom who likes simple things deserves a simple skin-care routine. Bobbi Brown, the makeup mom to us all, keeps things easy with a simple kit of her skin-care favorites. It includes a moisturizer, an eye cream, and a few minis for traveling.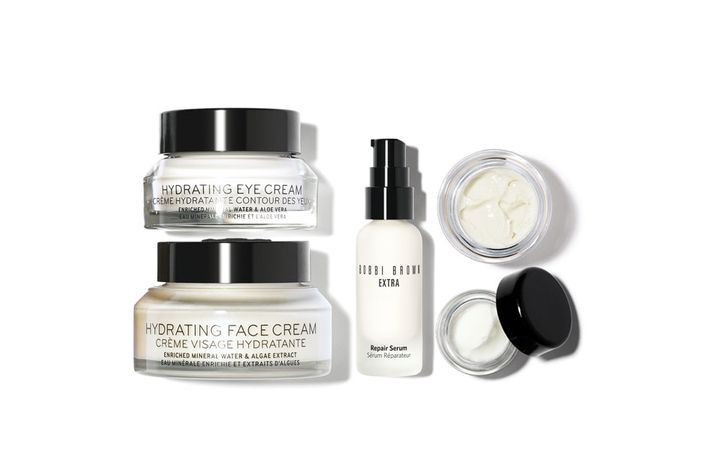 Bobbi Brown's Skincare Favorites, $106
Veronique Hyland
Fashion News Editor
Mom Likes: One-piece swimsuits for women who actually swim, gardening, expat life
Mom Dislikes: The desert, spike heels, trashy books
The Gift: Finding a one-piece that's both stylish and functional can be hard. You don't want it to read like you're trying out for the Olympics, but you also don't want it to be so delicate that it can't stand multiple laps on the pool. This sleek navy Tory Sport number will look good at the beach but features a racerback that can handle any vigorous strokes.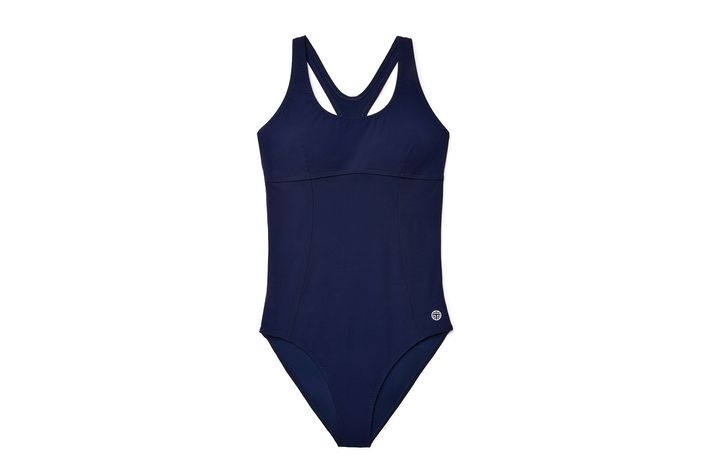 Tory Sport tanksuit, $185, Tory Sport
Susan Rinkunas
Health editor
Mom Likes: Lightweight scarves, but she already has SO MANY, walks with her 1-year-old Springer spaniel, Sting
Mom Dislikes: Cooking bland-ass food, turtlenecks, cleaning
The Gift: Ever since she broke her toe, Susan's mom has swapped running for walking, which she does with her cute dog. For those chilly or rainy days, a lightweight sporty jacket like this bright Lululemon style will be much appreciated.