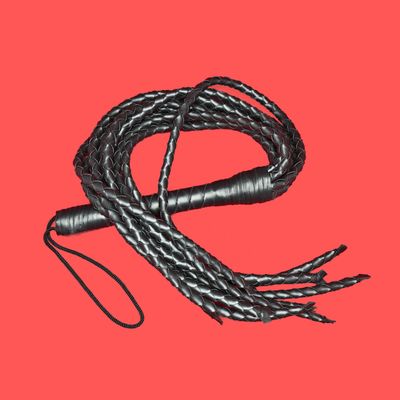 Photo: PhotoGraphyKM/Getty Images
Kinky sex has been around for eons, since long before Richard von Krafft-Ebing popularized the terms "sadism" and "masochism" in 1886 with his seminal work, Psychopathia Sexualis. But for a long time, it hasn't really been spoken about in polite company. Only recently, with the wildly popular Fifty Shades of Grey franchise, has kink — generally defined as BDSM, which includes bondage, dominance and submission, and the consensual use of pain and humiliation for pleasure — earned a sort of mainstream acceptance. People are now willing to test the waters more than ever before.
Naturally, this is an area rife with misinformation and stigma. That's part of why the Alt Sex NYC Conference, held last week in New York, was so important. The conference allowed researchers, clinicians, sex educators, and community members to discuss the most up-to-date research on what is known in the field as alternative sexuality (a term which encompasses kink, consensual non-monogamy, polyamory, and non-traditional relationship structures). For a population that has long been misunderstood and marginalized, the sharing of this information was much needed. Presentations ranged from myths about non-monogamy to best clinical practices when working with individuals from the community.
In honor of the conference — I streamed it remotely from Toronto — here are three key insights from the scientific study of kinky sex and non-monogamy.
(1) Swingers don't get more STIs than everyone else
"Consensual non-monogamy" is an umbrella term referring to relationships in which partners agree that romantic and/or sexual relationships with other people are allowed. This includes swinging (which is primarily sexual in nature), polyamory (which is primarily romantic in nature), and open relationships (which are a mix of both sex and romance).
A frequent theme throughout the conference was the preconceived notion that monogamy is associated with better sexual health. It is widely believed that monogamy prevents the spread of sexually transmitted infections (STIs) and many people will say fear of getting HIV is their main reason for not "opening it up." In theory, this makes sense, considering how nonmonogamous couples are exposed to a greater number of sexual partners (and if those partners are also nonmonogamous, then their partners, too, by proxy). In actuality, though, this isn't the case, as research has shown that rates of STIs do not differ between monogamous and consensually nonmonogamous people.
The similarity in STI rates between the two groups exists for a few reasons. First of all, nonmonogamous people are more likely to engage in safe-sex practices, such as discussing their sexual history and being tested for STIs (roughly 78 percent compared to 69 percent of monogamous folk). When engaging with other partners sexually, nonmonogamous people are also less likely to be under the influence of drugs or alcohol — substances that can impair one's judgment and lead to high-risk (or condomless) sex.
By contrast, monogamous couples don't tend to follow these sexual health practices. They typically stop using condoms as soon as they decide to be exclusive with each other, and don't often get tested for STIs or discuss their sexual-partner history before doing so. Needless to say, going exclusive doesn't get rid of any STIs that are already there. This would also suggest that rates of STIs in monogamous relationships are, in fact, underreported.
And although consensual non-monogamy may appear to be driven by reckless passion and spontaneous sexual encounters, a great deal of thoughtful planning and preventive measures are involved. These relationships revolve around consent, transparency, and communication, and — at least in the best cases — any "extracurricular" sexual activities are discussed between partners well in advance to ensure that personal boundaries are respected.
The unfortunate reality is that many monogamous partners (about one in four) practice non-consensual non-monogamy — also known as, well, cheating — and fail to use protection when they do. Monogamous partners are also less likely to tell their primary partner about these encounters when they happen. So, in a sense, being open and communicative helps partners in non-monogamy stay safe.
(2) Consensual non-monogamy and kink are far more common than you might expect
Using two nationally representative samples consisting of 4,813 and 3,905 people, respectively, the first large-scale study on the prevalence of consensual non-monogamy found that more than one in five Americans (about 21 percent) have engaged in the practice at some point in their lifetimes. These findings suggest the phenomenon is more common than previously thought. For example, one study from 2014 estimated the rate to be at 5.3 percent. (It could be the case that as the stigma on these practices lifts, survey respondents are less influenced by the so-called "social desirability bias" that might cause them not to answer these questions honestly.)
These results also challenge the idea that people involved in nonmonogamous arrangements all look the same, as the study's sample was demographically diverse across age, education, income, geographical region, political affiliation, religion, and race, and there weren't major differences in the prevalence of non-monogamy across these categories. Prevalence did, however, vary by gender and sexual orientation — non-monogamy was more common among straight men as compared to straight women, and among individuals who identified as gay, lesbian, or bisexual as opposed to straight.
With regards to kink, another study, recently published out of the University of Quebec in Canada by Drs. Christian Joyal and Julie Carpentier, found that close to half of its sample reported at least one paraphilic interest (that is, an atypical sexual interest — they range from transvestism (or cross-dressing) to urophilia, which is a sexual interest in urine) and about one-third had engaged in paraphilic behaviour at least once. The most common paraphilias were voyeurism, fetishism, and exhibitionism with a partner (that is, having sex while at risk of being seen). Due to commonalities in ethics and outlook when it comes to unconventional sex and challenging social norms, there's a lot of overlap between these two groups — as one of the conference organizers, NYC-based therapist Dulcinea Pitagora, pointed out during her talk, "many individuals identify as both kink- and poly-oriented."
(3) Monogamy is viewed as preferable to non-monogamy, even by those in nonmonogamous relationships
A great deal of stigma against non-monogamy still abounds, despite the growing visibility of the nonmonogamous community. In her talk at the conference, Dr. Zhana Vrangalova, a sex researcher and adjunct professor at NYU, described how some nonmonogamous individuals experience "internalized monogamism," or a bias toward monogamy, as a result.
Studies in social psychology have documented a "halo effect" surrounding monogamy: People rate monogamous relationships more favorably across a whole host of qualities, including social acceptance, comfort, respect, intimacy, honesty, and morality, even if they, themselves, are part of a nonmonogamous relationship. So while we're gradually becoming more receptive to talking about this topic, there's still a lot of prejudice to overcome.
Debra W. Soh is a provost dissertation scholar and Ph.D. candidate in sexual neuroscience specializing in the MRI of paraphilias (or sexual kinks) at York University, in Toronto. She writes about the science of human sexuality in Harper's, The Wall Street Journal, The Globe and Mail, The Independent, and many other outlets. Follow her on Twitter: @debra_soh.