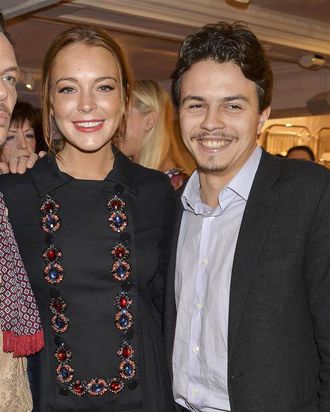 Photo: Xclusive Pix/startraksphoto.com
Lindsay Lohan, the actress formerly known as Lindsay Lohan, is reportedly engaged to a 22-year-old "Russian business heir" named Egor Tarabasov. Who? That's what we said — at first. But after some quick Googling, we found five facts about the man who allegedly presented Lohan with a big emerald engagement ring this weekend.
1. He's a Russian business heir.
Tarabasov is the son of construction magnate Dmitry Tarabasov. The family owns "stores similar to Home Depot in Moscow."
2. He's always wanted to be a painter.
Rumor has it that Tarabasov has painted quite a few amateur portraits of Lindsay, which now hang in the couple's London flat.
3. He's got a thing for redheads.
Tarabasov allegedly loves Lohan's red hair.
4. He's never seen The Parent Trap, or cocaine.
It's stunning, we know, but the wealthy heir has apparently never seen Lohan's star turn in the Nancy Meyers film, or the schedule-II controlled substance.
5. He's engaged to Lindsay Lohan.
Reportedly.
For more facts about Egor Tarabasov, click here!