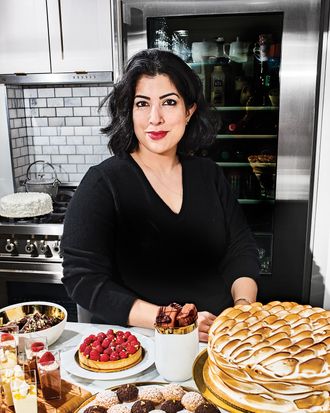 "Guests are more likely to graze on bite-size cream puffs in between dancing than sit with a piece of cake." —Umber Ahmad
Photo: Bobby Doherty
Here, five wedding pros — a baker, a dress designer, a planner, a trainer, and an officiant — dish on non-traditional wedding desserts, popular fabrics for gowns, workout plans, and more.
The Baker
Umber Ahmad, founder of Mah-Ze-Dahr Bakery
What sets you apart from the typical wedding-cake-maker?
For the past three years, we've been an online-only bakery, operating and shipping orders out of a commissary kitchen in Spanish Harlem, so most of our requests for weddings haven't been for traditional wedding cakes — they've been for, say, our brioche doughnuts. We're opening our first storefront in Greenwich Village this spring, but we still want to modernize the wedding experience. Traditionally, people have one large cake, but in my opinion, not everyone wants the same dessert. I'll do a variety — maybe six or eight small nine-inch cakes, which make an abundant display. Sometimes we'll balance that out with smaller desserts, like choux, which are little bite-size cream puffs. We also do verrines with mousse in flavors such as passion fruit or chocolate, and to get really luxe, sometimes we'll garnish pastries with 22-karat edible gold.
So you're saying guests won't miss the huge tiered wedding cake?
No. When you have a lot of little options — we'll also do individual bowls filled with peanut brittle, chocolate-covered toffee, and baby pistachio-and-raspberry tarts placed at each individual table — guests can take one between dancing and sips of Champagne, like, "Oh gosh, I haven't had dessert! Let me grab a bite." Plus, you don't need the tiers to create something dramatic. For a recent wedding in Soho, we did a New York cheesecake covered in edible flowers and then had miniature cheesecakes floating around the party for guests. It was so elegant.
How much do a variety of small cakes and pastries cost, versus a single, more traditional cake?
The general pricing for multitiered cakes is about $8 to $14 per person, which is $2,500 for a 250-person wedding. For a much better value, you can have a bunch of nine-inch cakes, plus trays of choux, verrines of mousse, and huge bowls of toffee.
What are some other ways to incorporate sweets into the reception?
 I love to see an abundance of white marshmallows at a wedding. We make ours with real clover honey and mocha or Madagascar vanilla beans, and they don't have that Styrofoam texture the store-bought kind can have. We did a lovely hot-chocolate bar in the winter last year: You could make your own cocoa- or espresso-based drink and then top it off with our marshmallows.
How about party favors?
We've also done marshmallows as favors, which is really unexpected. And I recently did a bag of granola as the favor, so the next morning the guests — probably hung-over — could reminisce with a sweet, healthy treat about how great the night before was.
Pro Tip: "Stay true to yourself with the dessert. If you love Oreos, why not have an Oreo-crust cheesecake?"
212-498-9810; mahzedahrbakery.com
The Dress Designer
Delphine Manivet, founder of Delphine Manivet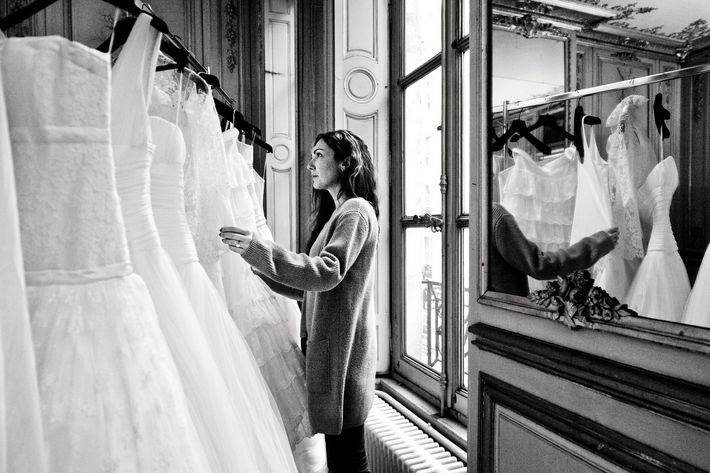 You've just opened a Tribeca outpost of your Paris boutique; what would you say is the biggest difference between Parisian and New York brides?
Parisian women want to be comfy. You see a lot of jumpsuits. I wore a jumpsuit when I got married ten years ago. It goes with this idea of French women being very free: They want to dance, they want to move. With the puffy dress, you can't really do a lot of things, so they don't like volume and a big train.
What about the brides who come into your Tribeca showroom?
They're looking for something different than what they can find in the U.S. market. Like this one bride, who got married in the mountains, picked out a simple crêpe-silk skirt with a lace blouse — it was very Parisian.
How do these off-the-rack dresses compare to your couture dresses?
The ready-to-wear dresses start at $2,500; my custom dresses at around $12,000 — but that's a sketch and a dress made just for you. One of my brides was getting married in her garden where she grew pomegranates, so I worked with embroideresses and lace-makers in Paris to design and create a lace with that specific fruit. My $3,000 dresses don't have all of that personal research, but I still design my own laces for
each one.
What are the popular fabrics right now?
Lace, chiffon, and very light organza, because those allow the dress to follow the movements of the bride. The fluidity is actually very good for pictures, because if you have a little bit of wind or you're dancing, the dress moves with you and creates a beautiful silhouette. That's so important for Instagram and Pinterest.
Who's the best person to bring along for a second opinion?
This sounds crazy, but if I were picking out a dress right now, I'd bring my 10-year-old son. He's just more honest. Sometimes he sees me, he says, "Oh, Mom, you look horrible!" And other times he finds me quite nice and says, "Mom, you look wonderful." There's nothing in the middle. When you bring your best friend, it's very rare to hear her say you look ugly in that dress.
Any advice on accessorizing?
If you choose a statement dress, you don't want anything else. For example, a bustier dress that has one ribbon on the bustier and another ribbon on the waist already has two lines, so it's not a good idea to add a necklace, because then you've got a third line. If your dress is simpler, you can choose one statement accessory, like a headpiece or beautifully detailed shoes, but the most important thing is to pick just one.
Pro Tip: "With a long dress, don't wear open-toe sandals; in pictures, you can see your toes sticking out of the dress, which is quite ugly."
 917-673-5196; delphinemanivet.com
The Planner
Bethany Pickard, founder of Modern Kicks Events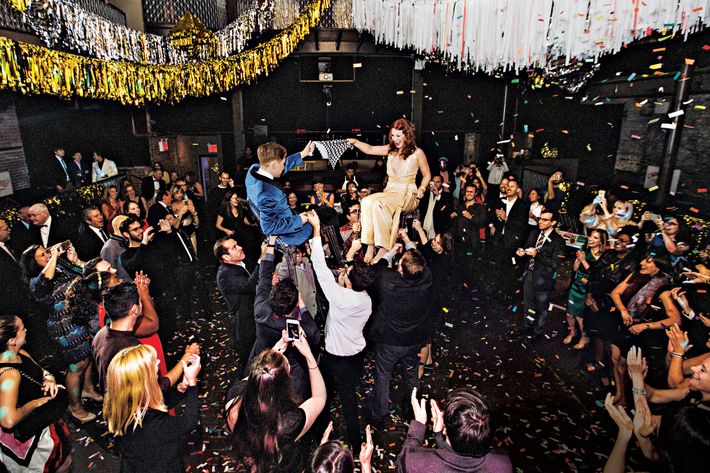 Negotiating with a wedding planner: Do or don't?
It's definitely flexible as far as I'm concerned. Let's say the couple has chosen a brand-new location I haven't worked with before; there's value in that for me, because it adds something to my portfolio, so I might be willing to factor that into the cost. Or let's say a couple wants to do their rehearsal dinner further in advance: I'll suggest we move it closer to the wedding, so I can include it in a contract rate. Every planner has a minimum they're comfortable with.
How much do you charge for a full year of planning, versus just swooping in for the day of? My packages for basic day-of coordination — making sure makeup's getting done, that everyone is running on time, and the food and décor are taken care of — start at around $2,500. That price goes up according to guest count and if your wedding is happening in multiple locations — say, if the ceremony isn't close to the reception area. If I'm doing full-on planning, where I'm involved from start to finish every step of the way, I typically start at around $7,000. The couples I work with have budgets anywhere from $50,000 to $250,000.
What do you say to a couple who wants to stay on the low end of that range?
If you're willing to forego the sit-down dinner and a formal ceremony, you can save a lot. In October, I did a wedding at the Music Hall of Williamsburg. We threw a 125-person blowout with hors d'oeuvre, DJs, and drag queens. Everyone had a blast. It's all about the sacrifices you're willing to make, and the wedding planner can help you make them — just the act of sitting down and talking it all out clarifies what you want. It's like therapy in a way.
What's the Brooklyn wedding trope that won't die?
Food trucks. Tacos, gourmet grilled cheese — people can't get enough. And I love a Brooklyn couple who incorporates a cappella into their wedding. I recently worked with a groom who surprised his bride with a funny a cappella version of "Five Hundred Miles," by the Proclaimers, after their vows.
What are some red flags when shopping around for a wedding planner?
Bulldozing. Tell the planner what neighborhood or feel you have in mind and see how they react, if they really seem like they're listening. There's a difference between someone who's knowledgeable and someone who's clearly trying to push their own vendors and contacts. In preliminary stages, a planner should offer couples a wide range of options; if she is overly enthusiastic about one specific vendor, before she's really had a chance to get to know you and your needs, then it's a bad sign.
Are there any misconceptions about what a planner does?
So many people think we're the ones on a ladder hanging décor on the big day! I might be arranging smaller items like guest books and card boxes, but I don't carry around a ladder with me.
Pro tip: "Rehearsal dinners can get just as complicated as weddings — they can require toast planning and seating charts — so consider asking your planner to include it in the package."
617-308-8240; modern-kicks.com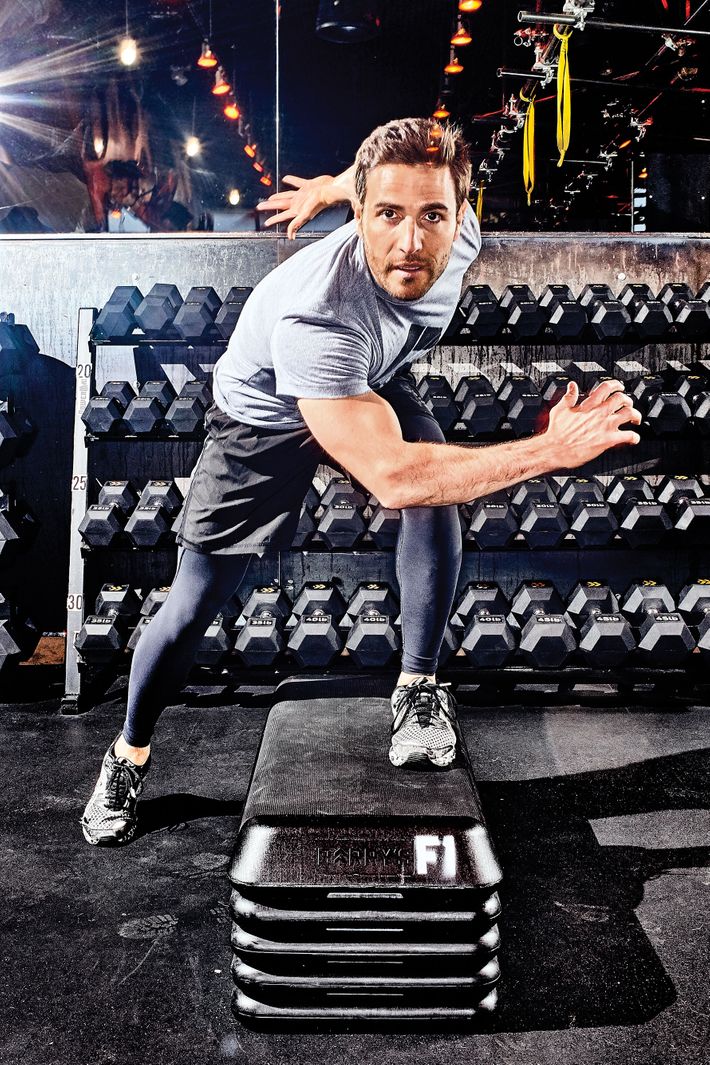 The Trainer
Joey Gonzalez, partner and trainer at Barry's Bootcamp
When a bride-to-be walks into a Barry's, what's her experience like?
First, we figure out her goals and how much time we have. Timing totally changes the pace. Our classes are divided into about 25 minutes of strength training, with an emphasis on a different body part each day, and 25 minutes of treadmill cardio. With consistency — showing up at least three times a week — you can start seeing results within as little as two weeks. But for someone who's coming to us a month before the wedding, to accelerate your progress, you might want to step that up to more than five classes per week.
Where do most brides focus their attention?
It all depends on what she wants to show off in the dress. I've been with Barry's for 12 years, and almost every bride I've seen has had a dress picked out before she comes to us. It's usually the waist, arms, shoulders, or back. At Barry's, we work on specific muscle groups each day. For example, on chest, back, and abs day, we might do exercises that hit all three muscle groups, like a Spider-Man plank, where you bring your knees into your elbows and hold for several seconds, up into a push-up position. It's more grueling than a regular plank, but you've got thumping music and your instructor to keep you going. The room is cast in dim red light, so you can't see yourself sweat.
Any tips for not getting winded on the dance floor?
By the last two weeks of a five-day-a-week Barry's program, you could be sprinting nine to ten miles per hour on a treadmill. Dancing is no big deal.
Do you worry about brides overdoing it?
There have been times when I've said, "I'm all onboard for this, because I know you want it, girl, but when the wedding's done, this is not a sustainable practice." And ten out of ten times, the response is, "Oh my God, I would never keep going this hard." So my tolerance for people going all out is a bit higher when it comes to a wedding. It's a special situation.
Is couples' training a good idea?
I've only ever seen it go really well. Anytime you're going through something tough together, it's a bonding experience. You motivate each other. One couple, who got married in the Caribbean, flew one of our trainers down to teach classes for their guests. Another couple would pull each other to a 7:10 a.m. class five days a week. They just had a baby boy, and he went home from the hospital in a Barry's onesie.
Pro tip:  "In the days before the wedding, almost all brides-to-be go nuts with training. But I recommend pulling back. Just rest, hydrate, and enjoy yourself."
646-559-2721; barrysbootcamp.com
The Friend Officiant
Greg Vander Veer, his friend group's go-to wedding officiant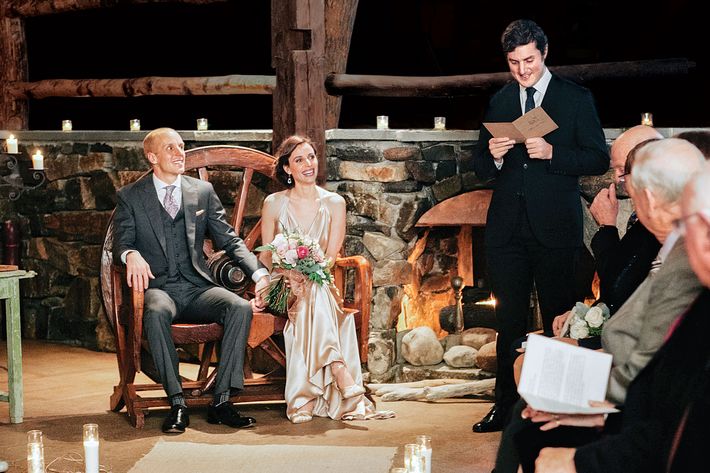 What got you into officiating?
About four years ago, a friend asked me to officiate his wedding. For some reason they thought I was the right person. I had so much fun — you're the third star of the wedding, and afterward everyone automatically feels like they know you, so it is really easy to talk to people during the party. I've been officiating friends' weddings ever since. And from what I understand, the officiant doesn't have to buy a gift either, so it is a little bit cheaper.
What are the benefits of a friend officiant over a stranger officiant?
The obvious one is that a friend can make the ceremony feel more personal. But at the same time, I try not to make it too personal; this isn't a best man's speech. And it isn't about you. I once went to a wedding officiated by a bride's friend and yoga instructor: She made everyone raise their hands in the air and chant. For me, I try to keep it more unobtrusive — just a combination of humor and sentimentality about who they are as a couple and as people and what their love means to everyone in the room. Personal yet universal.
How do you strike the right personal-yet-universal balance?
First of all, I actually sit down with the couple, and we talk about not just what I'm going to say but also their vision for the ceremony as a whole. I married some friends in a small rooftop ceremony — many of the family members of the bride, who was from England, could not attend the wedding, so we got a few laptops and iPhones and Skyped them in. It was surreal to see that play out. And then, in addition to my three- or four-minute speech about the couple, I facilitate readings, which I'll help the couples choose in advance. At my friend Isabel [Haley]'s wedding, her best friend Lena Dunham read "Recuerdo," by Edna St. Vincent Millay; a choice for another wedding was "Union," by Robert Fulghum.
Do you ever help with the vows?
Yes. I'll send them quotes about God, if they want that, or some Quaker options, which I'm partial to. They're very beautiful and not overly religious. One goes, "In the presence of the light and love of family and friends, I take thee to be my beloved, promising to be a loving and faithful partner. I ask you to be none other than yourself."
Have you ever turned a wedding down?
A good friend of mine is getting married in April, and he was like, "Do you want to officiate or be the best man?" And I've never been the best man, so I thought I'd try that. I'm regretting it, because it turns out best man is a lot more work. You have to plan the bachelor party, and it's been made very clear I am on call for four days. I think this will be my last best-man-ship, and I'll go back to officiating.  
Pro tip: "To avoid veering into schmaltz, I always stay away from generic, grandiose statements about what love is and stick to what I actually know about the couple."
*This article appears in the Summer 2016 issue of New York Weddings.