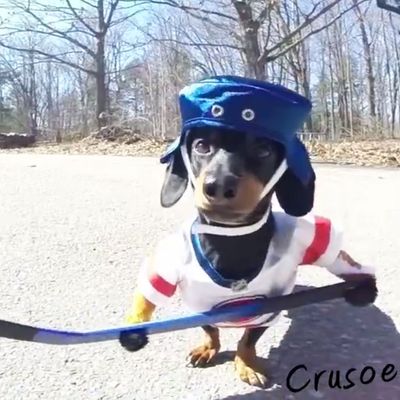 Daschund Playing Hockey
Photo: Crusoe the Celebrity Dachshund/Facebook
Like every other week, this week was not great. We saw countless tragedies, were subjected to a close-up of Ted Cruz, and somehow, we lived to tell the tale. Here are some things to make your weekend more chipper.
1. Hero Woman Bitches Out Florida Governor Rick Scott
Often, we feel powerless about things like the defunding of Planned Parenthood. But Florida woman Cara Jennings seized an opportunity to yell at governor Rick Scott about what an asshole he is. And it was glorious.
2. 9-Year-Old Reporter Wrecks Her Haters
"I didn't start publishing Pennsylvania's Orange Street News so that people would think I'm cute," 9-year-old reporter Hilde Lysiak wrote in The Guardian, responding to her haters.
More accomplished than most real-life adults, this girl is taking none of your b.s.
3. Barron Hilton Elevates Food Photography to a Whole New Level
While most 26-year-old heirs spend their days idly jet-setting around the world, Barron Hilton found meaning in his life through his food Instagram, which is something. Soup anyone?
4. Dwanye "the Rock" Johnson Cried When He Met a Baby Who Survived Open-Heart Surgery
5. The World Finally Got to See Some Dogs Play Hockey
6. Emily Ratajkowski Calls Out the Patriarchy
The gorgeous, intelligent, feminist Emily Ratajkowski gave an excellent interview to WWD, in which she said:
"We're existing in a patriarchal society, yes, and the standards of beauty are a response to that. That doesn't mean I need to act outside of it, I can act within it to make a point. For example, I wear makeup but that doesn't mean I'm not a feminist. I may wear makeup that enhances my features [and] that plays into the standard of beauty that has been set up by a patriarchal society but I'm living within it. I'm not wearing the makeup to please men, I'm wearing it to please myself. I also am not growing out my armpit hair in protest of patriarchy. I wear a bra. Those are things that I don't feel I need to reject to make a statement about my sexuality."
7. Kyra Kennedy's Dad Made Her Shut Down Her Social Media Accounts After She Cyberbullied Cut Writer Allie Jones
This week was an emotional roller-coaster for a group of young elites that the New York Times identifies as the "Snap Pack." They were clearly thrilled to see themselves in the Times. After the Cut published a short post about a Times trend piece featuring them, Andrew Warren and Kyra "I Am a Kennedy, Google Me" Kennedy made it known they found our story highly objectionable.
So they did what any trust-fund kid would do: They took to Instagram to call the blog post's author, Allie Jones, "large n in charge" and a "bitch."
But Kennedys don't cyberbully; they're way too classy for that. So Robert F. Kennedy Jr. made her shut down her social media accounts, according to "Page Six":
Mr. Kennedy has spoken to Kyra and informed his daughter that their family does not bully people. He has instructed her to shut down all of her social media accounts immediately.
Game over, I suppose.
8. North West Cemented Her Role As a Fashion Icon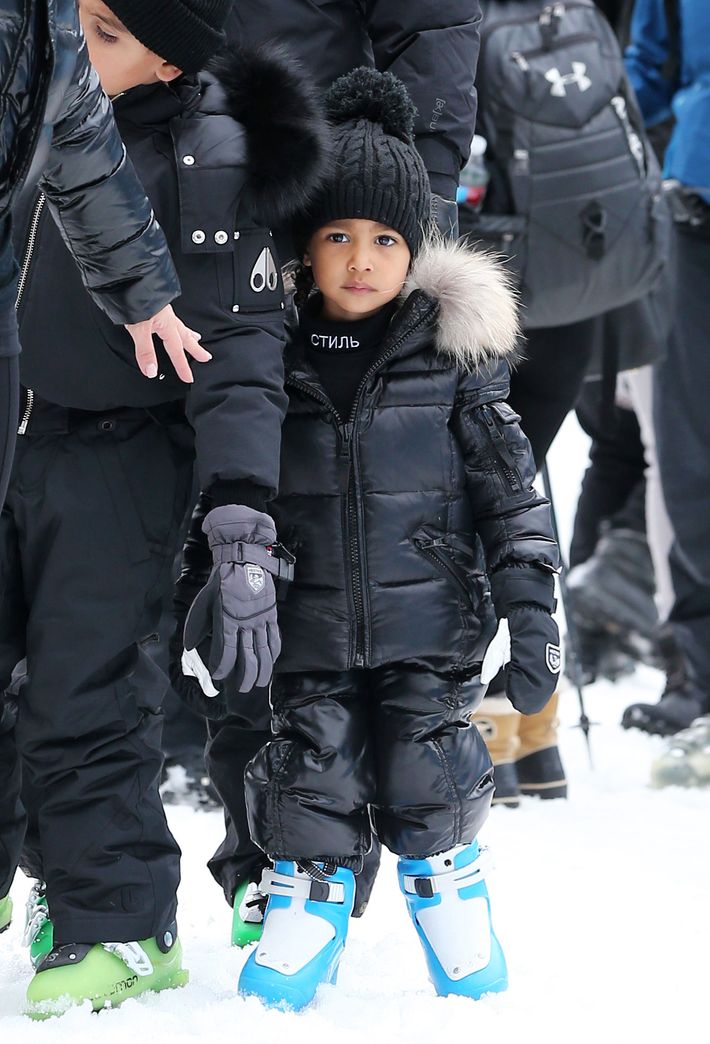 And, per usual, North West's outfit game was extremely on-point.