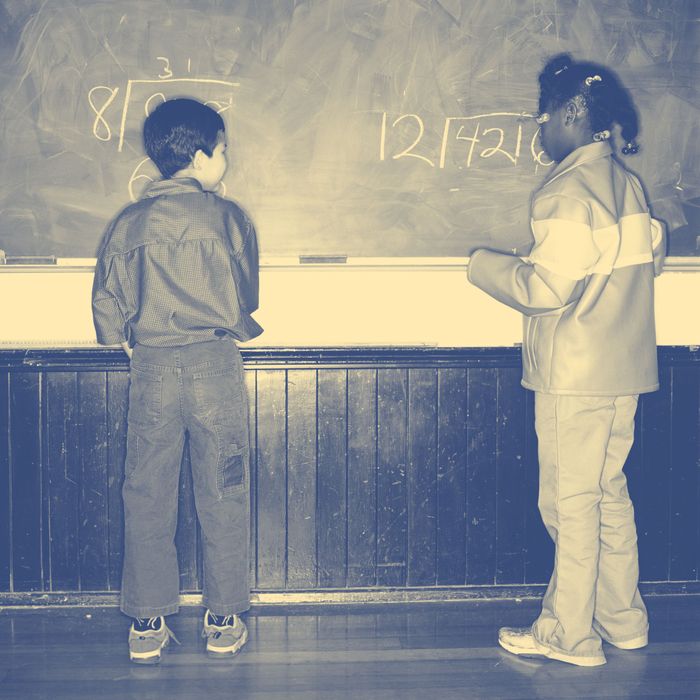 Photo: Ryan McVay/Getty Images
For kids who are really smart, access to a gifted program can be life-changing. Gifted programs give them a chance to push themselves, develop new, advanced interests, and fulfill their potential — rather than languish, under-stimulated and bored, in classes built for kids not as smart as they are.
Who gets access to these programs, though? As Susan Dynarski wrote in an interesting piece in the New York Times on Friday, children tapped for them are "overwhelmingly white and Asian" — perhaps unsurprising given other inequities in the education system, and given that schools in richer districts are likely to have more gifted offerings.
But schools could make tweaks to improve the situation — a decade ago, writes Dynarski, the Broward County, Florida, school system found a simple, meritocratic way to make its gifted program more diverse.
In 2005, in an effort to reduce that disparity, Broward County introduced a universal screening program, requiring that all second graders take a short nonverbal test, with high scorers referred for

I.Q.

testing. Under the previous system, the district had relied on teachers and parents to make those referrals.

The economists David Card of the University of California, Berkeley, and Laura Giuliano of the University of Miami studied the effects of this policy shift. The results were striking. The share of Hispanic children identified as gifted tripled, to 6 percent from 2 percent.

The share of black children rose to 3 percent from 1 percent. For whites, the gain was more muted, to 8 percent from 6

 

percent.
A change from 1 to 3 percent might not sound like a lot, but Broward County has more than 100,000 black students. That's 2,000 students who, it could be argued, will be given access to potentially vital expanded educational opportunities simply because their school system instituted a fairer way of identifying gifted kids. And for Latino students, the number is even higher: 3,400.
Reading Dynarski's story, I couldn't help but be reminded of a famous experiment from 2000 that I wrote about in 2014 as part of an argument for killing the cover letter and résumé. It dealt with a very different subject, but yielded similar diversity improvements:
In a paper published in 2000, Claudia Goldin of Harvard and Cecilia Rouse of Princeton examined a bunch of data from orchestras that adopted "blind" auditions in which screens concealed the identity of the performers. The screens were introduced in part to chip away at the boys' club that had developed as a result of the old way of doing business, in which members of orchestras were "largely handpicked by the music director," as the researchers wrote, and mostly drawn from a pool of "(male) students of a select group of teachers."

Goldin and Rouse's number-crunching found that adding the screen did, in fact, account for a good chunk of the then-recent increase in female orchestra members (another chunk was explained simply by the fact that more were applying), meaning that without the screen these women wouldn't have gotten their jobs simply by virtue of their

 

gender.
The policy Dynarski is writing about was similar: the IQ tests acted as a "screen," of sorts, to prevent parent and teacher bias from creeping in.
Now, Dynarski notes that her story doesn't have a straightforwardly happy ending. For one thing, the numbers suggest the gifted program in Broward "had little effect on the academic achievement of students who had been specifically identified as gifted, through I.Q. tests." For another, the universal screening was cut in 2010, a Great Recession casualty, before being reinstated in 2012 in a modified form that has had less of a diversification impact.
So there were some stumbling blocks here, overall. But it's still striking how a simple tweak at least offered a sizable group of students access to resources they wouldn't have had otherwise. It's an insight that could be adapted elsewhere, perhaps with more successful long-term results.