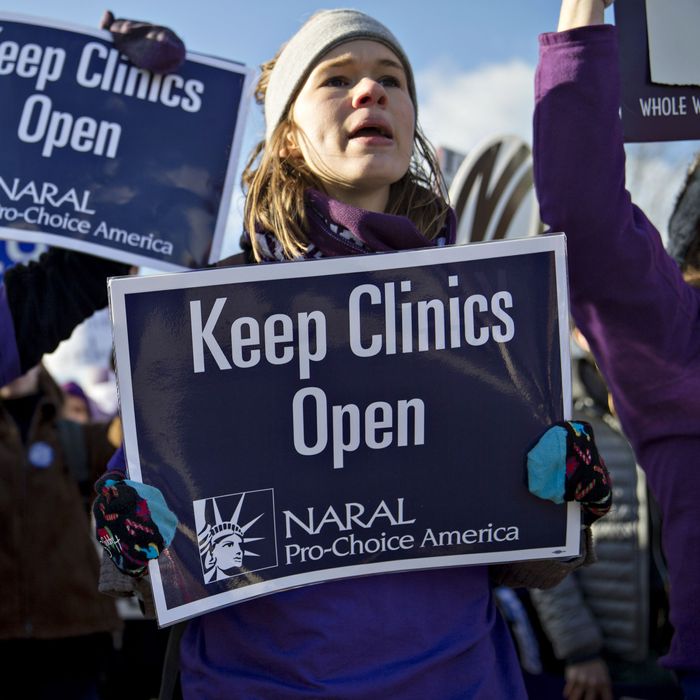 A pro-choice rally in Washington, D.C.
Photo: Andrew Harrer/Bloomberg Finance LP/Getty Images
On Thursday, lawmakers will meet to discuss an important, undeniable piece of the gender-wage-gap problem: the rarely discussed link between reproductive-health-care access and a woman's wealth.
As outlined in The Guardian, the nonprofit policy group Progressive Congress and the Congressional Progressive Caucus are hosting the event, which will spotlight the fact that although universal access to contraceptives, abortion, and family-planning services has been proved again (and again) to enhance women's economic prospects, lawmakers continue to sideline the issue of unwanted pregnancies (a major reason why women enter poverty in the first place).
How so? Consider this recent legislative sampling: Oklahoma's anti-choice bill, which makes it a felony for doctors to perform abortions; South Dakota soon joining other states in requiring doctors to shame the women they help; and repeated congressional attempts to defund Planned Parenthood and other federal health programs.
Abortion access and a woman's potential wealth are inextricably linked: A recent study of 1,000 women seeking abortions found a "profound" connection between lack of abortion access and the effects on a woman's life. Forty percent of respondents wanted an abortion for financial reasons, and women who ended up keeping unwanted pregnancies were more likely to live in poverty.
One in seven women in the U.S. live in poverty, and in 2012, only 31 percent of low-income American women had access to publicly funded clinics.
Some advice for lawmakers tomorrow: Listen up.