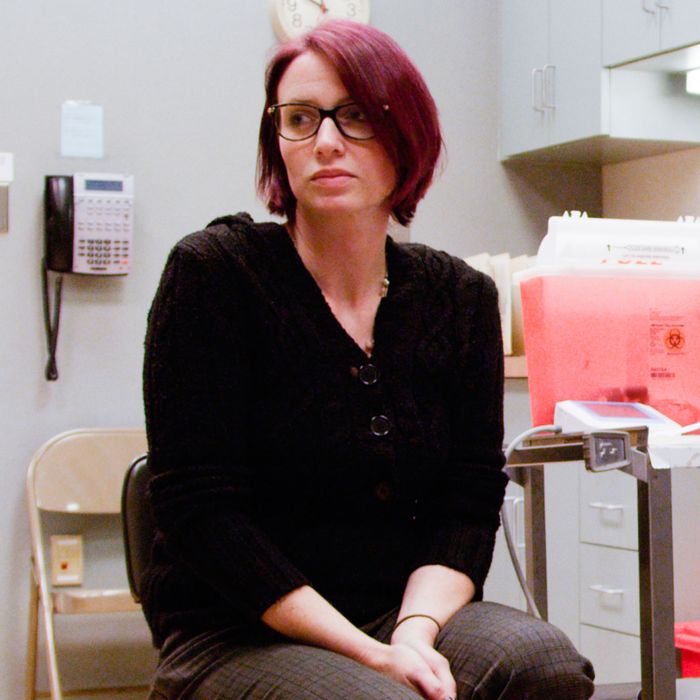 Amie, one of 32 women who appear in the documentary Abortion: Stories Women Tell.
Photo: HBO
This year at the Tribeca Film Festival, two different documentaries told stories about abortion from women's points of view — one metaphorically, one literally.
Abortion: Stories Women Tell, from Emmy-winning filmmaker Tracy Droz Tragos and HBO Films, traces the stories of 32 Missouri women from every position on abortion: patients, doctors and clinic workers, protesters and clinic escorts, and anti-abortion activists. And Across the Line, a virtual-reality film produced in partnership with Planned Parenthood, places you in the shoes of a woman enduring hateful slurs on her way into a clinic.
The films come at a crucial time for abortion, following last year's Colorado Springs shooting and the undercover-video attack on Planned Parenthood earlier this year. One in three women will have an abortion, both films remind you (an oft-cited statistic that's subject to change early next year). Since 2011, more than half of U.S. states have restricted access to abortions. And yet, while abortion is perennially in the news, the experiences of real women are too often overlooked.
For the film Abortion: Stories Women Tell, Tracy Droz Tragos focused on her home state of Missouri, where only one abortion clinic remains open, in St. Louis. She began the project after the state mandated a 72-hour waiting period for women seeking abortions, which requires a counseling session on abortion options and a three-day wait before a woman (regardless of rape or incest) can move forward with her abortion. Utah, South Dakota, Oklahoma, and North Carolina have similar measures.
Thirty-two of the 81 women she interviewed appear in the film; together, their stories paint a complicated portrait of the many, many circumstances that define abortion. There is Amie, a single mother who works 70- to 90-hour weeks as a bartender and waitress, whose story is the main thread in the film. "There's no way I can physically carry a baby and work," she says. "There's no way I can cut my hours because I need my hours to raise my kids that I have right now." She drives three hours to Hope Clinic on the Illinois border, where she carefully hands over $525 in cash for an abortion pill.
There are women who were raped; others who couldn't escape poverty like Te'Aundra, whose pregnancy barred her from a basketball scholarship; and Sarah, whose pastor supported her choice to abort 12 weeks into her pregnancy, when her doctor discovered a birth defect. There is Chi Chi, the firecracker female security guard who watches over enraging protesters ("I wish I could abort him," she mutters at a screaming man.) and the escorts who stand in the parking lot. But there's also Cathy, the antiabortion activist whose mother almost aborted her; Reagan, a Midwest regional coordinator for Students for Life, an anti-abortion advocacy group for high-school and college students; and Alexis, a 17-year-old who decided to keep her baby, and other pro-life women.
"You can speak your truth, you can feel how you feel, and it's okay. That story, your story, is just as deserving as her story," Tragos said in an interview with the Cut. "All of the women who appeared in this film wanted to share their stories and did so with a very specific intention."
The virtual-reality film Across the Line is a three-part immersive experience with real audio recorded outside abortion clinics across the country: You see a distressed woman in a Planned Parenthood patient room, then rewind to 20 minutes beforehand when she was verbally assaulted on her way there, and then become that woman outside the clinic. Filmmakers Nonny de la Peña (known as the godmother of VR), Brad Lichtenstein, and Jeff Fitzsimmons partnered with Planned Parenthood, which co–executive produced the film and consulted on the script with doctors and patients.
The film opens under florescent lights in a clinic room, with the sound of a creaking door behind you: A doctor greets Kristina Mailen, a real-life Planned Parenthood patient who acts as a woman seeking an abortion. She's upset, shifting uncomfortably in a puffy green vest and rubbing her arms. She looks traumatized. The doctor consoles her.
The film then flashes back to 20 minutes earlier, when Kristina and her friend Samantha Collier, another real-life patient, are driving to the clinic. They approach a crowd of people holding signs: STOP. MURDER. WHICH OF THESE TWO HUMAN BEINGS WAS CONCEIVED IN RAPE? A man approaches the car and tries to dissuade her, suggesting a pro-life center down the street. "I've seen the girls who come out of there after two hours," he says. "They're broken." "Broken?" Samantha asks. "This is a choice that she is making about her body." If you look down, the two friends are holding hands.
"Honestly, one day I would love to also explore and talk about the life of the protesters," said Lichtenstein, who met protesters who had showed up at clinics every day, 500 days in a row. "They also keep track of the number of people they've dissuaded or converted." One man he met was proud of "converting" three women in 10 years.
The final section of the film is the most surreal, when you become the woman trying to get an abortion: You're on an eerily cartoonish, generic city street corner, outside a slate-gray clinic, and stuck on a slab of sidewalk. Protesters surround you on all sides, hurling chilling insults: WICKED JEZEBEL FEMINIST. WHORE. CHILD MURDERER. The screen flashes from protester to a blank white screen to protester: an angry pot-bellied man, a nice-looking middle-aged woman in a striped shirt, a groomed grandfather-type — all angry.
It's a violating experience for the viewer: You're not moving toward the clinic at all, forced to listen and take it. Would a woman really just stand there? I wondered. But I think this was the film's intention: The issue and those people aren't going anywhere.
It could be seen as a dramatization, but all of the scenes are real: Because the film uses audio recorded outside abortion clinics throughout the U.S., every insult you hear (from the actors playing protesters) has actually been said.
"Everyone in this country has to see this film to understand," said Molly Eagan, VP of Planned Parenthood Experience and an executive producer of the film, who wore a "Wicked Jezebel Feminist" T-shirt re-appropriating the slur in the Tribeca Interactive Playground. Like Abortion: Stories Women Tell, Across the Line asks you to consider the impact of our national abortion wars on individual people, as lived experience.