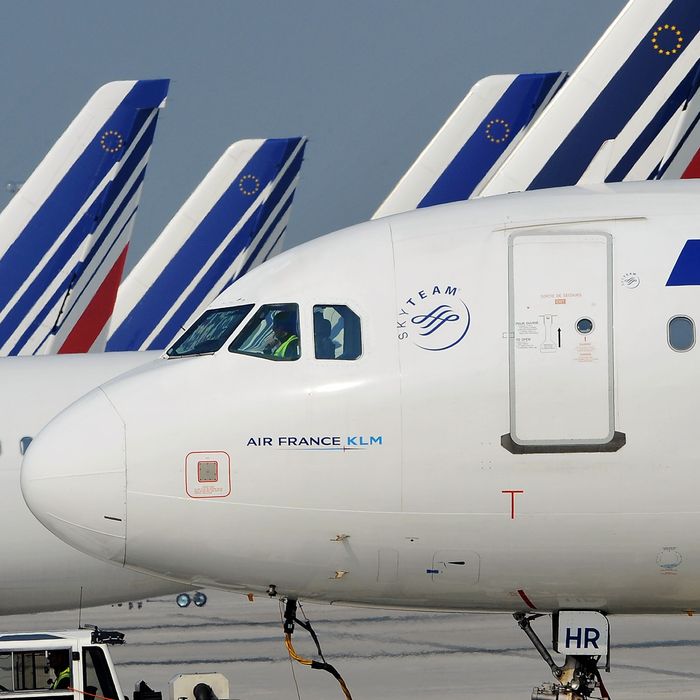 Air France's planes.
Photo: Pascal Le Segretain/Getty Images
The French have long had a fraught relationship with headscarves, whether it's banning them in schools or debating whether designers should be courting Muslim markets. Now Air France has become the center of controversy after their announcement that women flight attendants working their route to Tehran would have to wear trousers, jackets, and headscarves when they left the plane in the Iranian capital.
The flight crews were not thrilled with the new dress code decree. "Every day we have calls from worried female cabin crew who say they do not want to wear the headscarf," said a member of the flight crew's union. He also mentioned that Air France might penalize those who refused to abide by the dress-code ruling.
Air France will be resuming their flights to Tehran later this month — the route had been suspended for the last eight years due to sanctions against Iran. The airline said in a statement that they were complying with Iranian law that "requires the wearing of a veil covering the hair in public places for all women present on its territory" (the ruling does not apply while in the air). They also noted that flight attendants who worked on flights through Saudi Arabia followed a similar stricture that required the wearing of an abaya.
While it may be an Iranian law for women to cover their hair on Iranian soil, demanding that their female flight attendants to wear a headscarf could be construed as a violation for French law. "They are forcing us to wear an ostentatious religious symbol. We have to let the girls choose what they want to wear," a representative for the crew union told RFI radio. "Those that don't want to must be able to say they don't want to work on those flights."