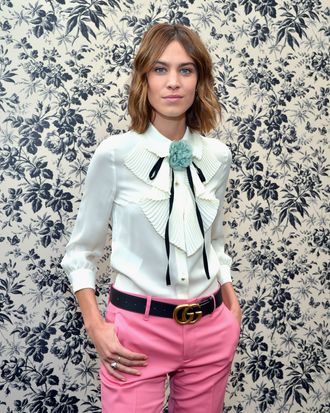 Photo: Charley Gallay/Getty Images
Last week, Taylor Swift mused that chokers are "the new flower crowns." Yesterday, Alexa Chung declared that chokers are "so dead."
Both silly things to say, but here we are. Chung, that British person who's always sort of around, made her declaration to Fashionista at a Coachella pre-party yesterday.
"Oh my God, the choker is so dead," she said. "No, thank you. No, it's fine. Look, everyone can do whatever they want, but I do think there is a certain thing with trends when they reach a tipping point and that tipping point to me, with the choker, seems to have happened a few months ago. But they look cool, so, get it!"
Chung has particular feelings about a number of things, it seems. When Fashionista asked her if she planned to actually attend the Coachella festival, she said, "No, thank you."
All things considered, I think it is just about time for me to get a choker.