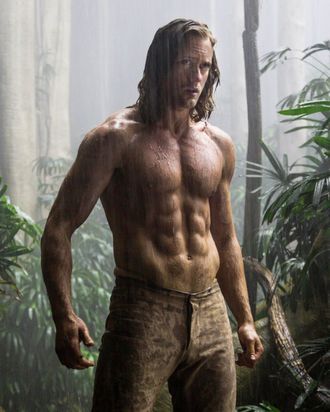 Alexander Skarsgård, real-life Tarzan.
Photo: Jonathan Olley/Warner Brothers
Alexander Skarsgård got a lot of abs for the Tarzan remake — so many, in fact, that they can silence rooms.
At CinemaCon, he and co-star Margot Robbie told E! News about shooting their first sex scene, in which Robbie gets to (kind of) beat him up. On set, Skarsgård took off his shirt and (according to Robbie) the world stopped:
My mind was blank and my jaw was on the floor with everyone else in the crew. People stopped working. Even the men were just like, 'Whoa.' It's amazing. He worked so hard. I've never possessed the self-discipline to get in shape like that, I'm so impressed.
Just try to count them.