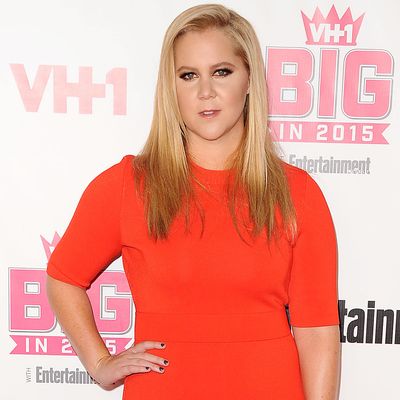 "I think there's nothing wrong with being plus size."
Photo: Jason LaVeris/Getty Images
Of the four women spotlighted in Glamour's first-ever plus-size issue — Melissa McCarthy, Ashley Graham, Adele, and Amy Schumer — at least one wasn't consulted beforehand, and she isn't plus-size. Posting to Instagram on Tuesday, Amy Schumer revealed that she wasn't asked about being included in the magazine's 96-page, super-pricey issue:
I think there's nothing wrong with being plus size. Beautiful healthy women. Plus size is considered size 16 in America. I go between a size 6 and an 8. @glamourmag put me in their plus size only issue without asking or letting me know and it doesn't feel right to me. Young girls seeing my body type thinking that is plus size? What are your thoughts? Mine are not cool glamour not glamourous
Schumer elaborated on Twitter: "Just a little odd and unfair not to be told," she mused.
Asked to comment, a Glamour spokesperson told the Cut:
First off, we love Amy, and our readers do too — which is why we featured her on the cover of Glamour last year. The cover line on this special edition — which is aimed at women size 12 and up — simply says "Women Who Inspire Us," since we believe her passionate and vocal message of body positivity IS inspiring, as is the message of the many other women, of all sizes, featured. The edition did not describe her as plus-size. We are sorry if we offended her in any way.
"To be clear, size 6-8 is not plus," Glamour editor-in-chief Cindi Leive added. "But women of all sizes can be inspired by one another's words. So sorry if implication was otherwise, Amy."
Amy eventually hopped back on Twitter to send out some final thoughts: