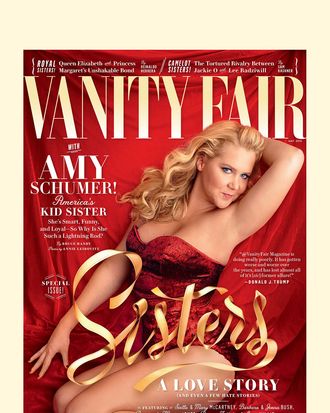 Amy Schumer.
Photo: Vanity Fair
Fresh off some plus-size controversy with Glamour, Amy Schumer has landed on the May cover of Vanity Fair. The corresponding profile is sort of light on information and/or intrigue of any kind, but Schumer did reveal her prescription for heartbreak. It is, perhaps, what you'd expect:
"[Schumer's] apartment, recently purchased, is at the top of several flights of stairs, and as we entered and she turned on the lights, she apologized for its being a mess, explaining that a girlfriend had crashed on her couch the previous night after a fight with a boyfriend. In Schumer's words, 'We got into a meatball sub and some scotch last night. Like, I'm not going to let her get drunk alone.'"
Ah, yes, it's Amy Schumer, in the study, with the meatball sub. You can read more anecdotes like that one here.