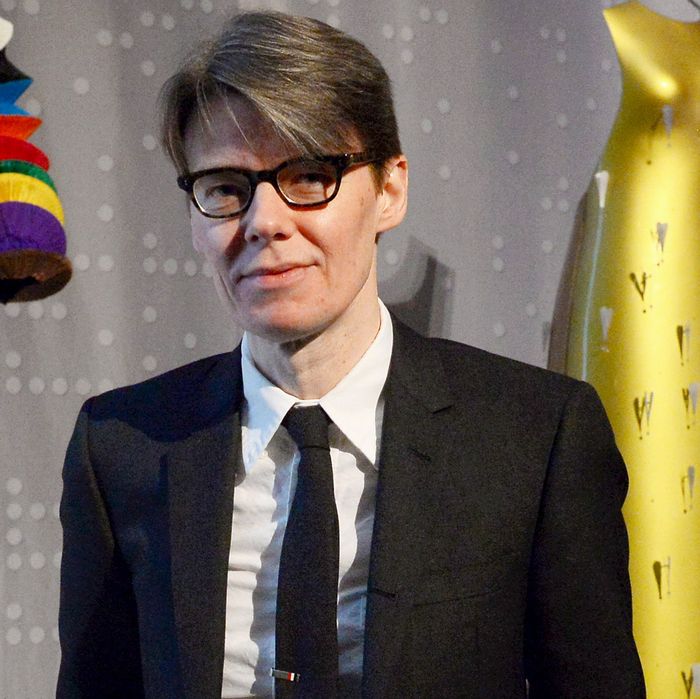 Andrew Bolton at the Costume Institute's "Manus x Machina" exhibit.
Photo: Andrew Toth/Getty Images
It's fun to see the behind-the-scenes goings-on of Anna Wintour's celebrity-studded Met Gala in the documentary The First Monday in May (opening Friday), but Costume Institute curator Andrew Bolton is the real star of the film.
The film follows him for most of a year while he put together last spring's big "China: Through the Looking Glass" exhibit, and it even dips into his past a bit. Growing up in a small town in England, he dreamed of becoming a curator at the Metropolitan Museum from age 17.
In an interview with the Cut, Bolton describes how his mentor, Harold Koda, hired him for his dream job (even though he felt totally unqualified), how he still gets butterflies when he meets Karl Lagerfeld, and his penchant for bad television. He has one regret: Even at the starry gala, he has yet to meet the Kardashians.
There's footage of you in the film walking around the "China" exhibit, draping the dresses on the mannequins. Do you personally arrange each piece in the exhibit?
Yes. I install every piece.
While working on the spring costume exhibit over the years, have you ever had any fan moments when meeting a designer or a celebrity? Who? And why?
Oh my god, all the time. All the time. Karl. Anna and I have dinner with him, usually, at the beginning of couture week, and even now I still have butterflies when I meet him. I've never met Rei Kawakubo, but I think I'd be speechless if I met her. Azzedine I'm still a little nervous when I meet. But yes, all the time. And I love that about it.
In the movie, there's a moment when you ask your partner, Thom Browne, if your speech was okay; you also say that, at age 17, you dreamed of working at the Met. When you first got the job here, it was a dream come true. How did that come about?
It still feels like a fantasy, especially because I'd always really admired Harold Koda and Richard Martin. They really put fashion on the map as an intellectual discipline, but beyond that, they just did the most beautiful shows. They were able to seduce you visually, and also challenge you intellectually. And I've always loved fashion in its immediacy.
I met Harold through Yeohlee, the designer Yeohlee. We were having lunch, and literally, I didn't say a word. I was so in awe. About three weeks later — I was working at the V&A at the time, I had just been promoted to a sort of position that was a research position in contemporary fashion — Harold called, personally, and said would I be interested in becoming his associate? And it was just … so surreal. Because I hadn't had much experience, really, at that stage, in putting on large-scale exhibitions. There were so many other people [Laughs].
I remember when I first came to New York, I met some colleagues in the field, and they said, "We have no idea why he employed you, you've got so little experience." [Laughs] It's like, "Yeah, I agree. I don't know why." Everything that I've learned has been really through Harold. He's just the most incredible; his eye is so refined, he's funny, irreverent, so he doesn't care. There's a real charm to him. Being around him for 12 or 13 years now was just the most extraordinary education for me.
I was very academic — not academic, but that's where I thought my career trajectory was going to go, and it was going that way until I got a job at the V&A. So I never thought that a job in fashion as an academic discipline was really a possibility.
The film has two simultaneous parts: you, working to make the exhibit happen, and Anna Wintour and her Vogue staff working to make the gala happen. Like, Anna Wintour vetting even the table settings, and negotiating a price with Rihanna. Anna physically moved some tables around herself. Were you aware of those things going on, or is that part news to you as well?
Anna always keeps me up-to-date about what's happening. But I never knew how complex it was to put on until I saw it. I found it really eye-opening. The passion, the love, but also the absolute complexity of it, I felt, was extraordinary. People just come to the party and think it's done. Anna puts so much effort into that, and it really is because of how much she values not just the Costume Institute, but the museum. You know, she's deeply committed, and deeply passionate. I wish that came through a little bit more.
What do you do in your spare time? Do you knit, work on cars, ski, bake pies?
My god. I read a lot, I run a lot. I watch really bad TV.
Like what?
The two that I have watched consistently are the Kardashians, and the Beverly Hills Housewives. [Laughs] Those two. The Voice is the other one I love. It's so nice, like, at the end of the day when you've been living in your head for so long, just to leave and just to decompress, and just completely clear your mind. Because I'm inside so much, I like to spend most of my time after the museum outside in the park. I live just on the other side, on Central Park West, so the park is just right in front of me.
Did you get excited to meet some of the Kardashians at the gala?
[Scowls] You know, I've never met them. But I would be star-struck by them as well, actually. And I wish I'd met Bowie. He was such an idol of mine growing up, and I just felt there's nobody like him who used fashion as a way to transform himself, and to convey these really compelling messages. So I really wish I'd met him. I went to his show in London. It was one of the most amazing shows, seeing this one person who transformed himself decade by decade by decade, and the impact that those transformations had on fashion in general.
*This interview has been edited and condensed.