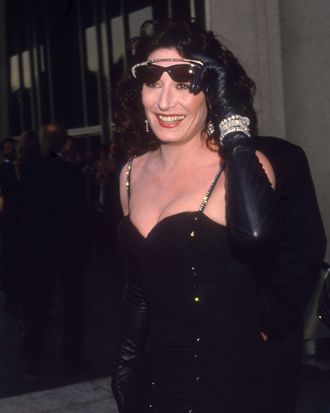 Photo: Robert Scott/Fotos International/Getty Images
Anjelica Huston does as she pleases, whether she's draped in a luxe fur and smoking a cigarette in the backseat of a car with Jack Nicholson or matching the diamonds on her sunglasses to the ones wrapped around her leather gloves. Sure, it was the '80s, but her air of irreverence still feels fresh.
Known for starring in dark films like The Addams Family and collaborating with Woody Allen, the actress can pull off everything from Mardi Gras–style shades to great caftans. As of late, the former model — who was shot by Richard Avedon — is wearing a lot of Bianca Jagger–style white suits and one-shoulder dresses, and she's built up a formidable collection of pearls. See all her best looks in our slideshow ahead.