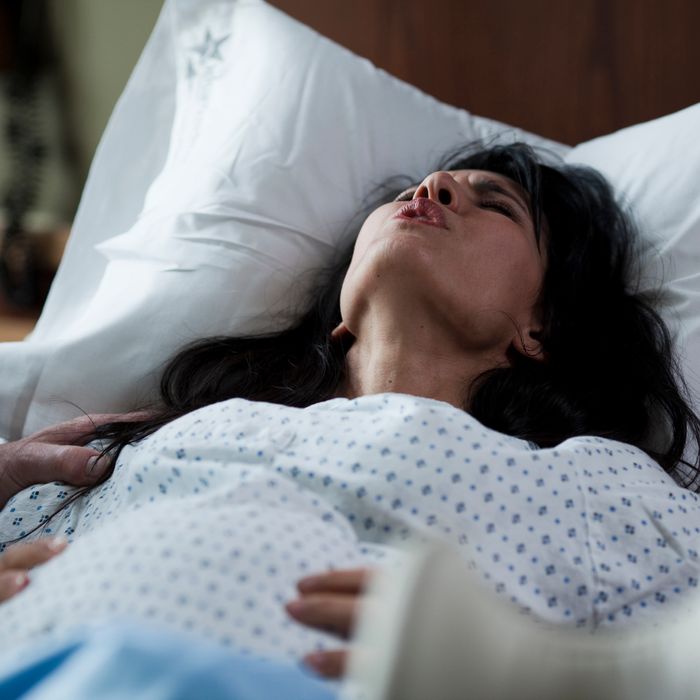 A woman in labor.
Photo: RubberBall Productions/Getty Images
Nearly one in three babies born in the United States arrives via caesarean, very often for life-saving medical reasons. Some research, however, has indicated that having a midwife rather than an obstetrician can make the occurrence of a C-section less likely.
How a woman gives birth a second time, after having had a caesarean — either vaginally or again via C-section — is often a very complicated question. In these cases, a midwife may also influence the outcome.​ A just-published study conducted at Manchester University suggests that women are more likely to successfully deliver vaginally after previously having a C-section if their pregnancy is overseen by a midwife. The study was conducted at the university and examined outcomes in the years 2008 and 2011 for 405 women. In the 2008 group, attended to by obstetricians, 77 percent of women hoped to deliver vaginally after a previous C-section, with 48.9 percent of them doing so. In the 2011 group, all of whom were attended by midwives, 90.3 percent of the women wanted to deliver vaginally, and 61.2 percent did so successfully.
Vaginal birth after caesarean, also known as VBAC, is particularly problematic in the United States, where the rate of women asking for it dropped to a low of just 6 percent in the year 2006, after a well-published study in the New England Journal of Medicine found that there were more complications for VBAC births than for repeat C-section births. This led the American Congress of Obstetricians and Gynecologists to formally classify VBAC as a "high risk" delivery, and to recommend that an obstetrician, an anesthesiologist, and a waiting operating room be available.
Historically, in the United States, though VBAC has long been an option, the common wisdom (and you'll even hear people say it now!) was "once a caesarean, always a caesarean."And the risks can certainly be higher than they are for a C-section vs. VBAC — but risks of any delivery after a previous C-section are higher than for women who never have had the surgery. "VBAC is such a complicated topic," says NYC-based obstetrician Dr. Jacques Moritz. "Everybody should be offered VBAC," he goes on, "but you have to know why they had a C-section for context." For example, he says, a woman who had a previous C-section because of a breech baby has a roughly 70 percent chance of delivering vaginally — which is the same as a woman who has never had a C-section at all. If, however, a woman had a C-section after "pushing five hours delivering a 10 pound baby," the chances for successful VBAC will be lower. The context and medical history matters, he says, but his practice offers the option to try for VBAC to all women.
In recent years, there has been an increased demand from women for VBAC deliveries, and the most current estimate is that between 60 and 80 percent of women who want to delivery vaginally after a C-section do. This new study then, suggests that one of the reasons women may not successfully deliver vaginally after a previous C-section is simply the health-care provider they have. "There were few differences between the two groups of women we studied, so the main variance was the professional responsible for their care," said Dr Helen White, a midwifery lecturer in the University of Manchester's School of Nursing, Midwifery and Social Work, who led the study. "Where it can be achieved safely, vaginal birth is preferable," she said. "But there's a real issue with women who have had a caesarean once, opting for the same again. There aren't many initiatives out there to break this cycle so this finding is important for providing evidence that midwives are best placed to promote vaginal birth."
Education plays a key role in all of this, to "break the cycle" she speaks of, whereby women simply elect a second (or third) C-section simply because they have already had one, and either aren't aware there are other options or are afraid to try to deliver vaginally.