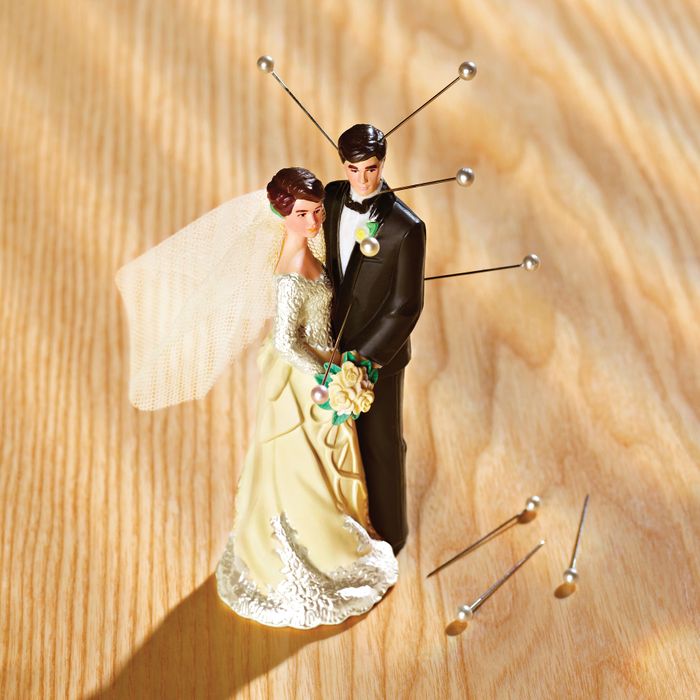 Can't we all just get along?
Photo: Peter Dazeley/Getty Images
Give-and-take — among couples, future in-laws, and sensitive bridesmaids — is essential in the planning of the big day. Just ask these couples. Here, tips from a veteran peacemaker on premarital disputes, three couples who found compromises themselves, and more.
Ask a Peacemaker
Veteran New York City wedding planner Viva Max Kaley finds the middle ground in a few premarital disputes.
1. I'm Muslim, and my fiancé is Catholic. How do we bring together both of our backgrounds for the ceremony?
I once planned a wedding for a couple who had a Sikh ceremony on Friday night for her side of the family, then a Western-style, Christian ceremony the next day. For a different wedding, we did a small Muslim ceremony in the morning with just 40 guests before heading over to another room in the Palace Hotel for a 150-person Christian ceremony and reception. For another couple, they wanted an officiant who read verses from both the Bible and the Koran. Another couple might just want to nod to their traditions with the mention of God throughout the ceremony and the crushing of sugar over the head. The point is, first take some time to really think about the extent to which you want to honor your respective religious backgrounds — what aspects of those traditions resonate most in your heart — and then create the ceremony to match. Mixed-faith weddings are more and more common these days, in my experience, so whatever you decide, expect your guests to just embrace it.
2.  My fiancé wants to get married in his hometown in Texas, and I want to stay in Brooklyn. Now we're at a standstill.
If you don't want to go to Texas, what about bringing Texas to you? I think the best way to conjure home for someone is through the food — a wedding in Brooklyn can still feel very Texan with the right cuisine. You can incorporate your fiancé's favorite hometown dishes into the menu (with one couple I worked with, the caterer agreed to do their own take on the groom's family recipes; the menu included things such as Grandma's Greens). Or  have it catered by a barbecue restaurant, which may very well cost a lot less than a traditional caterer. Or you can even make the barbecue restaurant the venue. Another way to nod to Texas is in the attire — I once did a wedding where the groomsmen wore bolo ties instead of formal ties. If they're true to your fiancé's background, those small gestures can really balance the Brooklyn experience.
3. I've always dreamed of having a huge tiered fairy-tale cake, but my fiancé thinks that's an unnecessary expense. What do we do?
First, clarify your intention. Is the reason you want a ginormous cake because you really think your guests will want to eat it all? Probably not. I suspect it's more because you want the spectacle, the tradition, the photo op of slicing the cake and smushing it on your partner's face. Which you can actually accomplish without paying for a multi­tiered cake. Bakers will often add fake tiers to the bottom of the cake, which can slash a few hundred dollars off the price. Or order a simple cake and top it with fresh flowers left over from your arrangements. Or buy a small cake and present it on a beautiful cake stand that you find on Etsy. There are lots of ways to create a focal point of the dessert table without spending over $2,000 and ending up with tons of leftovers, which is usually what happens.
Work It Out Yourselves
How a few betrothed pairs reached a happy medium.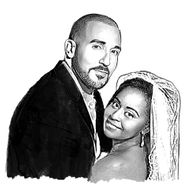 The Couple: Michael Collazo and Krystal Collazo, The Bronx
He Wanted: A hip-hop playlist
She Wanted: Traditional Spanish music
The Compromise: "At first," says Michael, "I thought we had to stick mostly to one type of music or the other, because if it changed too much, there might be an energy lull. But since neither of us would budge, we decided to each select ten songs we had to hear and leave the rest up to the DJ. The final playlist ended up being this great mix of, like, Bell Biv DeVoe's 'Poison' and Tito Nieves's 'I'll Always Love You.' The energy was high the whole night."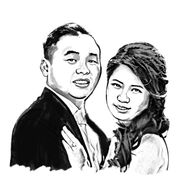 The Couple: Andy Wu and Sally Jiang, East Harlem
He Wanted: A traditional pre-reception wedding ceremony
She Wanted: No ceremony, just reception
The Compromise: "I'm not one for showing emotion," Sally says. "I didn't like the idea of having this ceremonial moment where I would probably cry in front of all our guests. I ultimately gave in, with one caveat: We'd have only close family and friends at our ceremony, saving the huge guest list for our Chinese-banquet reception. Andy got his tradition, and not too many people had to see me cry."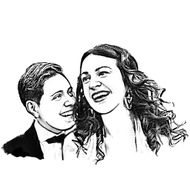 The Couple: Jess Caragliano and Maura McGill, Lower East Side
She Wanted: An over-the-top, Studio 54–caliber affair
She Wanted: An indie, CBGB-style night
The Compromise: "Jess works in indie music and wanted that kind of vibe. I wanted more of a fabulous atmosphere — confetti and a $3,000 gold-couch rental. We settled on the Music Hall of Williamsburg, a rock venue, but big enough for a spectacle: We booked two of Brooklyn's fiercest drag queens, Misty Meaner and Mocha Lite. I heard the party was trending on Snapchat."
Survey: Compromise, by the Numbers
What's the most contentious issue among engaged couples? According to the 37 New York wedding planners we surveyed, it's …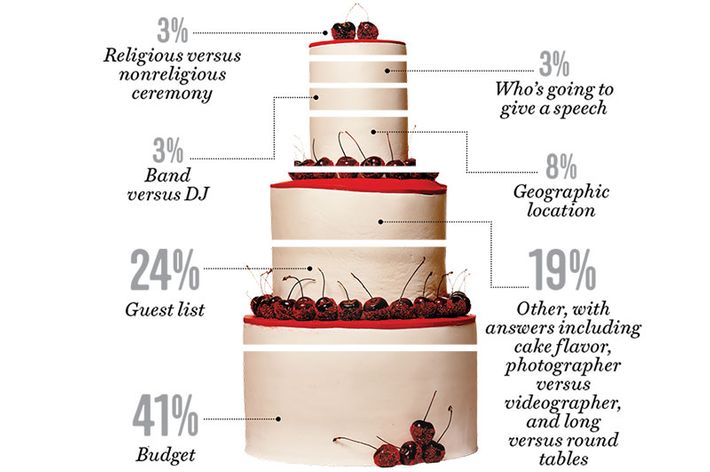 And It's Not Only Your Fiancé You'll Have to Compromise With
Don't forget the pushy mother-in-law and the quarreling bridal party. By Clint Carter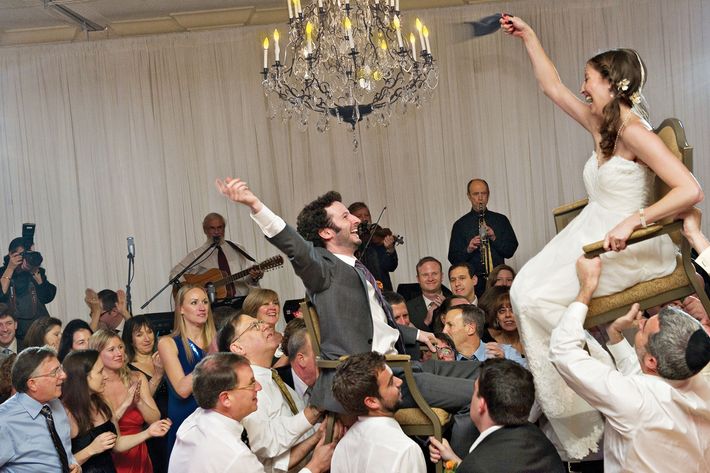 The quandary: "My mother-in-law wanted a traditional wedding band; we wanted a Dixie band."
The resolution: "The thing she seemed particularly concerned with was the hora, which is the traditional dance you do at Jewish weddings. She wanted to be sure the band would nail it, and she didn't think the Dixie jazz band was up to par. Well, as it turns out, our rabbi has a klezmer band, and he could do a kick-ass, very legit hora. So the compromise was something of a Weddingpalooza: We kept our jazz band, and the rabbi's band came in to do the hora. Then the DJ finished off the night."—Jason Feifer, Park Slope
The quandary: "Some bridesmaids wanted the bachelorette party at an expensive hotel; others did not."
The resolution: "The first solution seemed obvious: Those who had the money would go to the hotel, and my cousins, who didn't want to spend a ton of money — I was fine either way — would sleep at my apartment. Well, my cousins were kind of hurt by the arrangement. To calm everybody down and keep my cousins from feeling left out, I agreed to ditch the hotel and stay with them back at my apartment. My bridesmaids who came in from out of town ended up finding separate hotels. It wasn't a perfect solution, but we still had a great night with lots of drinking and late-night karaoke." —Taryn Wood-Norris, Upper West Side
The quandary: "I wanted to wear green shoes; my parents, who were paying for everything, disapproved."
The resolution: "To be honest, I cried when I gave up the shoes. But I decided to leverage this sacrifice and use it as ammo for something I cared about more: getting the invitations I wanted. They were letterpress and covered with Brooklyn imagery: a bagel, water towers, the Coney Island Cyclone — that sort of thing. They were exactly what I wanted." —Vané Broussard, Boerum Hill
*This article appears in the Summer 2016 issue of New York Weddings.