Catherine Giudici and Sean Lowe, of The Bachelor Season 14.
Photo: Diane Bondareff/Invision
In a Park Avenue hotel suite decorated with pink and periwinkle hydrangeas, miniature cupcakes, and infant onesies branded with the name of a popular baby detergent, a Bachelor couple celebrated the upcoming birth of their first child yesterday. It was, according to the press release I received before attending, a "baby shower," but the only guests were reporters and publicists.
This is the new post-Bachelor economy, where every major event in a reality-show winner's life is a branding opportunity. Sean Lowe and Catherine Giudici, who met on season 17 of The Bachelor and married — live on ABC — in 2014, seem to have conquered it. I chatted with them yesterday about navigating the world of detergent-sponsored events, Instagram ads, and lesser reality shows. (Spoiler: They regret doing Marriage Boot Camp: Reality Stars.)
Since you guys were on The Bachelor, you've been able to partner with and do advertisements for different brands. Obviously, you partnered with Dreft baby detergent today. How do you choose whom you want to work with?
After The Bachelor, you did some other marriage-themed reality shows [Celebrity Wife Swap and Marriage Boot Camp: Reality Stars]. Will there be a baby-themed reality show?
Sean: No, no.
Catherine: Are there any?
I don't know! I don't know if you guys are in talks to do anything else.
Catherine: Oh, no.
Sean: I think … we're done with that for now.
Catherine: We've made some poor decisions in the past on shows that we did, so we're going to just focus on ourselves and the baby and this crazy, amazing process.
What do you regret about other shows?
Sean: Well, just doing them in general.
Catherine: Just saying yes!
Sean: We were so spoiled on The Bachelor, because it's so much fun, and the producers are so great. We quickly realized, Okay, not every show is like that.

Not everything is so well-produced.
Catherine: And well-taken-care-of!
Sean: Yeah, the people aren't always as great either.
In that vein, do you have any advice for the new bachelorette, JoJo?
Catherine: I don't think we have too much advice for her. We just support everybody. Again, The Bachelor chooses the leads for a reason. She was obviously chosen for many reasons. She's from Dallas, so when she comes back and needs any advice, we'll be here for her, but it's going to be a different experience for everybody going through it. So I think she'll figure it out. She's a smart girl.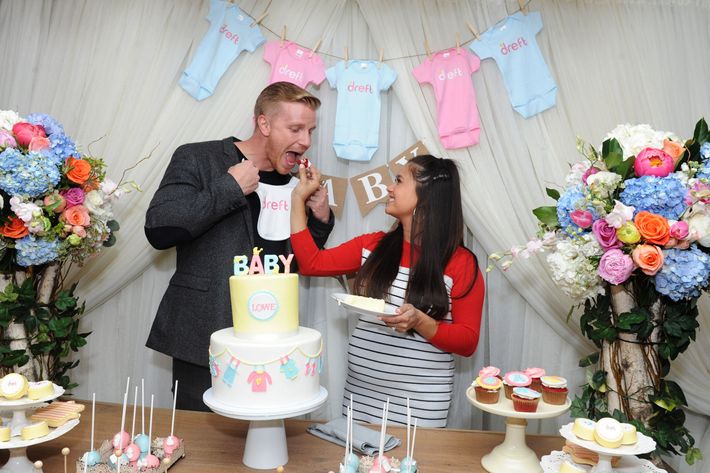 You're a successful Bachelor couple. Now that you've been on the show, can you kind of tell who's going to stay together and who's not, by watching it?
Catherine: I'm on the more optimistic side. So I'm like, "Yeah, of course they are, they love each other, so why not?" The factors that play in that you have no idea are easy to overtake you and change that path.
Sean: I would consider myself more of a realist. She'll tell you.
Catherine: Just in this manner. Normally it's the other way around!
Sean: So when I'm watching the show, it's just like I'm a fan, not like I'm the former bachelor. And I'll be the guy saying, "It's not going to last, no way." But you can kind of see which people tend to drift toward the bright lights of Hollywood and kind of want to live that lifestyle, and then you can see the couples who are like, "Okay, we're going to make some big commitments and try to work this out."
Catherine: But you could say that for us, though. Because he went on Dancing With the Stars and continued to be in the spotlight. So it's really just making sure that you commit to each other. That's why I'm an optimist, because we made it through the hardest things that you could possibly put the Bachelor people through, and we're fine, so I take that into consideration.
Where do you guys want to be in five years? Obviously you'll have the baby. More kids?
Catherine: More kids.
Sean: Yeah, more kids.
Catherine: We just got a beautiful new house, so … filling it up.
Sean: We'll be in Dallas, hopefully loving life and enjoying time with our kids.
Catherine: Easy. Easy life.
This interview has been edited.