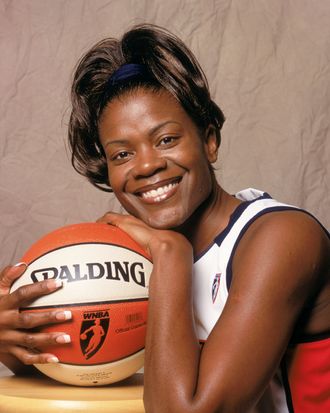 Photo: Bill Baptist/Getty Images
Sheryl Swoopes, four-time WNBA champion and current Loyola University women's basketball coach, got the call today from the Basketball Hall of Fame, making her 1 of 10 new inductees in the hoops class of 2016. Swoopes was the first-ever player to sign with the WNBA, in 1997, and is one of the best-known players in the league's 20-year history. Swoopes unofficially retired from women's basketball in 2012, and took the job at Loyola the following year.
Swoopes's basketball career took off at Texas Tech in the early '90s, and she was recruited to join the Houston Comets for the WNBA's inaugural season. In Swoopes's first season, she took time off to give birth to her son, but returned to the court only six weeks later, then led the Comets to the first-ever WNBA championship trophy. Swoopes stayed with the Comets for 10 years, then played for the Seattle Storm for three years and the Tulsa Shock for one. Over the course of her career, she was a three-time U.S. Olympic gold medalist, four-time WNBA champion, and three-time WNBA MVP. 
She was the first women's basketball player to ever have a Nike shoe named after her, and was often called the female Michael Jordan (which: argh). Swoopes joins Allen Iverson, Shaquille O'Neal, Yao Ming, and several other notable players and coaches as an inductee in this year's hoop class. Congrats, Sheryl!