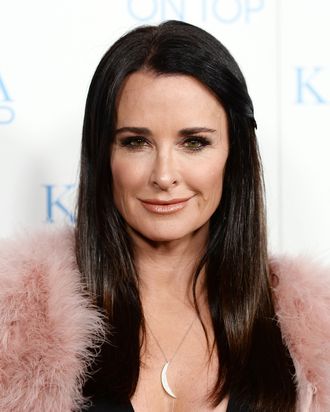 Photo: Amanda Edwards/Getty Images
Has God decided to punish Kyle Richards, the former child actor, boutique owner, and long-haired demon of Real Housewives of Beverly Hills? As mortals and sinners confined to this wretched Earth, that's not for us to know. The Daily Mail reports, however, that bees swarmed Kyle's fashion boutique yesterday.
The evidence is here. Paparazzi spotted Beverly Hills firefighters and police officers containing a gargantuan beehive outside the Kyle By Alene Too boutique yesterday, using caution tape to keep the public from tangling with bees that were perhaps sent by a vengeful Creator to one person only. No injuries have been reported.
In other news, Kyle has reportedly threatened to leave Real Housewives after this season, to which we say: Amen.